Malaysia, a home away from home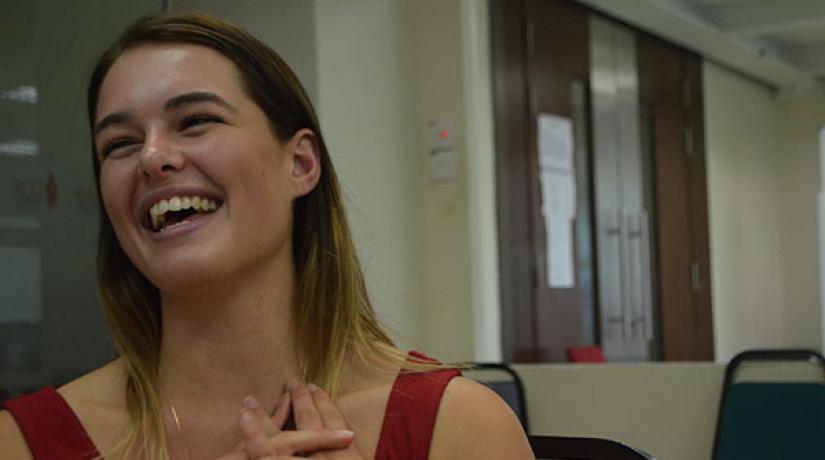 Kuala Lumpur: With her bright smile and excitable composure, you would think that 21-year-old Rachelle Lynch displays no hint of homesickness being away from her home in Melbourne.
However, the New Colombo Plan scholarship recipient did not always feel at ease in a different country.
"I was in (a different university) but I didn't have many friends there because everyone was on break at the time I was there, so it was really difficult," said Lynch during her interview with us, where she spoke candidly on her experience in Malaysia.
Lynch is one of the three recipients from her university, Deakin University, who received the prestigious scholarship, choosing Malaysia from a list of 40 host countries such as Bhutan, East Timor and Indonesia.
Initiated in 2014 by the Australian government, the New Colombo Plan aims to strengthen bonds with countries in the Indo-Pacific region by sending students to these countries to pursue internships and complete their undergraduate studies.
The final-year psychology student is currently in the middle of her semester here in UCSI University, after which she will be pursuing an internship at Kuala Lumpur Hospital to learn more about psychology and mental health in Malaysia.
"UCSI University is very different from the other university that I was at when I first came here, in terms of the kinds of people that went there.
"Once I came here, it got a lot better - everyone's really nice, and people will really go out of their way to help you with whatever you need," spoke Lynch on her initial experiences upon her arrival in Malaysia and then, UCSI University.
When asked about her decision on choosing Malaysia as her host country for her year-long scholarship, she said that the experience has gotten better as time went along.
"A main reason why I decided to come to UCSI (sic) specifically was because it had an exchange agreement with Deakin University, but I had never travelled internationally before, so I was pretty nervous!" laughed Lynch as she recalled her experience here. UCSI University is the only other private university in Malaysia participating in the New Colombo Plan.
"I saw a lot of differences between Australia and Malaysia- I didn't expect anything, but I was just very confused with certain things, like the public transport and language barrier," describing how learning Malay has been fun, but also 'super frustrating'.
"What helped me were the little things- like having a little local coffee place that I go to all the time now, or having lunch with friends… these were definitely big comforts," said Lynch, who keeps close contact with other New Colombo Plan scholars who have chosen Malaysia as their host country.
"After settling in, I'd say that KL is westernised, but with a Malaysian twist; there's so much culture and tradition here that you don't really get to see back in Australia," she said, adding that she strives to strike a balance between her studies and finding time to immerse herself in the culture here and not miss out.
In terms of her academic journey here, Lynch claims she underwent a 'learning curve', facing various challenges in adapting not only to UCSI University, but a different university as a whole.
"Back home, it was a thing where if you wanted to do well, you would get the textbook for the class (that you're in), but here everyone just studies notes," said Lynch, who describes herself as a 'perfectionist' who strived to do well in her classes back home.
"Group assignments are also something new for me because back home, we usually do our assignments independently, and I like it better that way!"
However, her academic journey has not been all difficult- she has also seen positive aspects of UCSI University that are different from her Australian university.
"Back home, our lecture halls are packed all the way to the back, taking in 200-300 students; you meet new people every time you walk into class and you go straight home after that.
"Here, classes are so small and you see the same faces in different classes, and after classes so many people attend events that are held on campus, which I think is a good thing for people to bond outside of classes."
In between keeping up with her classes and experiencing Malaysia, Lynch also volunteers at the United Nations High Commissioner for Refugees (UNHCR) Malaysian office every Thursday, where she works on sexual- and gender-based violence issues with refugees.
The whole experience of being in Malaysia has 'opened up so many doors' according to Lynch, while also making her 'a lot more flexible and patient'.
All in all, Lynch feels like she has 'no regrets' choosing Malaysia and UCSI University as her placement of choice.
"People always question me and ask me why I came here of all places, but there is so much to learn from an Asian country; I would definitely recommend Malaysia as a place to visit to anyone!"