Maxy Chan Dazzles in First Solo Piano Recital
The consummate artist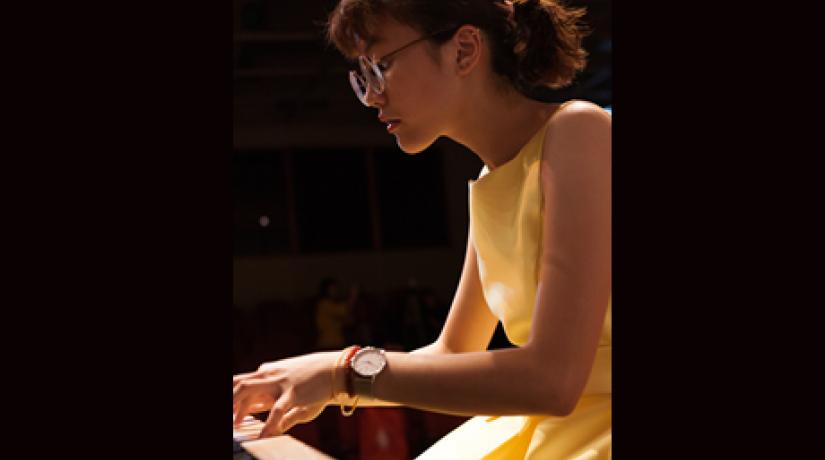 "My father taught me and my siblings to always do everything full-heartedly, positively and with passion," - Maxy dedicated a special song to her father for Father's Day.
Hoi An: Kuala Lumpur: Looking resplendent in her yellow gown and shoes, Chan Mei Xuan may appear tiny and unassuming, but once she starts to play, you will do a double take as the prowess of a musical genius begins to unravel.

Chan Mei Xuan or Maxy Chan presented her very first solo piano recital at UCSI in front of a very enthusiastic audience that was mainly made up of family, friends and music students. Her first piece for the afternoon was her own interpretation of Ng Chong Lim's dramatic piece, 'A Distant Voice in the Rainforest'. Maxy next played Adeline Wong's composition titled 'Paces' accompanied by electronic tracks. Both Ng Chong Lim and Adeline Wong are leading contemporary Malaysian composers. Her next piece was her favorite pianist, Hiromi Uehara's 'Wake Up & Dream'.

For her fourth piece, Maxy opted to perform John Cage's famous and controversial 4'3''. The piece was meant for listeners to listen the sound of their surroundings. Maxy then proceeded on to a delightful rendition of one of her favorite soundtracks, Ratatouille (composer: Michael Giacchino) accompanied by an orchestra track and video. The final piece was another Hiromi Uehara work titled 'Place to Be'. However, Maxy had one more surprise performance, an old Chinese song titled 'Yi Lian You Meng', which she dedicated to her father, in conjunction with Father's Day. The recital ended with a rousing applause from the room of captivated audience.

According to Maxy, her father, Mr Chan has always been her source of motivation and had supported her ever since her innate musical ability was discovered. Although neither he nor his wife know how to play the piano, this did not deter Mr Chan as he loves classical music. "The best thing a parent can do for his or her child is to support their dreams, whatever that maybe" quipped Mr Chan who admitted to being Maxy's biggest fan.

For the uninitiated, Maxy is UCSI's very own musical prodigy, and rising star. She was thrust into the limelight when she became the first Malaysian to win the Gold Award at the 2013 Asia Piano Competition in Taiwan and the following year, she bagged another gold award at the 2014 Asia Music Competition (Seoul). Currently, she is in her final year pursuing her Bachelor of Classical Music at UCSI's Institute of Music (IMus) with the hopes of realizing her dream of becoming a world-renowned classical pianist.