Mohd Fadhil Majnis is now a Member of Institution of Chemical Engineers (IChemE), Engineering Council UK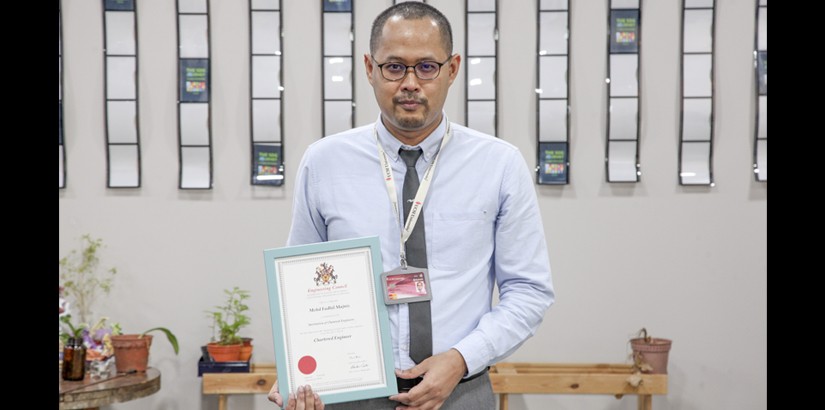 Mohd Fadhil with his Chartered Chemical Engineer certificate from the Institution of Chemical Engineers (IChemE), Engineering Council UK
Faculty of Engineering, Technology and Built Environment lecturer, Mohd Fadhil bin Majnis from the Department of Chemical and Petroleum Engineering received the Chartered Chemical Engineer qualification on 25th June 2019.
The award was conferred to him by the Institution of Chemical Engineers (IChemE), Engineering Council UK.
The membership in IChemE makes Fadhil part of a respected learned society with more than 37,000 members in over 100 countries. Chartered Engineers registered with the UK Engineering Council mark a commitment to professional standards exercising responsibilities in an ethical manner as stipulated by the framework of the UK Standard of Professional Engineering Competence.
"I take pride in the qualification that I received. It shows my commitment to the employers, policy makers, regulators and even society."
"UCSI has been supportive and encouraging, providing better career development, apart from supporting the concept of work-life balance. I hope UCSI can continue providing chances for its staffs to show how committed they are with their work."
Fadhil believes in the concept of 'When you help people accomplish their dreams, they will do just anything for you'.