NURSING STUDENTS LAUNCH HEALTHY LIFESTYLE COMMUNITY PROJECT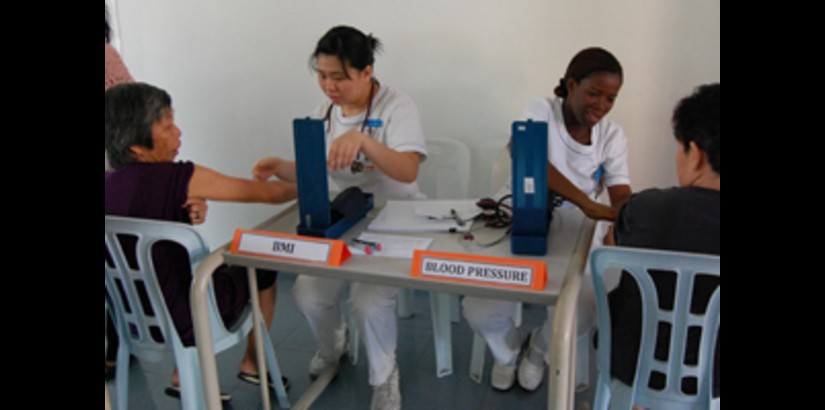 Blood Pressure and Body Mass Index tests being conducted at the Taman Midah Rukun Tetangga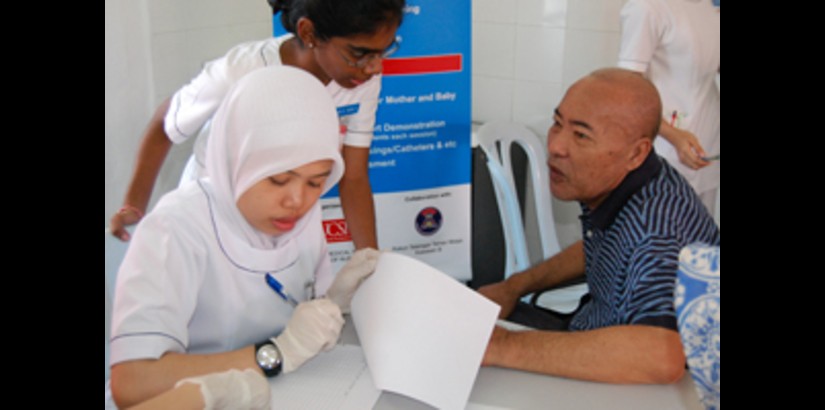 The nursing students recording En. Omarnuddin's comments on his well-being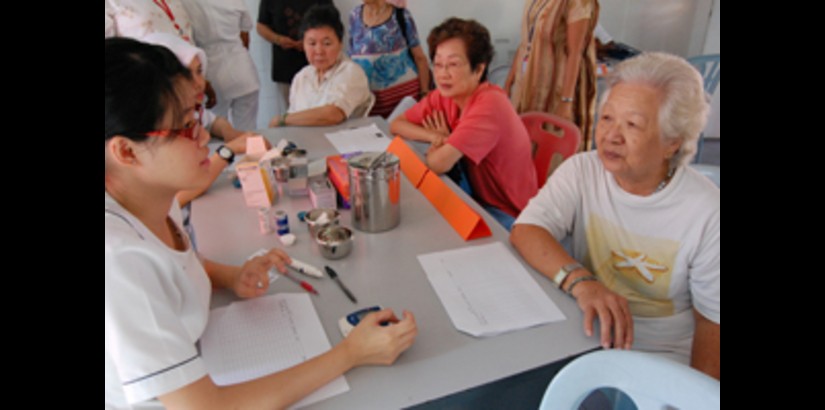 UCSI University nursing students providing health couseling to residents of Taman Midah
Kuala Lumpur, 10 October 2008 - Nursing students from UCSI University launched a community service project at the Taman Midah Community centre today. The project was officiated by the Deputy Director of the Department of National Integration and Unity, En. Burhanuddin bin Hj. Daud, together with UCSI University Deputy Vice Chancellor, Associate Professor Chin Peng Kit and Mr. Nadarajah Chelliah, Chairman of Rukun Tetangga Taman Midah (Zon B).

Initiated by the Associate Dean of the School of Nursing, Associate Professor Jeya Devi Coomarasamy, the project aims to promote personal healthy lifestyles through education, public awareness and community activities. In this project, students will put theory learnt into practice, and will administer various health screening tests and counseling services for free at the community centre every Friday.
The project was running for several weeks prior to its official launch and had already attracted a good number of visitors from the surrounding community. En. Burhanuddin expressed great enthusiasm for such community projects, and invited the University to make use of the many under-utilized community centres in Cheras for future projects which benefit the surrounding community.

"Community projects such as these are exemplary, and I applaud UCSI University for taking the first steps to realize it," he said.

For Mr. Nadarajah, the community project undertaken by UCSI University's School of Nursing has the potential effect of not only integrating the community at a local level, but -- as a project corollary -- at the international level as well. "International institutions such as UCSI University elevate communities such as Taman Midah, Cheras to a whole new level. The local community has the chance to interact with the international community, particularly with UCSI University's diverse student and staff members from around the world," he said.

The students, under the close guidance of their lecturers, administer various tests, such as body mass index, blood pressure, glucose and cholesterol screening. The students also conduct breast lump examinations, educate new mothers on baby care, and along with a professional nutritionist, help provide breast feeding and nutritional counseling. They also perform basic life support demonstrations which can be crucial for those with bedridden family members. Through appointments, these budding nurses will also visit homes to change dressings for patients with mobility problems. The nursing students also conduct weekly exercise and "healthy cooking" demonstrations.

All activities and services are provided free, but according Associate Professor Jeya Devi Coomarasamy, the residents of Taman Midah and nearby neighbourhoods are so grateful for these services at the community center, that some of them tend to donate generously in return.
"But the money was never our objective. We just wanted to serve the community, apart from giving our students an avenue to practice their clinical skills," she said.

Although the nursing students have only been at the community center for a few weeks, many residents have made it a part of their weekly agenda to visit the centre.

At precisely 8am, Puan Juliana arrives once a week with her wheelchair-bound husband, En. Omarnuddin, a chronic diabetic. According to Puan Juliana, the weekly visits have helped in monitoring her husband's diet more efficiently. "The weekly glucose tests help me pinpoint types of food that my husband should stay away from, plus I save a lot of time and money coming here, instead of going to the public hospital or clinic," she said.

Another resident, Mr. Lam Keng Chong is happy with the community center, as he can now monitor his blood pressure regularly. "I am now more cautious with my diet, and I would certainly recommend all my friends to come here, and learn how to lead a healthier lifestyle," he said.