Online Appointment System, UCSI alumnus appointed to assist MOH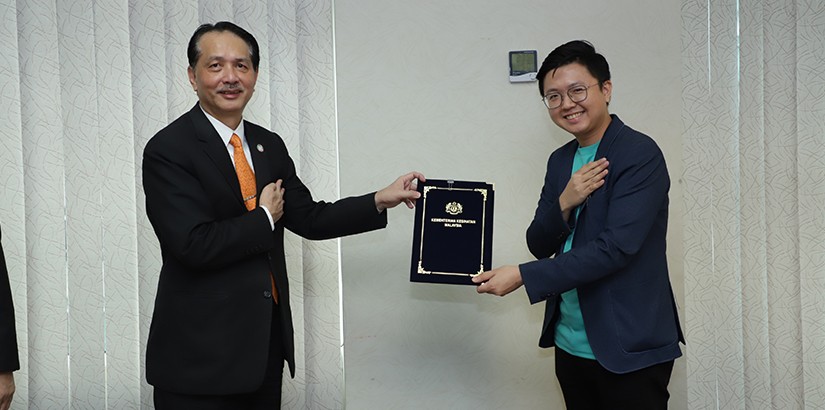 Dr Kev Lim (right) representing QueueMed accepting Memorandum of Understanding from Health Director-General Datuk Dr Noor Hisham Abdullah after signing the collaboration agreement for Online Appointment system, recently.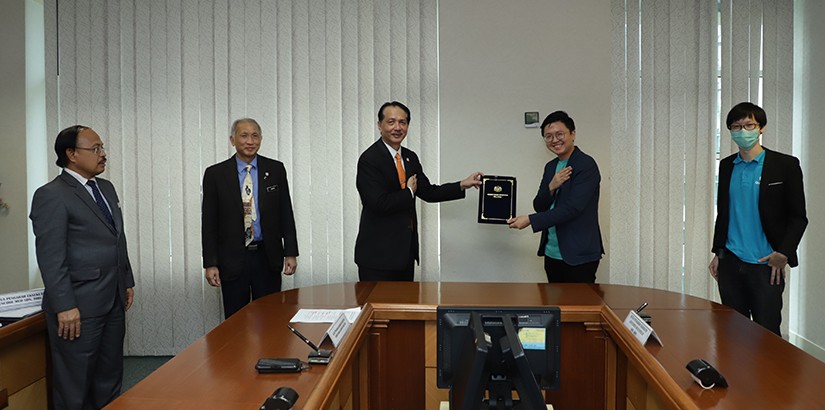 Dr Kev Lim (second,right) representing QueueMed accepting Memorandum of Understanding from Health Director-General Datuk Dr Noor Hisham Abdullah after signing the collaboration agreement for Online Appointment system, recently.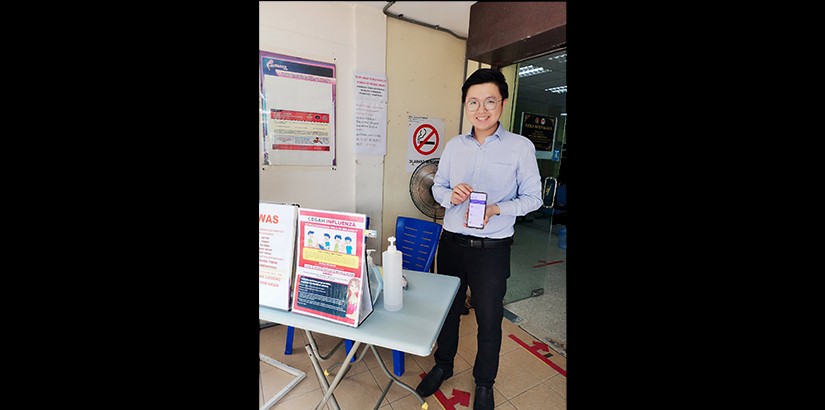 Dr Kev Lim shows the application for Online Appointment system through https://qmed.asia/booking
KUALA LUMPUR, 14 APRIL 2020 – The Ministry of Health (MOH) has selected four Online Appointment system service providers including QueueMed by UCSI University alumnus Dr Lim Shiau Chong as part of their initiatives in reducing congestion at health clinics especially during the COVID-19 pandemic.
According to Health Director-General Datuk Dr Noor Hisham Abdullah, the public may choose appointment timeslots to come to the clinic for treatment via the 'Online Appointment' system, which is only limited to mild illness.
This initiative is meant to reduce congestion in clinics to prevent people from gathering at the clinic at a time in-line with the government's recommended social distancing practices.
Other than QueueMed, EncoreMed, Bookdoc and DoctorOnCall also part of the collaboration.
Dr Lim, or better known as Dr Kev Lim, 31, who is QueueMed's Chief Executive Officer said the company was founded with his partner Dr Tai Tzyy Jiun in 2018 with a focus on providing a range of online services for the convenience of consumers as well as clinics and hospitals.
QueueMed solution specializes in providing multichannel appointment booking, mobile queue solution and E-payment solution to clinics and hospitals, which aims to improve the healthcare access, minimize administrative workload and optimize patients' waiting time.
The Tangkak, Johor-born figure came up with the idea after having experienced a long waiting line at the hospital to receive treatment for his daughter.
"I have intense interest with Pediatric, especially in Pediatric Intensive Care. I was about to join Pediatric Master Program after I passed the entrance exam. Unfortunately, my daughter was diagnosed to have medical conditions and needed my care during that time.
"Being father myself, I had chosen to shift my full attention to my daughter and put my postgraduate study on a side. I have gone through all the unpleasant journeys while bringing my daughter to follow up in different medical centre, especially when dealing with the long waiting time, it's frustrating.
"There is a difference between waiting in line for coffee, and in line where your health is at risk. For something as time sensitive as healthcare, this calls for disaster and we all know as much. Thus, this really upset me a lot and push me startup the company to solve this very fundamental problem, faced by every Healthcare stakeholder," he said.
With QueueMed solution, patients are now able to book appointment online and even take online queue ticket from home, directly through the clinic's website or Facebook page. Most importantly, patients able to check clinic's Live-Queue status right from their mobile and make payment via e-Wallets to the clinic or hospital.
He added that the company has helped over 75,000 patients better manage their waiting time, and have total assisted in over 120,000 bookings.
In fact, QueueMed has been nominated by the Ministry of Entrepreneur Development and Cooperatives (MEDAC) to present the QueueMed O2O (Online-to-Offline) Solution at the APEC O2O Forum: Embracing Digital Transformation for the Next Paradigm Shift in O2O Platform in Manila, Philippines.
QueueMed was selected to represent Malaysia in the APEC 2020 Workshop: Young Entrepreneurs Kick-off organised by SME Corp Malaysia, APEC and MEDAC while the company was also previously chosen for and successfully joined the 2-week Innovation in Healthcare Bootcamp 2019 organised by Malaysian Global Innovation & Creativity Center (MaGIC) and 1337 Ventures.
According to the UCSI University's Faculty of Medicine and Health Sciences graduate, apart from a supportive team of lecturers who have guided him in unleashing his potential, it was the learning environment that also helped him.
"In UCSI the support towards learning was very conducive for my studies. The personalized support within the classroom and beyond made me realize my full potential. The learning environment made me develop critical thinking skill and mature as an individual.
"It also thought me to view learning as a joyful process, to aim high and push myself further and to be not afraid to fail. The traits I've learned have stayed with me and guided me till date. The lecturers and colleagues shared a special bond that I appreciate till now," he said.
He saw a vast digital potential that can be developed in the country's health sector, especially at a time where the world is hit by the COVID-19 pandemic.
"As we look toward the future of healthcare, digital healthcare and O2O solutions will play a very important role in our near future practice. This COVID-19 pandemic is going to be the catalyst for the implementation of digital healthcare solution across the world. The healthcare industry is experiencing perhaps its most rapid pace of innovation ever.
"I hope all our future doctors always keep an open mind on health technology, try to follow on the latest news and stay relevant. Digital healthcare transformation is unavoidable, we can either embrace and adopt it to enhance our practice, or we can continue to ignore it and risked being left behind.
"If you think you found a pain point that worth to be solved, or you think you have a solution idea to offer to the nation, you are more than welcome to talk to me, and let me help you to bring it to the next level," he said.