PITCH PERFECT : UCSI's Chamber Choir Wins Gold and Silver Medal at the 4th Bali International Choir Festival
SING WHEN YOU ARE WINNING: UCSI Chamber Choir at the 4th Bali International Choir Festival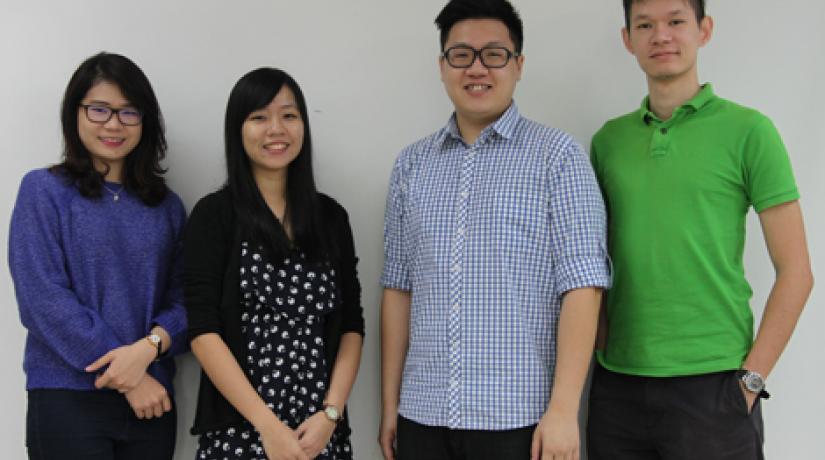 CHAMBER SINGERS: (from left) Nyoman Giovani Anggasta, secretary; Jacquelyn Koh, president; Timothy Lim, treasurer; and Shaun Chow, vice-president of the UCSI Chamber Choir.
BALI: Music is known as 'the universal language of mankind', according to 19th century poet Henry Wadsworth Longfellow. This is certainly true, as UCSI University's (UCSI) Chamber Choir's mastery of Latin, Mandarin and Tagalog songs won them the gold and silver medals in the 4th Bali International Choir Festival.

Held in Denpasar City, the capital of Bali, Indonesia from 29 July to 2 August 2015, the prestigious competition is participated by more than 100 choir groups from Asia, annually.

The UCSI Chamber Choir gave impressive renditions of John Wilbye's 'Sweet Honey Sucking Bee', Mandarin song Ba Juu Zan also known as 'Ode to Eight Horses' and the ancient tribal war song Bal-laygi.

The songs were performed in the Mixed Youth Choir category and the UCSI team bagged the gold medal.

For the Musica Sacra (Sacred Music) category the group's repertoire consisted of 'Exsultate Deo', 'Ave Maria' and 'All That Hath Life'.

The Chamber Choir is trained by Choir Director, Prof Ian Lim, who is widely acknowledged as the doyen of Malaysian chorus masters and voice teachers.

To prepare for the competition, Jacquelyn Koh, President of the Chamber Choir said that for two semesters, they practised at least five hours every week to get their keys and harmony right.

She also mentioned that with the element of drama that they added to their singing for 'Bal-Laygi', extra hard work was put in.

"There are 37 of us in the group and we went all out. Especially for something emotive like 'Bal-Laygi', it took us more time to perfect the singing and our gestures," she said.

Timothy Lim, who is also part of the hoir, said that pulling off specifically choreographed movements and facial expressions was not an easy feat.

"'Bal-Laygi' was tricky because you don't know whether you will be able to rise to the level of what you had produced without the choreography," he said.

With the effort put in, the team was elated at their win.

As said by Nyoman Giovani Anggasta who is the secretary of the Chamber Choir, the group was surprised and elated at their win.

"The other participants were really very good performers. They have different energy and vibes but I think we did our best on stage and we really enjoyed ourselves," said Nyoman Giovani Anggasta, a soprano singer and secretary of the Chamber Choir.