Red Carpet Awards Night at UCSI Sarawak campus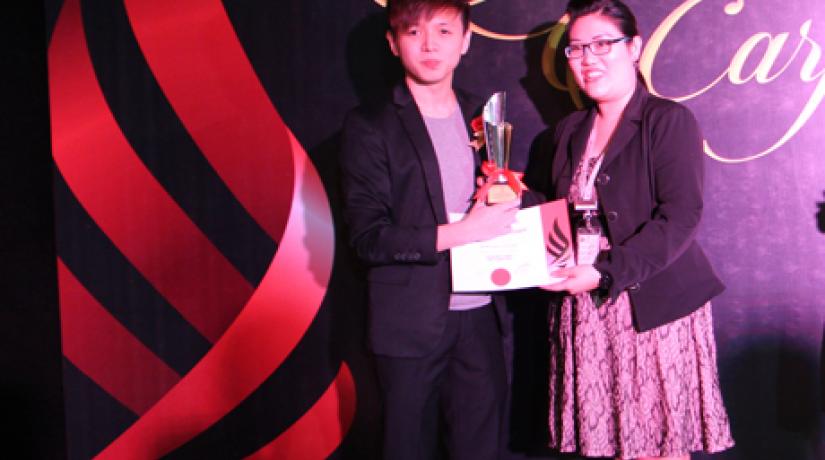 PROUD MOMENT: Ronald Wong receives the Best Achievement Award in Foundation Studies from Irene Foo, the Programme Coordinator of CPU, Sarawak campus.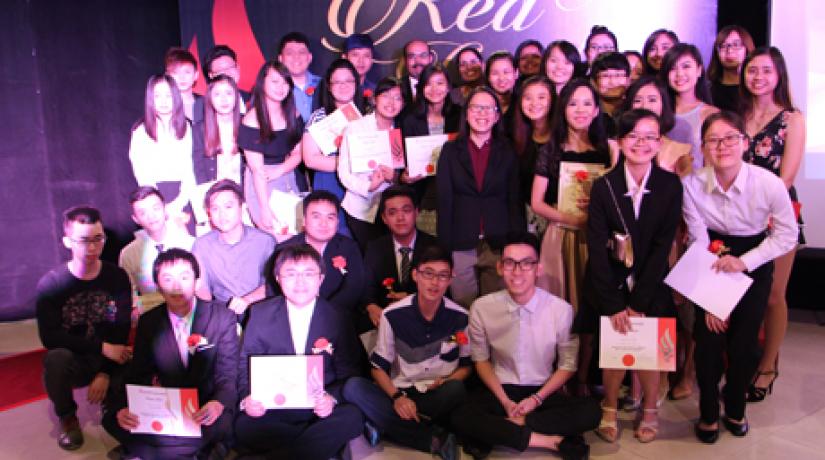 DELIGHTED: The award recipients from CPU and FHTM share a light moment with their lecturers at the Red Carpet Awards Night.
KUCHING: UCSI University's Sarawak campus recently organised the UCSI Red Carpet Awards Night, held at its very own Quad Restaurant.

Decked out with lights, cameras and action, the event was reminiscent of a glamorous Hollywood-style cocktail reception, lavishly reflecting the theme of this year's Awards Ceremony. The relaxing ambience together with the delicious mocktails and hors d' oeuvres encouraged a much friendly mingling among the guests.

The event was headed by Project Director Loi Min Wei. Along with the University's staff, 79 students from the Centre for Pre-U Studies (CPU) and the Faculty of Hospitality and Tourism Management (FHTM) were also involved in organising the event, from developing the backdrop and decorating the hall to preparing all the beverages and appetisers.

The event was officiated by Mukvinder Kaur Sandhu, the Chief Operating Officer of UCSI Sarawak Campus.

In her opening address, she noted the importance of preparing students for a job.

"We want to be able to seamlessly place students in the industry making them sought-after graduates. As a praxis university, it is our endeavour that we work with our industry partners to ensure we can meet their demands and expectations," she said.

She later shared with the students and guests a word of advice from Stephen Covey's book "The Seven Habits of Effective People".

"To be an effective person, one must always begin with the end in mind. Always envision before you act as this will give you a greater sense of meaning and purpose".

During the event, UCSI also celebrated their students' outstanding academic achievements in addition to honouring the graduating Foundation Studies class of 2016. The award presentations marked the highlight of the evening.

Foundation students who scored a Grade Point Average (GPA) or Cumulative Grade Point Average (CGPA) of 3.75 and above were presented the Honour Roll Awards while the diploma and degree students from FHTM who scored a GPA of 3.5 and above for the January Semester were presented the Dean's List Awards. Ronald Wong, who scored a CGPA of 3.95 for his foundation studies, also received the Best Achievement Award.

After the award presentation, the graduating class of 2016 for Foundation Studies were then acknowledged and presented with their academic scrolls; followed by the Valedictorian Address presented by Brenda Kucha.

Brenda spoke about the past expectations, present-day experiences and future aspirations of herself as well as her fellow graduates. She noted that one key ingredient to being successful is to step out of one's comfort zone.

"To be successful, we also must expect change and accept change," said the young lady.

The Red Carpet Awards Night was filled with enjoyable performances, impressive awards, and inspirational speeches. The event was also organised in collaboration with Events Horizon, HD Image Enterprise and Beam Event Management. While Events Horizon provided expert advice and décor items, HD Image Enterprise sponsored the backdrops and Beam Event Management sponsored the use of their sound system and lighting. The guests, staff and students alike felt that the event was very memorable and a great success.

Among the invited guests was Assoc Prof Dr Kashif Hussain, the Dean of the Faculty of Hospitality and Tourism Management. He expressed his gratitude and congratulated the organising team for such a successful event.

While reflecting on this event, Loi enthused, "I felt both blessed and honoured to be given the chance to organise this inter-department event with a group of freshman, even though the timeline given to us was short. The outcome of this event was very satisfying and I am very thankful to all those who had supported in one way or another in making this event successful and memorable for our students; team effort makes it even more meaningful."

When speaking about the main challenge of the event, she quoted Joyce Mayer:

"If you are facing a new challenge or being asked to do something you have never done before don't be afraid to step out. You have more capability than you think you do but you will never see it unless you place a demand on yourself for more."

Although the organising team was made up of inexperienced members, Loi said she was most pleased with the fact that the students took the chance to challenge themselves by assisting in any way they could that led to the success of the event.

UCSI Red Carpet Awards Night was truly a grand event with a sense of comradery all wrapped into one. This was but one event, which USCI University Sarawak Campus hopes to emulate many more times to come in the future.