RED RIBBON CHARITY WALK BY UCSI UNIVERSITY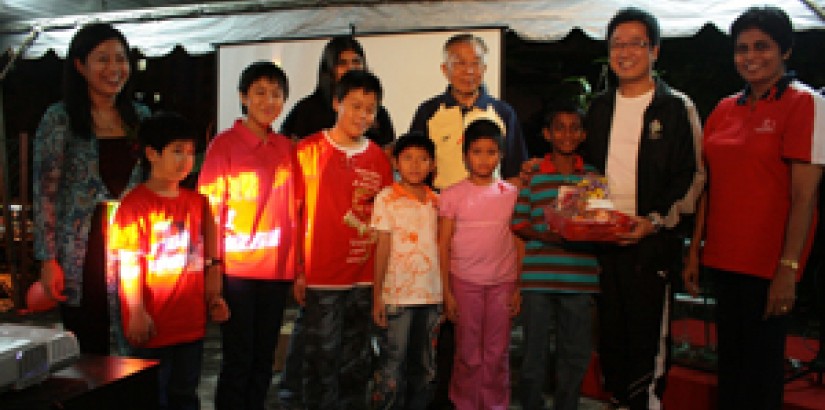 Back row from left: Dr. Mazliza Said, Ms. Kavita Sukanandan, President of the Rotoract Club of Kuala Lumpur and Mr. Yon Yong Tin, Deputy Chariman of the Rukun Tetangga Taman Midah (Zone B). Front row from right: Associate Professor Jeya Devi, Head of Scho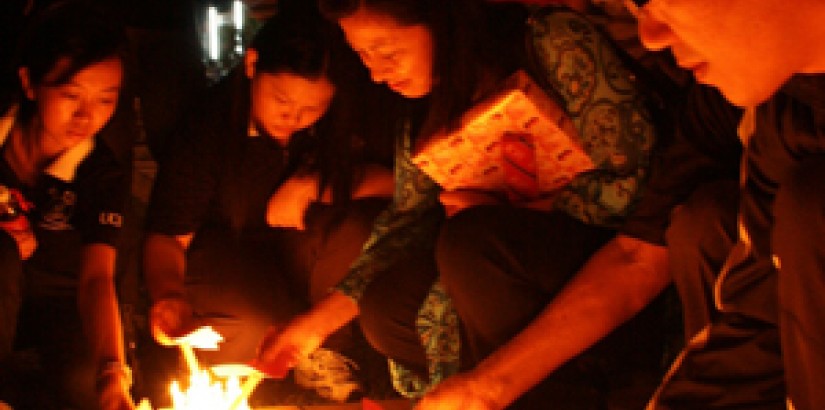 Right - left, UCSI University Group President Peter Ng, Dr. Mazliza and UCSI University Nursing students lighting the candles before the walk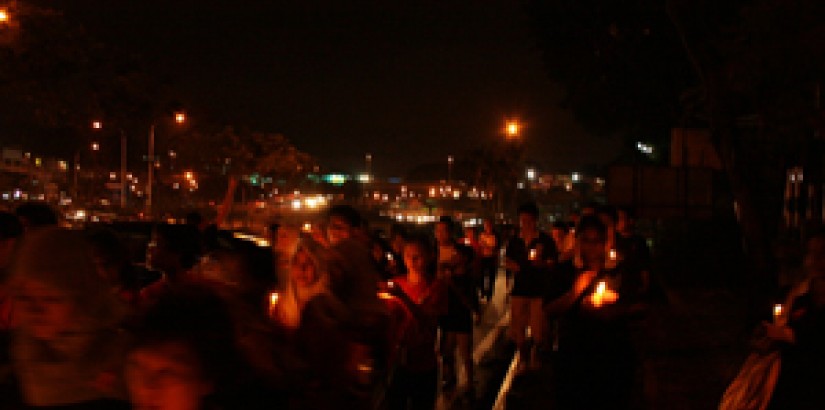 The long line of participants
Kuala Lumpur, 6 December 2008 - UCSI University's School of Nursing took a bold step towards HIV/AIDS awareness in conjunction with this year's World AIDS Day.

They organised a "Red Ribbon Charity Walk," supported by Rukun Tetangga Taman Midah Zon B and the Rotaract Club of Kuala Lumpur.

Dr. Mazliza Said, Clinical Specialist from the Department of Medicine and Infectious Disease Unit at the Sungai Buloh Hospital was the special guest at the event. She shared vital information and statistics on the spread of the HIV virus and AIDS in Malaysia.

"The first patient diagnosed as HIV positive was back in 1986 and to date, there are 80,936 HIV positive patients identified in Malaysia," she said.
She added, "However, these numbers are not fully accurate, as many do not come forward due to the social stigma it carries. There is also a great shift in the demographics of HIV positive patients. It is now the 'average Joe and Jane' who is HIV positive."

Group President and Vice Chancellor of UCSI University, Peter T. S. Ng, in his speech, acknowledged that AIDS is here to stay, and it is not just a problem for the "other people" but rather an issue for all of us --- you and I. In short, the whole community!

This event aimed to highlight the university's collective responsibility in transforming attitudes towards those afflicted with HIV/AIDS, and to encourage actions that can stop its spread.

UCSI University School of Nursing students, members of the Rukun Tetangga Taman Midah Zon B and the Rotaract Club of Kuala Lumpur turned up in full force to join this charity walk. The group, numbering more than 250, wove their way round the commercial area of Taman Midah, including the night market and distributed pamphlets on HIV and AIDS while carrying candles symbolizing support for the afflicted.
The charity walk also raised funds amounting to more than RM5,000 to support HIV-infected children at Rumah WAKE 1 (Pertubuhan Wanita dan Kesihatan, Kuala Lumpur), an NGO set up by the late Ms. Catherine I. J. Arumanayagam.

Rumah Wake 1 has 14 children of all races and religion, aged 2 to 14 years. The children are provided regular treatment at the Pediatric Institute, Hospital Kuala Lumpur. Seven of these children are on HAART medication (combined antiretroviral therapy of 3 drugs).

Encik Abu Bakar Jalaluddin, President of WAKE said, "I am very grateful that UCSI University's School of Nursing spearheaded this effort to raise funds for WAKE, along with the rest of the Taman Midah community and the Rotaract Club of Kuala Lumpur. As this silent epidemic makes its presence felt within the community in the decades to come, the work begun today will help increase the understanding that HIV and AIDS is a communal issue rather than an individual one."