Scholarship for UCSI University A-Levels Students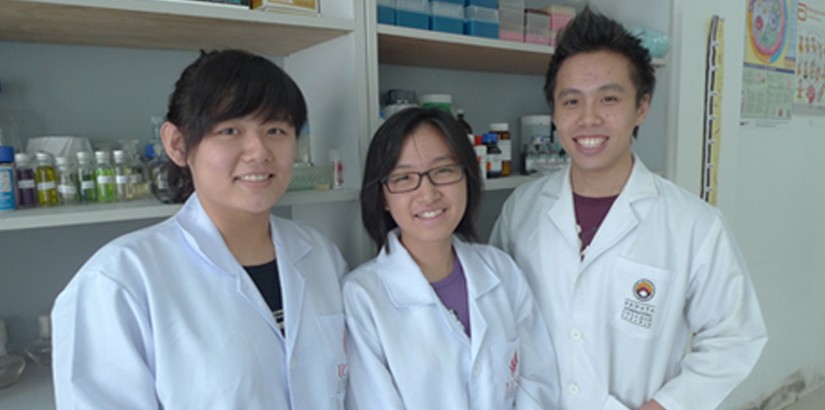 Succesful scholarship recipients from A-Level programme of UCSI University. (From left to right) Angela Lim Wern Huey, Tiong Nee and Felix Wong
Kuching, 23 March, 2012 - The A-Levels programme at UCSI University is no stranger to the education industry in Malaysia as many local and international students take it as the foundation to enter universities of their choice worldwide.
Noting the demand of financial assistance from communities of Malaysia in furthering studies, UCSI University has set up a UCSI University Trust to assist students with excellent results whoencounter financial problem in furthering studies.Students who completed their SijilPelajaran Malaysia (SPM) are given the opportunity in granting the UCSI University Trust A-Level Scholarship upon registration in the UCSI University GCE A-Level programme.
Tiong Nee, student of SMK Bandar Sibu who received 50% of the UCSI University Trust A-Level Scholarship Award was thrilled "I was really happy when I got to know that I only have to pay a small amount of the tuition fees to continue my studies here with UCSI, I am thankful to UCSI University Trust."Getting to know about UCSI University A-Level programme from her school teacher, she feels grateful to her teachers for introducing this programme as she managed to find her interest through the programme and learn lots of skills such as communication skills and practical skill from all the presentations and field trips.
Angela Lim Wern Huey from SMK Bandar Kuching No.1 was also granted the UCSI University Trust A-Level Scholarship Award successfully with excellent result in her SPM examination. "The scholarship gives me opportunity to further my A-Level programme as it reduces the burden of my family. I had made up my mind to take up the A-Level programme since I completed my secondary education as the foundation to enter Pharmacy programme in the future. The reason for me to finally decide to join UCSI University is getting to know the quality of the A-Level programme offeredhere and also the scholarship offered." "I have learned a lot in this programme especially presentation skill and research skill when we were asked to do the Green Chemistry Talk" she added.
Another successful scholarship recipient of UCSI University Foundation A-Level Scholarship Award, Felix Wong from Lodge School says that "We will have to involve in some of the university's events to fulfill our working houras a way to develop to our leadership skill. We were also given the opportunity to organize events and to interact with public during Open Days.We have improvedour communication skill and gain knowledge in organizing events."
Scholarships offered by the UCSI University Trust include the Tan Sri Ahmad Razali Merit Scholarship Award, the UCSI University Merit Scholarship Award, the UCSI University Trust Scholarship, the UCSI University Trust A-Level Scholarship and the UCSI University Trust Sports Bursary.
Students and parents who wish to find out more about theprogrammes available at UCSI Universit are invited to visit the Open Day on 24th and 25th March at its Sarawak Campus located at JalanTunJugah in Kuching. The University doors will be opened to prospective students and parents from 10am to 5pm.
The enrolment for GCE A-Levels March intake is now in progress. For more information on the GCE A-Level programme and financial assistance available, please contact +6082- 455 255 or email [email protected].