School of Information Technology receives initial collaboration token from Hilti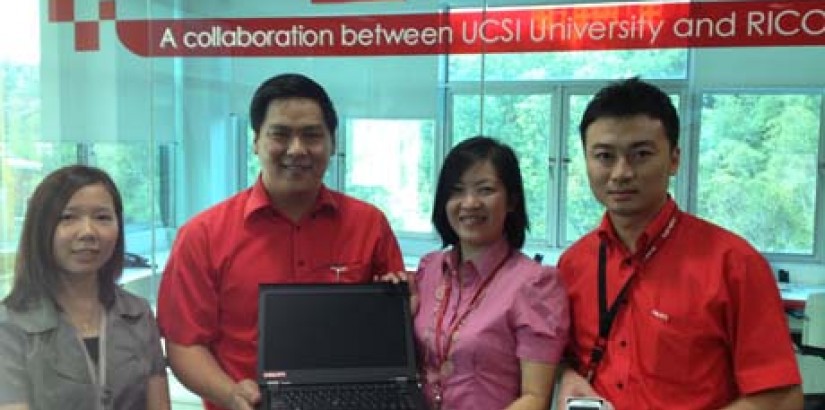 Hilti representatives presenting the laptop and Samsung Galaxy S3 smartphone as their initial token of collaboration between them and UCSI University School of IT, represented here by Ms Chloe Thong, Head of the School of IT.
KUALA LUMPUR, 26 December 2012: Advocating the Praxis model, UCSI University involves practical learning academic approaches in its courses and programmes' curriculum to further enhance students' learning, as well as academic teaching.

The recent collaboration initiative launch between the University's School of Information Technology and industry entity, Hilti Asia IT Services Sdn. Bhd. (Hilti) is one of the examples of the Praxis model in effective.

As a forerunner in providing leading-edge technology products, systems and services to the global construction industry, multinational company Hilti will be sponsoring technological tools and devices for the School of IT's research projects.

The industrial research project proposals which are secured and provided by Hilti are also a part of the collaboration effort between the University and Hilti that exposes the students to practical industrial research.

The sponsorship of technological equipment will support and further enrich the students' learning and the School's research and development efforts, especially for the industrial research projects which are carried out by the School's final year students.

The collected results from the research projects will benefit both parties in advance academic learning and industrial development respectively.

As an initial token to mark the beginning of the joint collaboration between the academia and industry, Hilti sponsored a laptop and a Samsung Galaxy S3 smartphone to the School to further R&D purposes.

Hilti is also currently co-supervising two UCSI University IT students with the School's academic staff as they intern at Hilti's IT department, training them to be skilled technically and practically in the industry.

"The co-supervising effort shared by Hilti and the School strengthens the relationship between the academia and industry as both parties work hand in hand in building up industry-ready graduates," said Ms Chloe Thong, Head of the School of IT.

Thus far, the School received positive feedback on the students' overall job performance. Their in-depth IT technical skills and strong team player performance were complimented specifically, as well as their learning attitude and responsibility performance.

In the coming new year, the School and its students can look forward to more industrial-related activities such as industrial workshops and industrial site visits. Students will have the opportunity to visit Hilti's IT Centre, gaining industrial exposure of the real-life industry environment.

These industrial-related activities play a part in fulfilling the School's mission of providing industry-relevant programmes to raise competent and innovation IT graduates to meet the needs and talent requirements of the ever changing IT industry.