SPECIAL PUBLIC LECTURE BY PROFESSOR DR JANE KNIGHT - "EDUCATION HUBS: THIRD GENERATION OF CROSS-BORDER EDUCATION"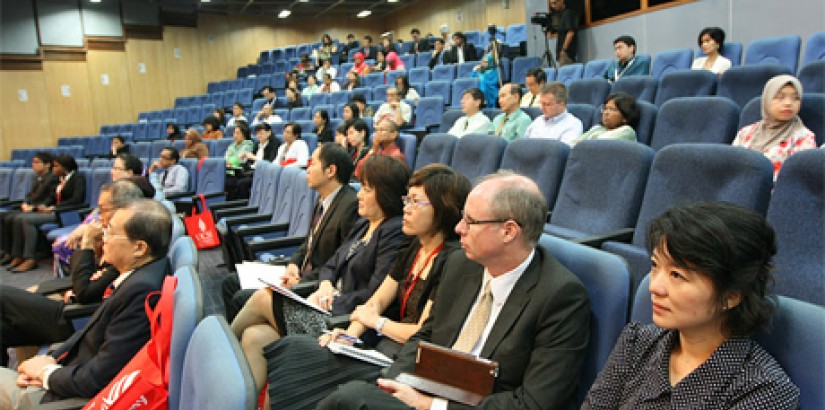 UCSI University Senior Management team at the Special Public Lecture by Professor Dr Jane Knight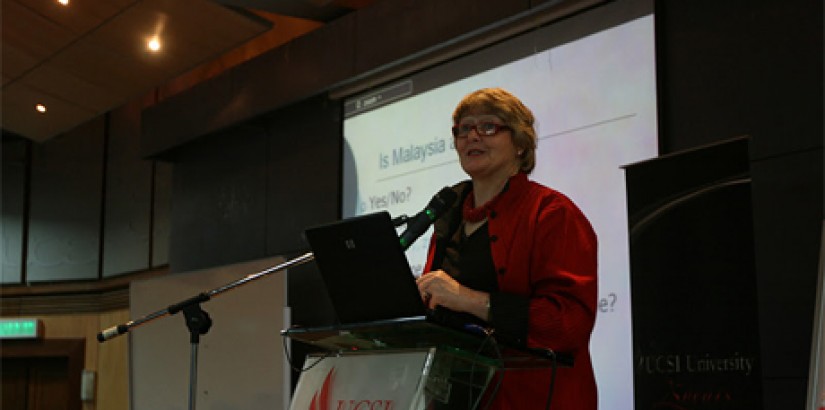 The Special Public Lecture entitled "Education Hubs: Third Generation of Cross-bord​er Education" was delivered by Professor Dr Jane Knight, University of Toronto, on 19 December 2011 at the Auditorium Hall, UCSI University​, Kuala Lumpur
Kuala Lumpur, 19 December, 2011 - The Special Public Lecture entitled "Education Hubs: Third Generation of Cross-border Education" was delivered by Professor Dr Jane Knight, University of Toronto, on 19 December 2011 at the Auditorium Hall, UCSI University, Kuala Lumpur. The lecture was well-received by participants from various public and private sector organisations as well as UCSI University's learning community.

Professor Dr Jane Knight from the University of Toronto, Canada, has conducted research on the international dimensions of higher education at the institutional, national, regional and international levels. Still ongoing, her work in over 60 countries with universities, governments, United Nation Agencies, and foundations helps to bring a comparative, developmental and international perspective to her research, teaching and policy work. Currently leading a project on education hubs involving cross-border education, she is working on a comparative study of the regionalisation of higher education in various countries in Asia, Africa and Latin America.

Cross-border education refers to the movement of people, programmes, providers, knowledge innovation, ideas, projects and also services throughout the world. According to the United Nation Educational, Scientific and Cultural Organisation (UNESCO) and the Organisation for Economic Co-operation and Development (OECD), cross-border education brings education to a whole new level to include both the public or private institutions as well as the 'not-for-profit' or 'for-profit' providers to access a wide range of modalities on a continuum that involves 'face-to-face' learning to 'distance learning' using a range of technology-based software.

Based on her research, Professor Dr Jane Knight presented three types of education hubs: the student hub, the talent hub and the knowledge and innovation hub. "Malaysia first has to decide which hub she would like to construct via the country's education sector to build its foundation based on the local values, culture and needs of her people," she said.

"Another important aspect to consider is the collaboration and cooperation between other countries and how this relationship could benefit one another in terms of culture, economics and political trust," she added.

Professor Dr Jane Knight also highlighted the fact that it is not always necessary for students to travel since foreign universities could provide access to their programmes in the students' home country. These link developing countries with cutting-edge knowledge to help train an effective workforce, while simultaneously adding a high-quality faculty to the domestic system.

At present, there are high demands for international education as reflected by the rapid growing number of international students from 1.8 million in 2000 to an estimated growth of up to 7.2 million by 2025. Due to this high demand for an international education system, it is inevitable that cross-border education is established. There are two types of providers to be observed here: the first is the 'traditional' higher education institution that always focuses on teaching, research or service to the society; and secondly, the 'new or alternative providers' who mainly focus on teaching and delivering the educational service. To expand this cross-border education, institutions could be awarded an agreement with a foreign country provider or with an affiliated domestic partner. Other methods include franchising, twinning, double degrees and various articulation models amongst some of the more popular methods used in a cross-border mobile programme.

According to Professor Dr Lee Chai Buan, the Deputy Vice Chancellor of International Relations and Postgraduate Studies, "Cross-border higher education could help a country expand its higher education more rapidly than if it were to rely on domestic resources alone. It could also help to improve the quality, variety and relevance of higher education – three key elements for effective higher education which require a critical mass of high-quality academics."

"In all countries, internationalisation allows institutions to learn from their foreign counterparts, but also, more importantly, from the feedback they get from the students themselves, both local and international," she added.

An informative lecture, the Special Public Lecture delivered by Professor Dr Jane Knight garnered useful resources for our University's growth to expand our education system to a whole new level.