SPSS Workshop For UCSI Students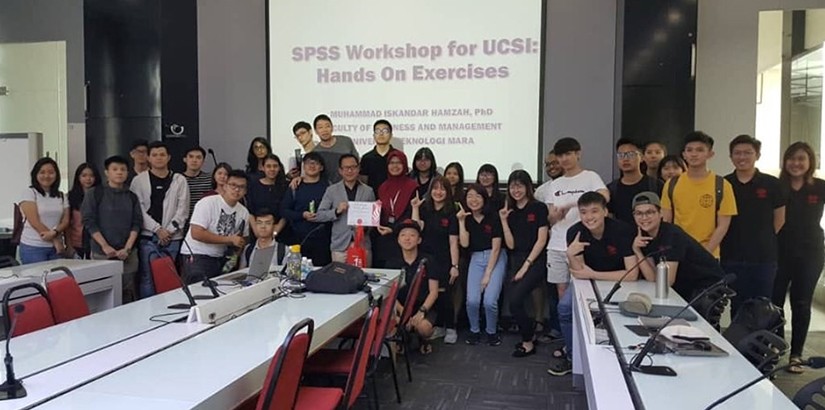 Group Picture of the SPSS Workshop participants.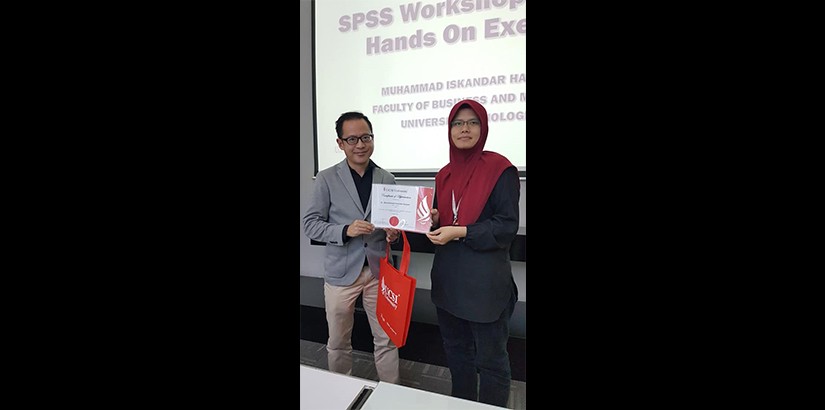 A certificate of appreciation from Assistant Professor Dr Siti Norida Wahab to Dr Muhammad Iskandar Hamzah.
The majority of students in different faculties at UCSI University are required to complete their Final Year Project (FYP) which often may require the application of SPSS in their research. The FYP is mainly designed to enhance and increase students' knowledge in their studies. Some students may be able to publish their research which is one of the milestones in stepping into the real world.
The Logistics Students Association was proud to have an experienced speaker, Dr Muhammad Iskandar Hamzah, a senior lecturer in UiTM to present on SPSS. He has published a minimum of nine journal articles which have contributed to the development of Universal Islamic Leadership (2018). He was also a second runner up in the Emerald Journal Review Writing Competition 2018.
This event was conducted on 2 October 2019 and was open to other faculties as well so that the students will have basic knowledge of SPSS and how to utilise it.
"Practice makes perfect. This system may seem alien to every student at first sight, but once students master it, it is easy to control and insertion of data into the system is simpler," said Dr Muhammad Iskandar Hamzah.
He also shared his experiences through his own SPSS slides following a step by step guideline. To him, by looking at the slides he shared, students would be able to learn by exploring the SPSS system on their own. In the slides, he highlighted important terms and explained how to insert data. During the event, all participants gained technical knowledge and information in data analysis, collection, sorting, interpreting and generating.
The Logistics Students Association (LSA) will continue to organise more informative talks in the future to help students to be equipped with fundamental and basic skills needed in the field.