The UCSI Scholars' Club (U-SchoS) Leadership Lecture Series kicks off with a bang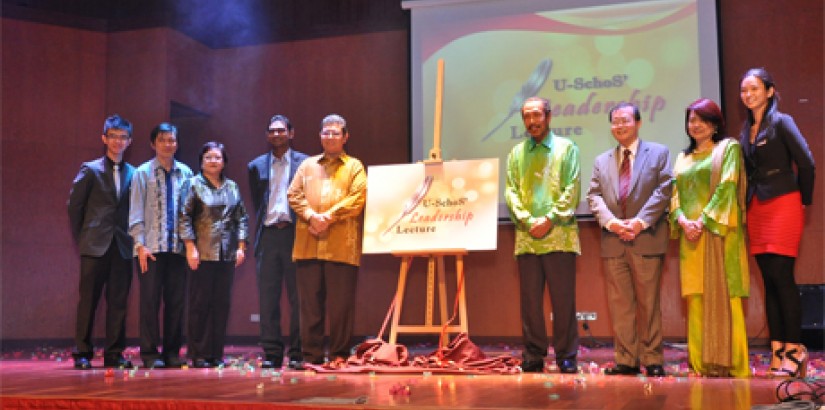 GROUP PORTRAIT (From left): Organising chairperson Danny Yeong, vice president (Student Affairs & Alumni) of UCSI University Sylvester Lim, deputy vice-chancellor (International Relations) of UCSI University Professor Dr. Lee Chai Buan, Leaderonomics CEO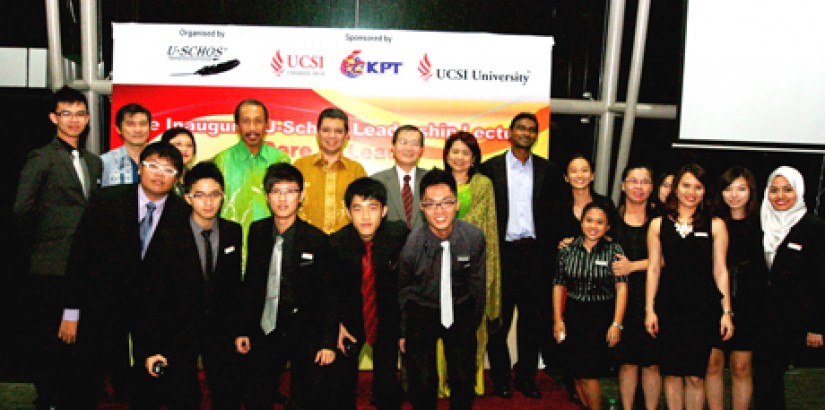 GROUP PORTRAIT (From left): Organising chairperson Danny Yeong, vice president (Student Affairs & Alumni) of UCSI University Sylvester Lim, deputy vice-chancellor (International Relations) of UCSI University Professor Dr. Lee Chai Buan, UCSI University Tr
KUALA LUMPUR, Jan 18, 2013: Themed "Dare to Lead", the recent inaugural UCSI Scholars' Club Leadership Lecture - an event organised by the club's UCSI University Trust scholarship recipients - was held on campus grounds, designed to cultivate strong leadership values among scholars.

The event featured well-known industry leaders and personalities such as Deputy Higher Education Minister Dato' Saifuddin Abdullah and Leaderonomics CEO Roshan Thiran who were present as the guest of honour and the lecture speaker, respectively.

Apart from the lecture series, the Trust - essentially the scholarship arm of the University - frequently organises myriad activities to improve the communication skills, financial planning, social etiquette and professional development of its scholars.

"More than RM30mil in scholarships has been disbursed (by the Trust) since 2006, exemplifying UCSI's ironclad commitment to scientific and scholarly pursuits," said UCSI University Trust chairman Dato' Dr Mohd Karim Abdullah Omar in his speech.

"(It is also worthy to note that) more scholarship applications were received last year as compared to the previous years," he emphasised.

"While we would like to assist all aspirants, the unprecedented rise in the number of applications made things difficult and 21.5% of the 2012 applicant pool received scholarships, as compared to 37.4% in 2011."

Notably, the leadership lecture was very well-attended - comprising more than 450 participants - and received praise from Deputy Higher Education Minister Dato' Saifuddin Abdullah, who said that effective leadership was sorely needed in uncertain times not only in the country, but around the world.

"We need leaders but more importantly, we need leaders who have mastered what they want to do and how they want to do it. Leaders must be able to accept different views of looking at things," he said.

Having worked at multinational corporations like General Electric and Johnson & Johnson, Roshan echoed Dato' Saifuddin's sentiments on leadership.

"Daring (to do something) is related closely to fear. We fear to dare to do anything because we fear failing," he said. "But great leaders always move forward and are always redeveloping themselves," he said.

"(Leadership) has nothing to do with talent. It is not all about humility, responsibility, and other such traits. But it starts with purpose and passion, and has everything to do with belief and pushing your limits."

Scholars Danny Yeong and Diana Lok, the organising chairperson and U-SchoS president, respectively, along with the organising committee, played a significant role in the event's success.