UCSI's Hands of Hope sponsored 10 refugee children education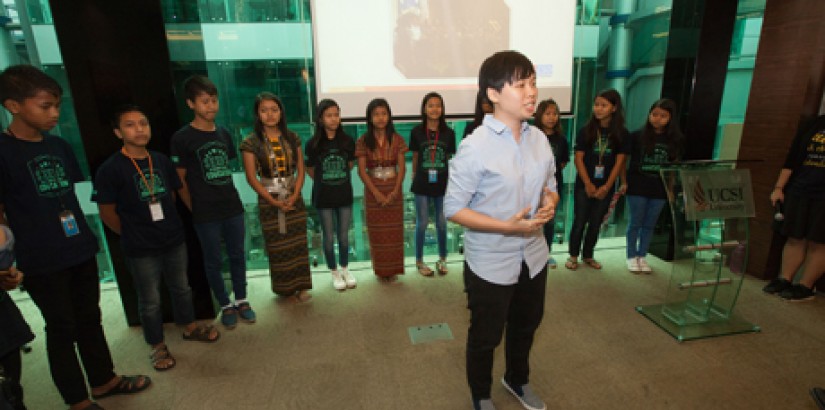 Hands of Hope co-founder Kim Lim introducing the Hands of Hope Choir which consisted of musically talented refugee teenagers.
(from left) Press Secretary to Senator Datuk Paul Low, David Yap, UCSI University founder Datuk Peter Ng, Founding President of IDEAS, Yang Amat Mulia Tunku Zain Al-'Abidin Tuanku Muhriz, UCSI vice-chancellor and president Senior Professor Datuk Dr Khalid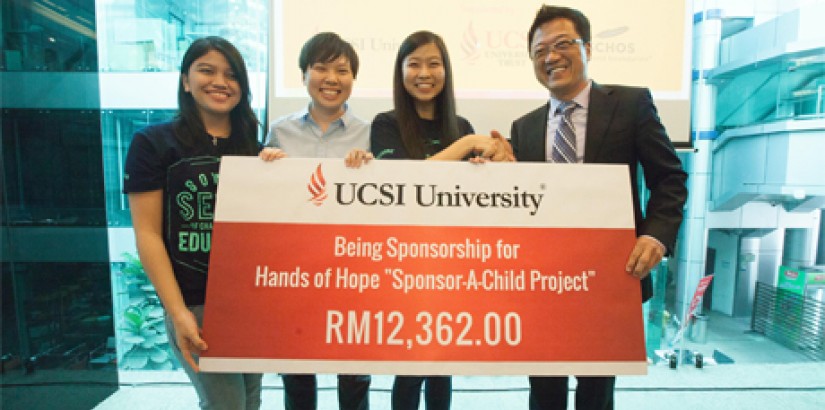 (from left) Hands of Hope co-founders Tanasha Suhandani, Kim Lim and Suzanne Ling all smiles as UCSI University founder Datuk Peter Ng contributes on behalf of UCSI University to provide access to education among the undeserved communities.
KUALA LUMPUR: Ten Burmese refugee children received education sponsorship and financial assistant through the Hands of Hope's Sponsor-A-Child Project - a social initiative by UCSI University scholarship students that supports the underserved communities for their education

Out of the ten children – aged between seven and fifteen –three are undergoing education programmes at IDEAS Academy, five at Chin Student Organisation (CSO) Learning Centre and one at Help Academy. While another who studied at IDEAS had recently resettled at the United States of America.

These children were offered the sponsorship due to their academic excellence and financial needs with the certificates presented by the Founding President of IDEAS, Yang Amat Mulia Tunku Zain Al-'Abidin Tuanku Muhriz at UCSI University Kuala Lumpur Campus on July 18.

Hands of Hope raised the fund through a Charity Musical Night - "Ignite My Life" in December 2015 to start Sponsor-A-Child Project to support refugee children for their education. Through the generous support of the donors and sponsors, they managed to raise fund to sponsor 10 refugee students to further their study in 2016.

Hands of Hope is co-founded under the UCSI Scholars Circle (U-Schos) by Suzanne Ling, Tanasha Suhandani and Kim Lim, it started in January 2014 with only 12 volunteers.

"Today, the initiative has grown to over 250 volunteers– majority being the students of the University who resonated with the cause," Tanasha said proudly.

The Nutrition with Wellness degree year-three student said the aim of the Hands of Hope is to serve as a solution to improve access to education among the undeserved communities.

"It is also a platform to instill volunteerism among youths to raise awareness towards the importance of education in changing one's life," Tanasha added.

The volunteers teach for two-hours for a total of 10-weeks while facilitating public events such as concerts, vocational classes, recycling projects through art and music to spread awareness on their cause.

Among the volunteers are the Burmese refugee children themselves who excelled in their subjects.

Taking inspiration from the Hands of Hope volunteers to give back to their community is 15-year-old Burmese refugee, Cherry, who dubbed the Sponsor-A-Child Project as a 'movement from darkness to light'.

"I hope this project continues because education is an important tool in addressing issues around the world," the IDEAS Academy student said, adding that she enjoys assisting her friends when it comes to learning English.

Cherry, who was the top student of the academy, said she aims to turn her dreams of becoming a teacher into a reality.

Sung, another Burmese refugee, appeared emotional when she revealed that her late husband would have been extremely proud of both her children who had also received the sponsorship.

"I feel a lot better as the burden to educate my children is lifted. My salary can now be used to provide better clothing and food for them,"

The 32-year-old said her family arrived in Malaysia four-years-ago and it has been difficult to make ends meet through a meagre income from washing dishes in restaurants.

"It was initially a little easier to manage when we first arrived. But things became difficult when my husband passed away on February 14, this year. I am thankful to Hands of Hope for providing us hope."

In lauding the project, Tunku Abidin hoped that refugee children who are in Malaysia will always associate this country with happy memories wherever their talents and pursuit take them.

"I am very impressed with UCSI University's students who have been making important contributions in assisting the refugee children.

"No doubt, there will be challenging times but as long as they use failure to adjust and adapt, then the future can be bright indeed. I hope society can benefit from their creativity and hardwork," Tunku Abidin said.

UNHCR Malaysia Senior Education Assistant within the Education Unit Annora Ong said student-initiated projects are very important.

"The kind of energy the youth has is very useful for organisations like us. It's creating more partners to help the community as a whole," Ong said, adding that with Hands of Hope, UNHCR would be able to extend education as far as possible to refugees.

UCSI University founder Dato' Peter Ng, who contributed RM12,362 on behalf of the University towards the Sponsor-A-Child Project, said the benefit that were reaped by the refugee children were truly worth every bit of the sweat and hard work put in by the students.

"I am sure everyone would echo similar sentiments but it is the courage of our students who venture out and make a difference to the world out there, my congratulations to these deserving scholarship recipients of UCSI University Trust," said Ng.

Also present were UCSI vice-chancellor and president Senior Professor Dato' Dr Khalid Yusoff and Head, UCSI University Trust, Shannen Choi, advisor to UCSI Scholar's Circle, representatives from refugee learning centres, parents of refugee children, and volunteers of Hands of Hope.