UCSI's IEEE-HKN Mu Alpha Chapter Wins The Outstanding Chapter Award Four Times in a Row!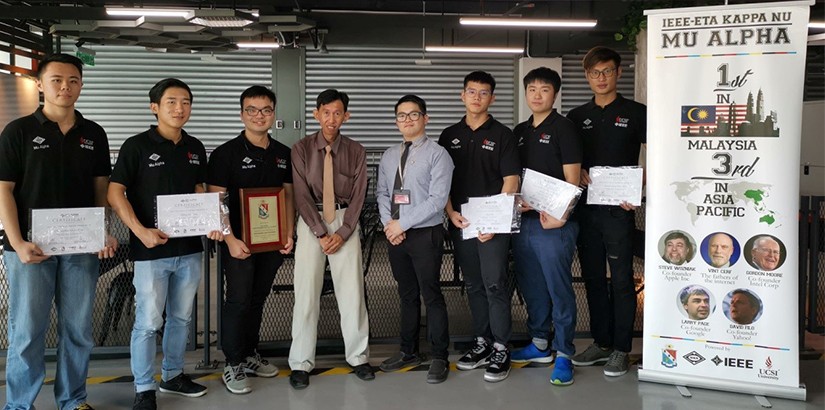 Committee Members for 2017-2018 (left to right): Christopher Ho Jie Hern (Logistics Head), Wong Jun Ying (General Secretary and Acting Vice President), Harry Hoon Jian Wen (President), Dr Rodney Tan (Faculty advisor), Dr Lim (Faculty advisor), Isaac Chen
A group photo of the current and the new committee members of IEEE-HKN Mu Alpha Chapter in UCSI University.
UCSI University's IEEE-HKN MU Alpha Chapter was awarded the Outstanding Chapter Award for the fourth consecutive term (2014-2015, 2015-2016, 2016-2017 and 2017-2018) this year. This great honour is credited to the diligence and persistence of all members who have shown their commitment to keep the club active by bringing a whole new variety of successful activities and events.
During the OCA presentation conducted on June 4, 2019 all 2018 batch members were awarded with the certificate of recognition for their excellent performance and voluntary contribution to IEEE and ETA Kappa Nu.
Harry Hoon Jian Wen, IEEE-HKN Mu Alpha Chapter president, expressed his sincere appreciation to all committee members who contributed their time in holding the event, and also guiding all the members in the club and being consistent in supporting the club as well as the IEEE-HKN Chapter to go further.
"I am very grateful for everything that Mu Alpha has given to me, in terms of academic and technical knowledge, industry engagement opportunities, and amazing friendships built among members. I have almost reached the end of my undergraduate academic journey and my journey can never be the same without Mu Alpha. I sincerely wish that Mu Alpha will continuously, long lastingly strive for more and better growth in the coming years," he added.
Club advisor, Assistant Professor Dr Lim Wei Hong, also presented his speech and gave a word of encouragement to the new committee.
"Our team is amazing and they never fail to surprise us with their events. IEEE-HKN is an excellent platform for the students to develop their soft-skills in order for them to stay competitive in their future workplace. I hope this OCA award can be a catalyst to motivate our new members to contribute more in promoting the core values of IEEE-HKN. Finally, I also would like to express my sincere appreciation to our strategic partner, i.e., UCSI IET On Campus, for their strong support in organising events together. We hope that this strategic partnership can stay strong in order for us to bring more positive impact to the community."
The Outstanding Chapter Award (OCA) is an award that recognises excellence in IEEE-HKN chapters for their activities as per recorded in the Annual Chapter Report, with an emphasis on service activities to the department, school, community and chapter. The OCA award is the utmost prestigious recognition of IEEE-HKN (ETA Kappa Nu) as it is only awarded to the Top 10% of HKN Chapters competing with top universities around the world. The standard of scholarship and the qualities of the leadership characterise the members, and each chapter holds great potential. The tradition of excellence shown by the chapters that have won the OCA throughout the years has made it a mark of distinction.