UCSI's Media Fest returns for its third year running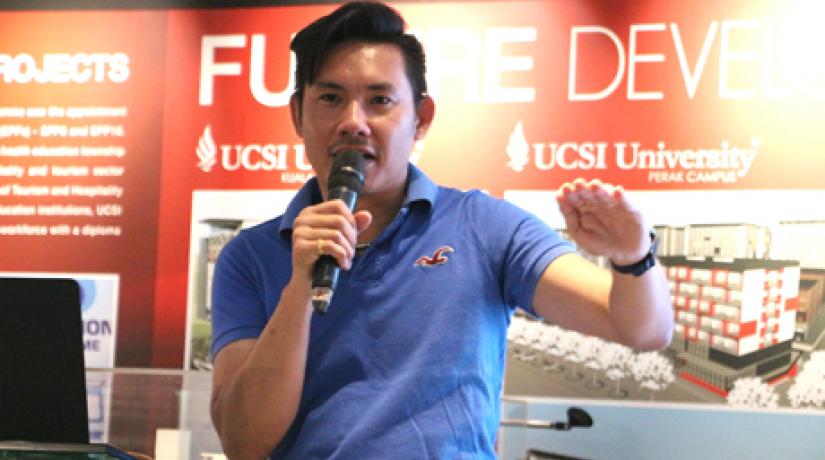 Jimin Lai, who has had a solid decade of experience in photojournalism, shared photos from his work documenting events around the world while encouraging the students at UCSI University to think out of the box and embrace creativity.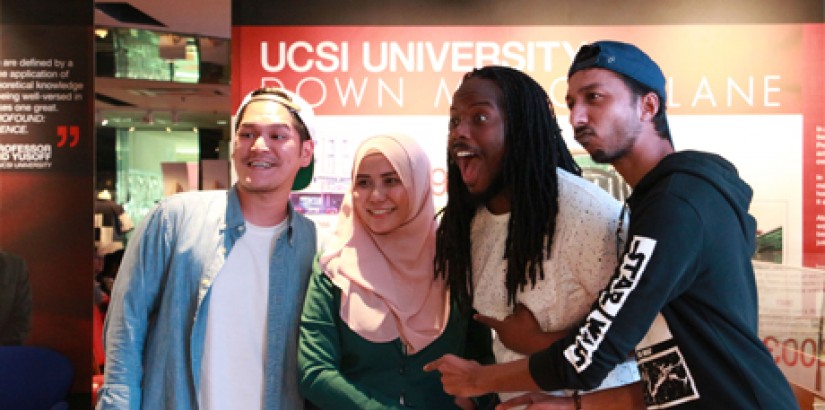 The Hitz.FM Morning Crew – Arnold Loh (left), Jay Smith (second from right) and Ryan De Alwis (right) – pictured with UCSI University lecturer and event supervisor Ghazila Binti Ghazi (second from left).
KUALA LUMPUR: UCSI University's annual Media Fest rounded off an exciting day packed with interactive sessions with an illustrious line-up of media luminaries including the Hitz.FM Morning Crew, OnFM veejay Jason Phang, and photographer Jimin Lai.

An annual event that aims to inspire and engage students within the field of subjects allied to the media discipline, this year's Media Fest featured practitioners and personalities from the silver screen to the radio industry.

"The media is an ever-growing industry and no matter what disciplines you are in, it is a form of art – one of disseminating information and conveying messages – that we cannot neglect," said Gloria Chan Choi Sim, who leads the Department of Mass Communication in UCSI's Faculty of Social Sciences and Liberal Arts, in her opening speech.

"I hope that the audience today will gain new perspectives on the media industry from these professionals and are able to use this knowledge as a guideline for their future careers."

Jimin Lai, a photojournalist who has had a solid decade of experience telling stories with a single snapshot, had much to share. Formerly with Agence France-Presse (AFP), Reuters, and The Star, Lai has photographed the aftermath of natural disasters, war conflicts, sporting events, and more. His work has been featured in publications like Time Magazine, The International Herald Tribune, The New York Times, and The London Times.

"It's important to take risks with unique angles," he said, after telling a story of how he broke away from the crowd of photographers swarming Tun Dr Mahathir Mohamad as he departed on his last day in office to find a wider angle. He did so without knowing whether Malaysia's fourth prime minister would turn in his direction but his gamble paid off and Lai nailed a shot that framed the chaos beautifully.

"Think out of the box and do something different, do not follow the crowd. The way you stand out is to have what people don't see or do."

Lai also recalled tougher assignments that had him spending three months in Pakistan and Afghanistan to document the struggles of the Afghan people during the war on terrorism.

"Fear is not something you can afford to focus on," he said. "You are under a lot of pressure to deliver and the goal is to perform. Hundreds of papers are waiting for you when you work for a wire agency so if you don't deliver the picture today, the world is not going to see it tomorrow."

For that perfect shot, he has argued with an armed guard and taken harrowing rides up the mountains in open vehicles where he had swung close to the cliff's edge and stared down into the icy abyss. Despite it all, Lai cannot remember any moment when he had wished he was somewhere else.

"To achieve success, you need to be passionate about what you're doing, have a purpose, and have a message you want to communicate," he said. "For me, I wanted to touch lives and show the world that you can still find hope, joy and beauty in terrible times."

Speakers also discussed the rise of new media and the necessity to integrate technology into traditional practices. The Hitz.FM Morning crew trio Arnold Loh, Jay Smith and Ryan De Alwis shared how social media has expanded both the reach and role of the media and its personalities.

"Twitter was only in its infancy when I started working in radio but today, social media has become part and parcel of the job," said Smith. "Some shows have even started to incorporate Facebook Live so that they can connect with their fans while on air. It's move with the times or be left behind."

"There's a lot more to do now," said Loh. "You got to keep posting content on Facebook, Twitter, Instagram and YouTube. It's a challenge for sure."

"I used to process traffic reports for the station before I became a radio host, but now that role's near obsolete with traffic and navigation apps," said De Alwis. "So what we got to do is to approach it differently, like partnering up with Waze to deliver those traffic reports."

Jason Phang, an OnFM veejay and well-known personality in the Chinese entertainment industry, added, "The world today is different from the yesteryears. The industry is very competitive and you have to work hard and branch out. I couldn't just stay behind the mic; I had to write blogs, update my social media channels, record Chinese New Year songs for my station, and even act in movies."

As a social media influencer and travel blogger, Phang has worked with both the Macao and Taiwan tourism boards as well as Universal Studios in Japan. He advised, "Study hard, work hard, and get out of your comfort zone. There's so much in the world to experience."

Other speakers included Julio Ng, founder of dOb Entertainment and a specialist in advertising, TV production and event management, who took the students through the ups and downs of freelancing. Isazaly Mohamed Isa, a film editor and post-producer who has worked on nationally acclaimed films like Susuk, Saloma, and Lips to Lips, wrapped up the day.

"There are no shortcuts to success, it will take you a lot of passion, hard work and focus," he said. "The industry is full of daydreamers and we don't need more, so get out there and start shooting. Push yourself physically and mentally, and persist."

The event was also attended by Professor Dato' Dr Ahmad Hj Zainuddin, UCSI's Deputy Vice-Chancellor of Academic Affairs and International, who opened the festival.