UCSI Alumnus: A Sustainable Business For A Sustainable Environment Is Not Easy, But Doable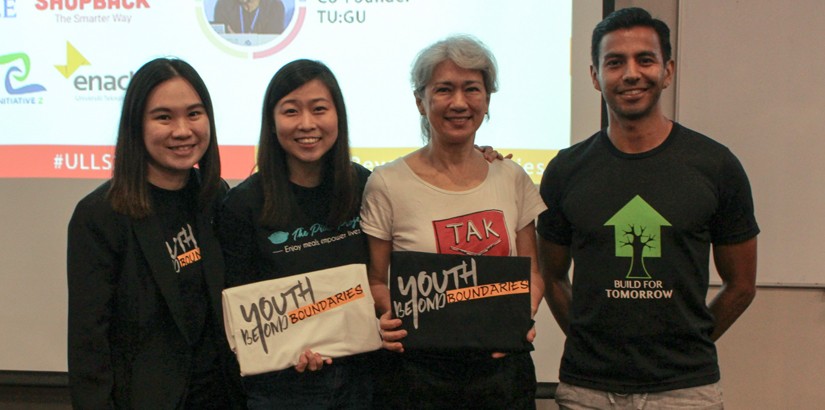 Suzanne (second from left) spoke about her challenges in setting up The Picha Project at a forum creating a sustainable environment for everyone - Photos are courtesy of U-Schos
KUALA LUMPUR – Suzanne Ling thought she had it all planned out when she completed her studies at UCSI University to run a social enterprise that is based on a sustainable business model.
The Picha Project co-founder said it was a rocky road convincing clients to subscribe to her business' ideology and concept that serves up middle-eastern delicacies, cooked by refugees from war-torn nations.
"The most frequent queries I get is 'are the cooks clean'. It was always difficult approaching conglomerates back in the days and there will be times I felt like giving up.
"But our perseverance not to give up showed that it was possible to do what we do," said the Psychology graduate at forum titled "Sustainabileadty".
The Picha Project started off with just one family of refugees in January 2016. Today, there are 12 families from Iraq, Syria, Myanmar, Palestine and Afghanistan earning a decent income through Ling's startup, which she initiated with several others.
"Refugees in Malaysia are unable to get to a job because the law is such. I felt that something could be done because of the dilapidated state of refugees who are living in poverty.
"We, at Picha, therefore, thought that why not create a model that will generate income for us, these refugees, and give them a reason to live while serving 'hungry people'," she said.
Like Ling, former UCSI University student Kelvin Yip said his company – Tu.Gu – a social enterprise that empowers farmers in Laos from being exploited by unscrupulous corporations, also faced all sorts' challenges.
Adopting the circular economy approach in his business, Yip said, the challenge came when marketing and promoting edible and cosmetic produces from plants using recyclable packaging.
"Generally, goods that come from recyclable packaging are more expensive. But they are good for the environment especially when we are in the midst of trying to create a sustainable model to ensure that our kids have a place to live in someday," he said.
To overcome this, Yip said, consumers must change their mindset and choose for what is better for the environment over cost.
"I understand there are constraints in our purchasing power. But we got to think for what is better for the environment.
"Buying goods that will damage the climate and environment will bring no good to the longevity of our home," he said, referring to earth.
To have a mindset as such, Yip said learning institutions should play a role in nurturing the habit.
Citing UCSI University in embracing the United Nation's Sustainable Development Goals (SDGs) as a point in case, Yip said, more universities should follow suit accordingly.
"We don't need to start something big like holding forums. We could, maybe, enforce switching off lights when not in use or maybe reduce the air-condition temperature," he said,
Little things as such, he said, would shape the mind of the young towards loving the environment and thus changing buying habits to shift from a traditional linear economy to a circular economy.
A circular economy is based on a regenerative model that advocates recycling of goods for the purpose of reducing waste and pollution.
Through Tu.Gu, Kelvin said, farmers are paid a decent remuneration each month. According to Kelvin, there is also a plan to share Tu.Gu's profits with the farmers once the social enterprise that is based on business-to-business model takes off completely next year.