UCSI CELEBRATES ITS 20th ANNIVERSARY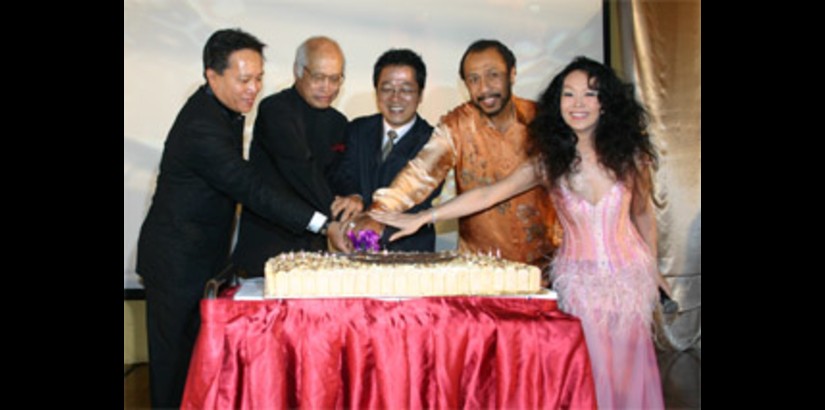 From left: David Chiang (a partner director of UCSI), Tan Sri Abdul Rahman Arshad (Chancellor), Peter T.S. Ng (President and Vice Chancellor), Datuk Karim Abdullah Omar (Chairman, University Council) and Elaine Kang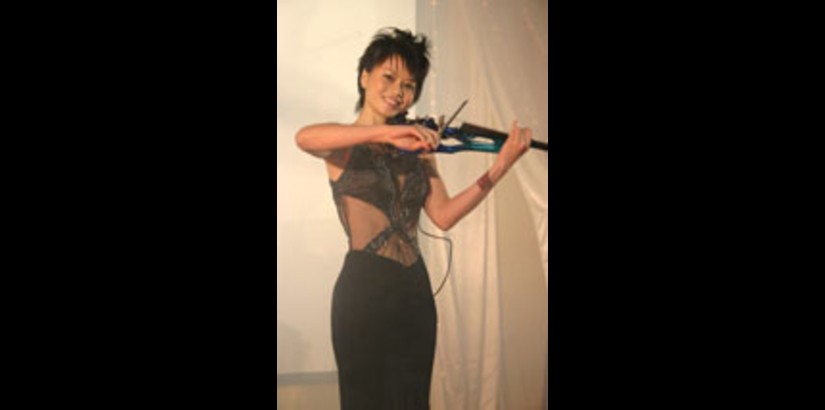 Performing artist and violinist, Joanne Yeoh mesmerized the audience with her songs
Kuala Lumpur, 17 November 2006 (Friday) – For University College Sedaya International (UCSI), tonight's gala dinner is the time to celebrate its 20 years of academic excellence as an institution of higher learning.

"From a humble institute of computer studies back in 1986, UCSI has grown to become a university college with 5,000 students," said its President and Vice-Chancellor, Peter Ng. "We are committed to expanding further to make UCSI a reputable institution of higher learning."

UCSI, he added, has attracted nearly 1,000 international students from some 50 different countries around the world. "We are carving a name for UCSI in these countries," he said to an audience of some 1,200 staff and guests, who gathered at UCSI campus in Kuala Lumpur to celebrate its 20th anniversary.

They were mesmerized by entertainer and pop artist, Elaine Kang, who is also commemorating her silver anniversary in show business this year.
UCSI's home-grown violinist, Joanne Yeoh, who had the privilege of performing alongside Hong Kong superstar Jacky Cheung in his Music Odyssey Tour 2002/03, also entertained the audience with three pieces from her wide repertoire, "Lord of the Dance", "Getaran Jiwa" and "Shanghai Beach", while UCSI students, Soon Hock Chuan, Choong Seet Yee and Chan Jin Shing performed "The Good, the Bad and the Ugly", "Orange Blossom Special" and "Cherry Blossom" on their harmonicas.

Another music student, Rachel Tan belted out the song, "How Do I live Without You," with piano accompaniment by fellow student, Emily Goh.

A popular piece, "A Nightingale Sang in Berkeley Square" was performed solo by Lenny Richard. She was later joined by Ryan Landis, and Emily Goh on the piano, to perform another popular piece, "Unforgettable."

Each of the guests were given a unit of the commercialized Easy Infra Red Lighting System (EILLiS), which was invented by four UCSI Electrical and Electronics Engineering students, Anthony Chia Mun Chung, Saw Chun How, Lum Kai Mun, Loke Chee Kin and Khong Poh Yee.

UCSI's Chancellor, Tan Sri Datuk Seri Panglima Dr. Abdul Rahman Arshad, who was the guest-of-honour, challenged the staff of UCSI to strive towards greater heights of success for a brighter future."I would like UCSI to start benchmarking with some of the world's top universities," he said. "We should be humble enough to admit that there is always someone else out there who is better at something. If we want to see progress, we have to be wise enough to try and learn how to match and even surpass them at it. Only then can we achieve greater heights of success."
"Without prejudice to the rights of UCSI the information herein is correct at the time of printing and UCSI reserves the right to make amendments without prior notice."