UCSI furthers Irish collaborations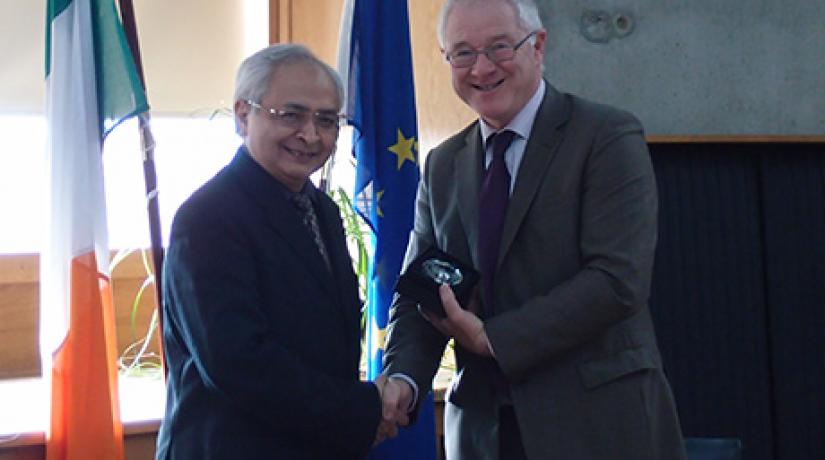 Senior Professor Dato' Dr Khalid, Vice-Chancellor and President, UCSI University welcomed by Dr Barry O'Connor, Registrar and Vice-President for Academic Affairs at the Cork Institute of Technology.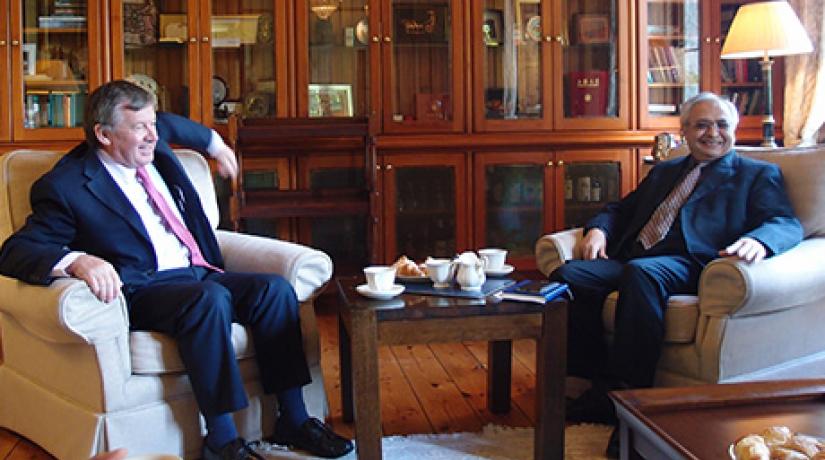 Dr Michael Murphy, President, University College Cork and Senior Professor Dato' Dr Khalid, Vice-Chancellor and President, UCSI University discussing potential areas for academic collaboration.
Senior Prof Dato' Dr Khalid Yusoff, Vice-Chancellor and President together with two UCSI University's representatives visiting the Engineering Building of NUI-Galway – a 40 million euros, award winning teaching facility which demonstrates that engineering
KUALA LUMPUR: Highly regarded for its medical education, the Republic of Ireland's global operations also cover a wide range of non-medical fields, including engineering, ICT, business studies, arts, agribusiness and veterinary sciences at undergraduate and postgraduate levels, among others. With this, the Republic of Ireland has benefitted tremendously from many of the world's leading multinational companies (MNCs) that have set up their European headquarters in the country. These MNCs are drawn to the Republic of Ireland by the high level of research carried out at the higher education institutions.
UCSI University (UCSI) was recently invited to visit several higher education institutions in the country to discuss potential collaborations between UCSI and their Irish counterparts. The invitation was extended by Mr Terry McParland, Manager of Education in Ireland. Education in Ireland is an initiative by Enterprise Ireland – the government organisation responsible for the development and growth of Irish enterprises in world markets. The UCSI delegation was led by Senior Professor Dato' Dr Khalid Yusoff, UCSI's Vice-Chancellor and President.
The trip saw the UCSI delegation visit and meet with representatives from five public universities, five public Institutes of Technology, one private college and The Royal College of Physicians of Ireland to develop potential academic collaborations between UCSI and each institution.
Among the areas identified for academic collaboration with the Irish Higher Education Institutions (HEIs) during this highly successful visit include setting up linkages with the industry or companies to offer Industrial PhD programmes, offering structured PhD with taught courses and postgraduate programmes by coursework, conducting a study visit to Rubicon, Ireland's premier business incubation centre located in Cork Institute of Technology to learn about their spin-in, spin-out and spin-off models for business start-ups. The visit also focused on international work placement opportunities for our students through the Irish HEIs with their industry partners.
Other academic collaborations identified include developing a new programme in biomedical engineering, offering new postgraduate programmes in Cloud Computing, carrying out a joint research collaboration for Putrajaya Lakes Research Initiative and offering dual or joint degrees with reputable universities in various disciplines as well as setting up an Asian Culinary Arts Centre alongside organising a World Chef's Convention involving the Irish HEIs.
The visit is the result of the earlier groundwork set by Dr James Walsh, an Education Consultant, Commercial Section, Embassy of the Republic of Ireland in Malaysia, who visited UCSI University in April 2012. Dr Walsh's visit aimed to assess the university's interest in setting up formal collaborations with Irish institutions of higher education and to present a formal report to the Irish Higher Education government.
Subsequently, a delegation from 10 HEIs led by Mr Terry McParland visited UCSI in December 2013. The visit paved the way for more visits from respective Irish universities which led to the UCSI delegation visiting Ireland in October this year.
Speaking upon his return, Senior Professor Dato' Dr Khalid expressed his thanks and highest appreciation to all involved in organising the visit.
We are excited with the great potential that Ireland has to offer. These collaboration initiatives, when come to fruition, will elevate UCSI University's status even higher and further. Let us not miss this opportunity to make a difference.