UCSI hosts Award & Scholarship Presentation Ceremony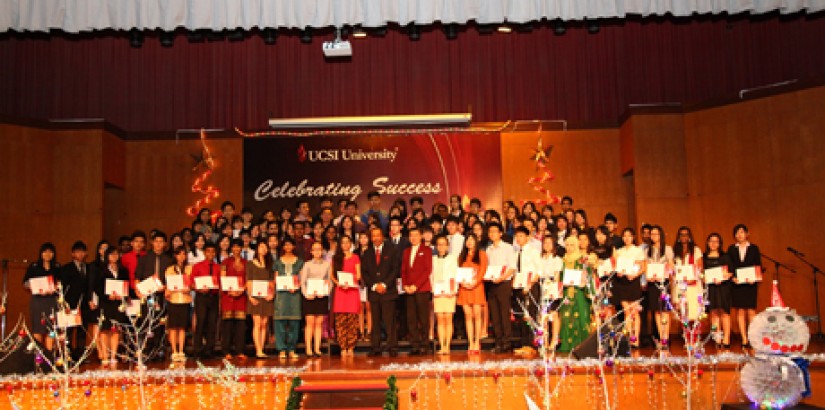 CELEBRATING SUCCESS: Awards & Scholarship recipients' group photo with Yang Berbahagia Dato' (Dr) Haji Mohamed Karim Haji Abdullah Omarn (in black suit), Chairman, UCSI University Trust and Assistant Professor Sylvester Lim (in red suit), UCSI University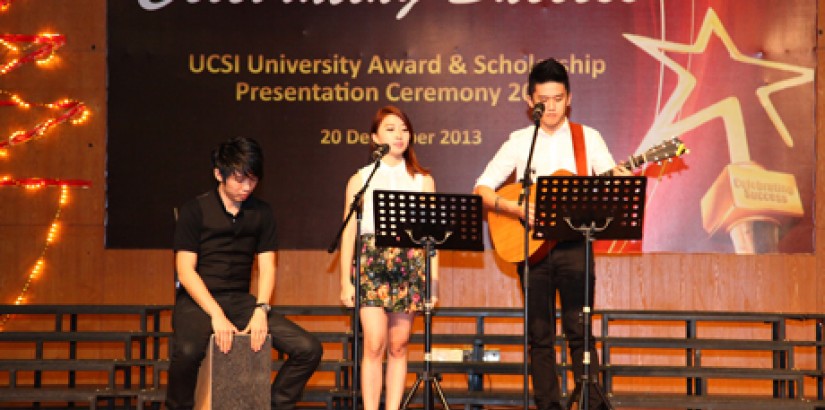 ACOUSTIC PERFORMANCE: Students from UCSI University's School of Music performing a few songs for the ceremony.
KUALA LUMPUR: The UCSI University (UCSI) Award & Scholarship Presentation Ceremony – themed, 'Celebrating Success' – this year will see more than 270 prodigious students presented with various awards and scholarships.
These include the Presidential Award, the Overall Achievement Award, the Industrial Partners Sponsorship Award – that has been awarded to many precocious students of the University's Co-Operative Education Programme – and the DULUX Emerging Talent Awards, to name a few.
Notably, the annual event honours students whose achievements illustrate a sustained level of excellence.
Take for example Ling Sook Shian, who will be awarded a UCSI University Trust Scholarship to pursue her B.A. (Hons) in Psychology at UCSI. A charity-minded scholar, she initiated and is spearheading a community project titled, 'Hands of Hope' that will see scholars teaching children – from a refugee learning centre, a children's home and a community centre – academic subjects and general interest activities like arts, dance and sports, among others
Ecstatic about her scholarship, she is happy and grateful that UCSI recognises the achievements of students.
She goes on to add that students should not only excel academically but also take some time to 'step outside the classroom'.
"Learning and applying a skill to practice are two very different things," she says. "And as a student, I believe extracurricular activities help us gain additional skills and network with people from all levels, which will give us a boost in our careers later."
Other noteworthy students include Chan Mei Xuan – also a UCSI University Trust Scholarship recipient – who became the first Malaysian pianist to win a gold award in the prestigious Asia Piano Competition in Taiwan and Song Yee Kai, the leader of a four-man team that is representing Malaysia as a finalist in the World Engineers Summit 2013 Young Engineers Competition.
According to Tan Sri Dato' Seri (Dr) Musa Mohamad, chairman of the University Council, these achievements successfully illustrate that UCSI's student community is dedicated to the pursuit of excellence and lifelong learning
"The nation is at the brink of its economic growth and this is why UCSI University is committed to create an environment that emphasises more than academic learning; an environment that ensures our students have every opportunity to fulfill their potential," he says in his speech.
"I take great pride in seeing the abundance of talents within our University and today's ceremony is an excellent showcase of the new generation's dynamics to take the nation to greater heights."
Anticipating a crowd of approximately 400 people, the event is jointly organised by the Trust – that has awarded scholarships and financial assistance amounting to more than RM38 million in total, to date, to approximately 1,400 undergraduates at UCSI – and the Student Affairs and Alumni Division,
The ceremony will be attended by other UCSI senior management and academics such as Dato' Peter Ng, founder and chairman of UCSI Group; and Senior Professor Dato' Dr Khalid Yusoff, vice-chancellor and president of UCSI, among others.