UCSI launches two new pharmaceutical sciences programmes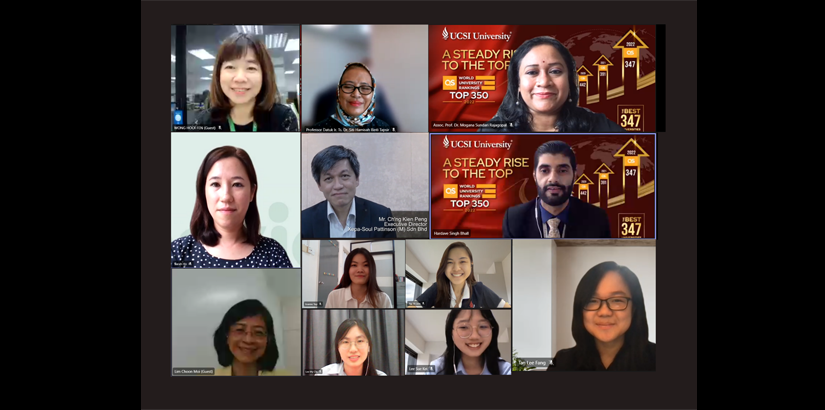 KUALA LUMPUR, 13 OCTOBER 2021 – UCSI University recently celebrated three landmark occasions - its annual Book Prize Awards Ceremony in conjunction with World Pharmacists Day along with a soft launch of two new programmes by the Faculty of Pharmaceutical Sciences.
UCSI's pharmacy graduates have achieved 100% graduate employability by continuously engaging in the industry to produce employment-ready graduates. The Faculty commemorates excellence in pharmacy education by recognising students who have performed remarkably in academia, extra-curricular activities, soft skills and have values pertinent as in the Oath of Pharmacist. This is done through the annual Book Prize awards where outstanding student are selected to each receive RM1000 cash awards named after the participating industry, who are the core praxis partners of the faculty.
The four industry partners in attendance had several words of wisdom to impart upon the pharmacy students and audience. Tammy Lin Choon Moi (Director of Regulatory Affairs, Medispec) and Wong Hooi Fen (Chief Pharmacist, Caring Pharmacy) both agreed that the recent COVID pandemic has highlighted the important roles of pharmacists as front liners. Sarah Ho Lee Mun, who is the Executive Director of Hovid Sdn Bhd said that there is a shortage of appropriate local talent in the pharmaceutical industry and that Hovid is looking forward to initiatives to close this gap, give opportunities to local pharmacy graduates and help support the local economy. Xepa-Soul Pattinson Executive Director, Ch'ng Kien Peng commended efforts by the university to put in place new and effective methods for students to complete their studies and overcome recent adversities.
The event was officiated by the newly elected Vice-Chancellor Datuk Professor Ir Ts Dr Siti Hamisah binti Tapsir. Siti Hamisah, is the former Higher Education Ministry director-general and is the fourth vice-chancellor of UCSI University with 34 years of service in various portfolios within the government under six different ministers. She said that the faculty will soon be launching the Packaging Science and Technology diploma, first in Asia, and diploma in Cosmetic Science which is in line with the University's efforts in providing a skill based and job-ready education to its students.
Faculty of Pharmaceutical Sciences Dean Associate Professor Dr Mogana Sundari Rajagopal said these two industry-relevant programmes would give students the advantage of joining the workforce sooner than expected. She added that "the Diploma in Packaging Science and Technology offers students intensive Praxis hands-on approach and attachments to industries for enhancement of skills in consumer and industrial products. Their expertise is very much sought after in the pharmaceuticals, food and chemical products related packaging, regulatory and safety aspects to meet the growing industrial demand of innovative packaging design and protection."
"Meanwhile, the global cosmetics market is forecasted to go beyond 412 billion USD by 2024 where Malaysia's market is growing at a speedy 4.7% annually. Graduates of the Diploma in Cosmetic Science will be able to embark as entrepreneurs in cosmetic business, establish successful SMEs, and be equipped with the skills in developing their own formula and business," she added.
The event is a testament to the Faculty's continuous efforts in ensuring excellence in pharmacy education and in providing opportunities for students to network and collaborate with industry partners well before graduating.