UCSI produces top quality culinary experts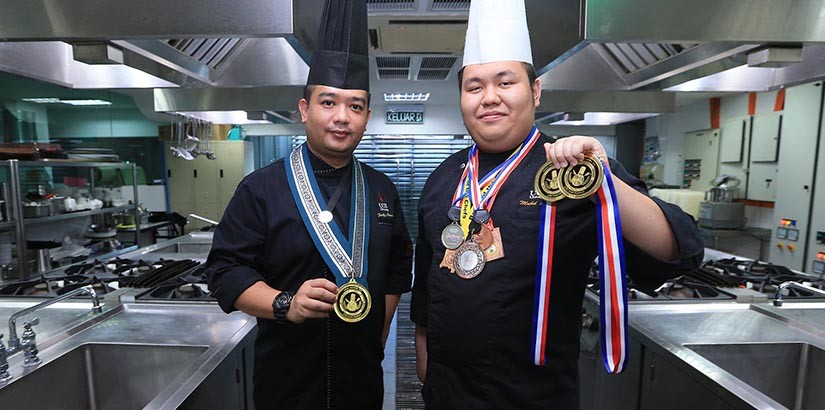 Mohd. Aiman (right) owes his many awards bagged from the various cooking competitions to Mohamed Fadzly (left) and UCSI.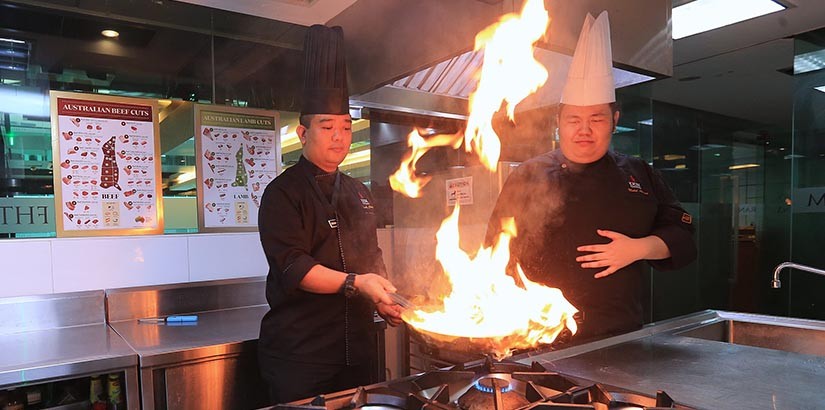 Assistant Professor Mohamed Fadzly (left) showing off some of his exceptional cooking techniques as Mohd Aiman (left) looks on.
At UCSI University, students do not just experience an all-encompassing education journey but are also given the skill set to remain relevant in an ever-changing economic landscape.
The same can be said for the students in the culinary arts.
According to Assistant Professor Mohamed Fadzly, students from the faculty of hospitality and tourism management have bright futures.
Referring to the Diploma in Hotel Management programme, Mohamed Fadzly said students learn the art of bread-making, tourism, hospitality, food preparation, basic marketing knowledge and customer service, food and beverage service, tourism communication, computing service, pastry and bakery, commercial cookery, hospitality and tourism economics, and banquet and event management.
As for the Diploma in Culinary Arts programme, he said students will learn nutrition in the food service industry, basic Korean cuisine, fundamentals of marketing, international cuisine, cost control measures, catering management, and hospitality and tourism law.
These, he said studied over a period of two and a half years, will help students shape better career prospects upon graduating.
"Many of our alumni have gone on to establish their own restaurants, while many are currently working at Michelin star restaurants," he said, adding these were testaments of the true meaning of education at UCSI.
Other than alumni, Mohamed Fadzly said, interns at the faculty were also exposed to opportunities to work at established restaurants and luxury hotels.
He pointed that having the right exposure at the learning stage was imperative for students to espouse the right characteristics to serve in the workforce.
In addition to that, Mohamed Fadzly advised aspiring chefs to learn new traits in the hospitality industry perpetually.
"We must adapt to changes. Embrace new market insights, and learn or rejig new recipes to create new ones," he said, explaining that students at his faculty were constantly reminded to be creative and innovative.
Mohd Aiman is a case in point.
The 21-year-old culinary arts student from UCSI has won many awards at various food competitions.
In 2019, he won gold in the World Chef Championship for two categories, namely in the Italian and Malaysian Laksa segments.
Prior to that, he won silver for a group competition in the Malaysia Chefs and Cooks Congress, and bronze as an individual in the Battle of the Chefs in 2019 and 2018 respectively.
Moving forward, Mohd Aiman said he wishes to begin his own noodle restaurant.
Like a Japanese Ramen chef who dedicates his or her life to refine the best quality noodle dish, Mohd Aiman said he similarly aspires to do so same.
UCSI is ranked as the best private university for two years in a row in the QS World University Rankings 2020 and 2019. In terms of graduate outcome, the university was ranked third in the QS Graduate Employability Rankings 2020.