UCSI scholars meet Chatime Malaysia CEO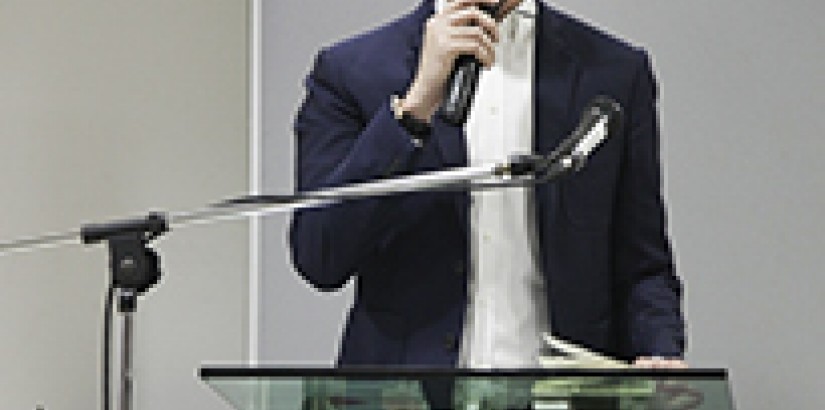 INSPIRING SESSION: Chatime Malaysia CEO Bryan Loo addressing scholarship recipients at the "Meet the Leaders" session organised by U-SchoS.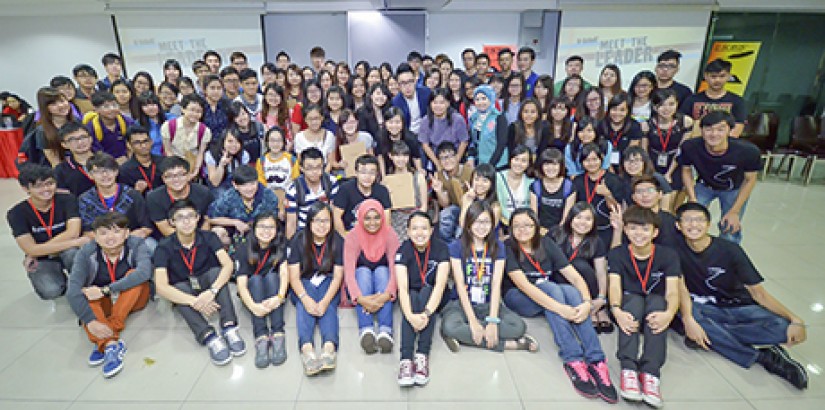 GROUP PORTRAIT: Chatime Malaysia CEO Bryan Loo posing for a group shot with UCSI scholars and UCSI University Trust head Shannen Choi (on Bryan's left) during the 'Meet the Leaders' session at UCSI University.
KUALA LUMPUR: The recent 'Meet the Leaders' session – organised by UCSI Scholars' Club (U-SchoS) – on Feb 6, 2015 saw Chatime Malaysia CEO Bryan Loo sharing his entrepreneurial story with scholarship recipients from UCSI University Trust, the scholarship arm of UCSI University.

Down to earth in person, Loo also shared the story of his business ventures – his first was selling comic books he drew when he was six – and went on to emphasise the importance of passion for an entrepreneur.

"Being an entrepreneur is a lifestyle but it is important to first understand the business. You must know your true passion and interest, and have realistic goals. Find out why you want to start a business, the kind of product you want to sell and the kind of services you want to offer," said the young millionaire candidly.

"I feel very honoured that I'm seen as an inspiration by others but it is my wish that all of you outdo me. Don't envision yourself to be where I am, but be and do better than me."

Recently, UCSI had presented Loo with the Malaysia's Top 10 Most Inspiring Young Leaders and Personalities Award, which honours exemplary individuals who have inspired young Malaysians through leadership, business, sport, and community service, among others. In total, 31 candidates were nominated for the award by Malaysian students – between 16 and 25 years old – from local public and private institutions of higher learning.

Notably, Loo is the man who brought the modern tea drinking culture to Malaysian shores by opening the country's first Chatime outlet in the year 2010. His latest ventures include Tino's Pizza Express – that serves gourmet Neapolitan pizzas – and SodaXpress, Malaysia's first sparkling water maker, among others.

"Receiving the award is an honour and being voted by the students makes it even more special," Loo enthused. "This is definitely something that will continue to motivate and inspire me."

During the sharing session, Loo joined the scholars in a fun and interactive management game that emphasised teamwork, innovation and creativity.

In addition to the game, there was also a 15 – 20-minute session that saw participants interacting with Loo on what they learned – creating avenues for him to advise them on how they could improve further.

Sharing her thoughts on the event, organising chairperson Amanda Yin said that it really boosted her confidence.

"There were a lot of new experiences and I definitely learned a lot from this event, especially in terms of teamwork and communication," she said.

"I'm very glad that today's event went well and gladder still that I had the opportunity to meet Bryan. He's truly an inspiration to all of us."

U-SchoS president Suzanne Ling Sook Shian was also of the same view and was thrilled to have met Loo in person.

"Despite all his achievements, Bryan was very humble and it was great that we were able to meet such a young yet successful personality, which is not something we do every day," she shared.

"His sharing about 'being passionate about what you do' really struck a chord in me and I'm very happy we were all part of this experience. It's very inspiring."

It is worthy to note that such an exclusive sharing session is not the first to be held on campus grounds.

In early January this year, Datuk Nicol David also visited the University to pick up her award and spent an hour with U-SchoS members to share her story on her long journey to the summit of competitive squash.

Other winners of the award include Air Asia Bhd CEO Aireen Omar, Groupon Asia Pacific International vice-president Joel Neoh, singer and songwriter Shila Hamzah, actress and pop singer Lee Sin Jie, YouTube sensation Jin Lim (Jinny Boy), and pop singer Fish Leong, to name a few.