UCSI Scholarship 'a light at the end of the tunnel' for chemical engineering student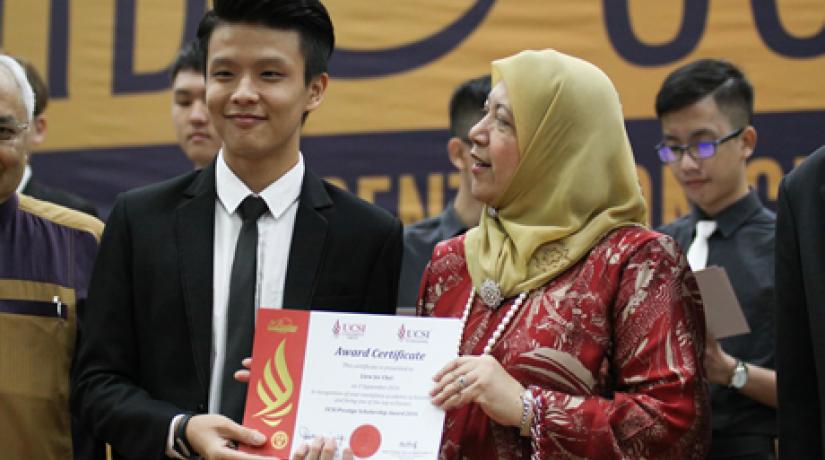 All smiles as UCSI chemical engineering student Liew Jer Chyi receives the UCSI Prestige Scholarship Award from Higher Education Director-General Professor Dato' Dr Asma Ismail.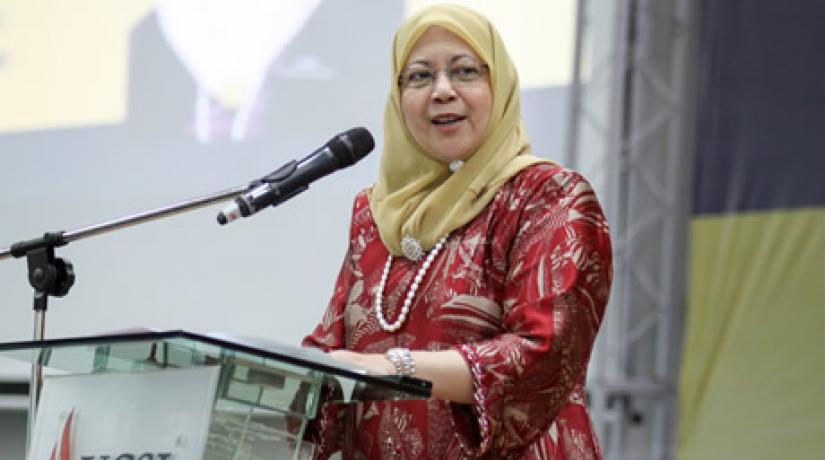 Guest of Honour Higher Education Director-General Professor Dato' Dr Asma Ismail commends UCSI University for its outstanding efforts and contributions to date.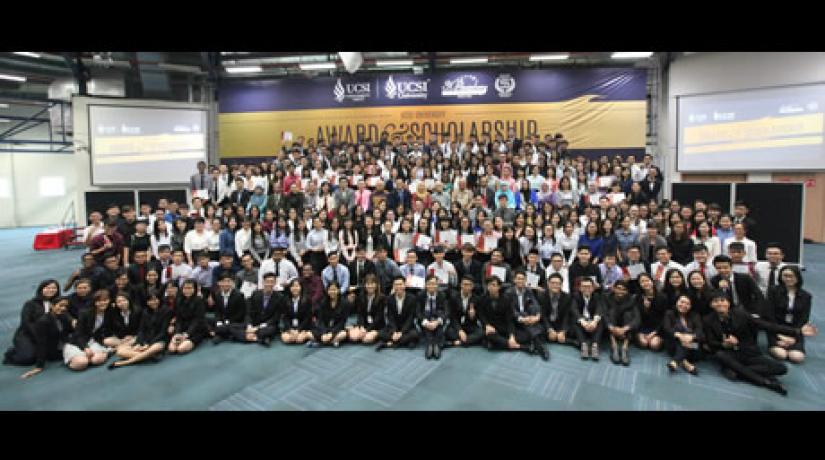 UCSI University Trust scholarship and award recipients gather for a group photo with (from left) UCSI University Vice-Chancellor and President Senior Professor Dato' Dr Khalid Yusoff; UCSI Founder and UCSI Group CEO Dato' Peter Ng; Higher Education Direct
KUALA LUMPUR: The sudden death of his father on Christmas Day in 2014 almost forced Liew Jer Chyi to give up on tertiary education but his persistence paid off when he earned the UCSI University Trust Prestige Scholarship Award.

Having earned a full tuition fee waiver, the first-year UCSI University Chemical Engineering student can now enjoy some much-needed peace of mind with his mother – who encouraged him to continue studying – and younger brother.

"This scholarship is the light at the end of a long and dark tunnel for my family," said Liew after UCSI's Awards and Scholarship Presentation Ceremony 2016 that was held at the University's Tan Sri Ahmad Razali hall.

"After my father's passing, the family savings dwindled and I considered working full-time to help my mother and my brother who was 12 at the time. However, my mother insisted that I should persist with my studies and focus on doing well.

"The option of taking up a study loan was our last resort so I'm very thankful as UCSI has provided more clarity in regards to my future. I also want to thank my mother for her advice and her sacrifices in holding the family together."

Liew now aspires to be a successful chemical engineer to fulfil his late father's wish.

He was one of the 21 students to be conferred with the Prestige Scholarship Award at the ceremony – a new distinction to honour the crème de la crème of UCSI's many scholarship recipients. A total of 946 students received awards, scholarships and bursaries at the event.

Higher Education Director-General Professor Dato' Dr Asma Ismail gave Liew his award and praised UCSI for its long-standing tradition of opening doors for deserving students who excel in academia, sports and extracurricular activities.

"UCSI's efforts and contributions have been outstanding thus far," she said at the ceremony. "I am heartened to hear that UCSI has pledged a record amount of RM30 million this year in scholarship funds – that is a large amount.

"Not everyone has the same opportunities in life and financial support is crucial to help level the playing field for disadvantaged students. I'm also delighted to note that UCSI is awarding more than 100 postgraduate scholarships this year as it shows the University's commitment to the pursuit and advancement of knowledge."

She also made it a point to acknowledge UCSI Group Chairman Tan Sri Dr Musa Mohamad during the ceremony for being her mentor during her academic years at Universiti Sains Malaysia when he formerly served as vice-chancellor.

"I look up to him and he has been a great influence in my life and my academic career," she said. "He has also made a huge contribution to Malaysia's higher education landscape during his tenure as Education Minister."

UCSI Chancellor Tan Sri Dr Abdul Rahman Arshad, UCSI Group Founder and CEO Dato' Peter Ng, UCSI Group Advisor Dato' Sri Khairudin Samad, UCSI University Trust Chairman Dato' Mohd Karim Abdullah Omar, and UCSI Vice-Chancellor and President Senior Professor Dato' Dr Khalid Yusoff were also present at the event.

Presently, UCSI has disbursed more than RM100mil in scholarships and bursaries in its 30-year history.

To learn more, please contact UCSI University Trust at 03-9101 8880 or send your enquiries to [email protected]. More information may also be obtained at www.ucsiuniversity.edu.my or www.ucsiuniversitytrust.com/scholarship.