UCSI SCORES MULTIPLE FIRSTS AT 20TH CONVOCATION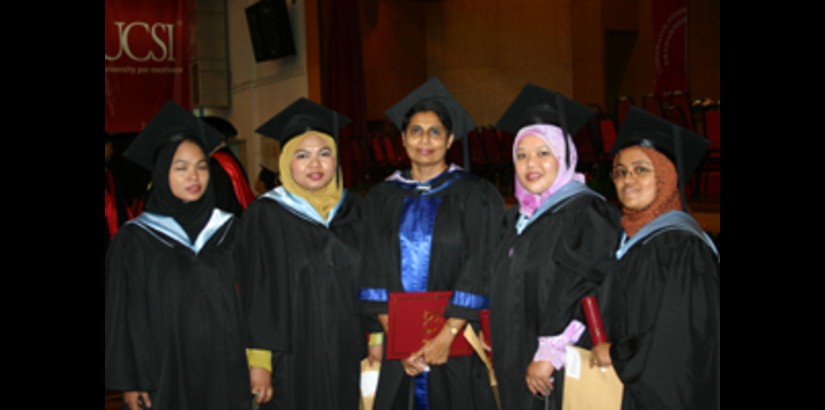 Associate Professor Jeya Devi Coomarasamy (middle) with some of UCSI's first batch of Nursing graduates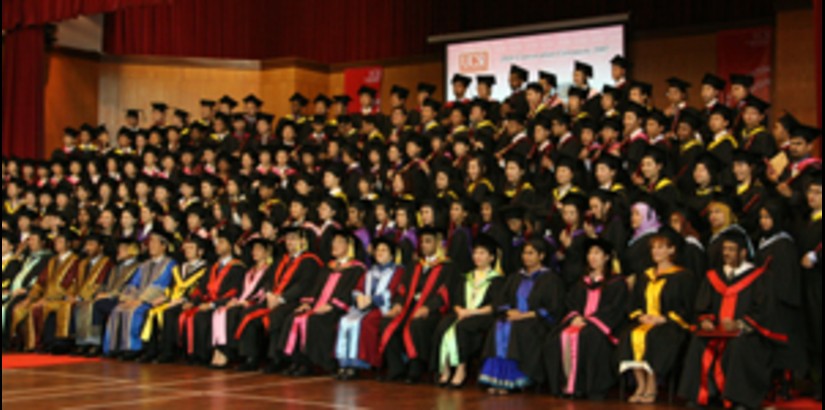 UCSI Class of 2007
KUALA LUMPUR, 8 September 2007 - A total of 902 students received their scrolls at University College Sedaya International's (UCSI) 20th Convocation on 8 September 2007 at its Kuala Lumpur campus. UCSI saw many firsts at this event. It was the first time UCSI's School of Mass Communications awarded a First Class Honours to one of its graduates, Cynthia Ng May Li.

Cynthia Ng is also this year's valedictorian. Just one month after completing her studies at UCSI, she joined a well-known Asian broadcasting company as one of its broadcast journalists. This pint-sized yet spunky young lady attributed her success to the support, nurturing and love from her mother, Mdm. Shirley Auwardt. She also gave credit to the truly inspiring education and practical experiences she obtained at UCSI, which enriched her not only academically, but personality-wise too. Cynthia's face may be familiar to some as she is the model for some branded beauty products and helped out at managing events. This is one beauty with brains.
UCSI also graduated its first batch of nursing students who completed their Bachelor of Nursing with Honours. According to the Associate Dean of the School of Nursing, Associate Professor Jeya Devi Coomarasamy, "These are the pioneers and our success stories of this school. Our graduates are fully-trained and qualified to serve the sick and infirm." Associate Professor Jeya was also awarded her Associate Professorship during this convocation along with Associate Professor Dr. C. R. Sundaresan from the School of Medicine. Both schools belong to UCSI's Faculty of Medical Sciences.
Apart from the nursing graduates, UCSI's first batch of post-graduate students also received their Masters in Business Administration (MBA) degrees. According to Ling Kuok Chai, "Working and managing one's studies took some getting used to, but perseverance helped to keep me focused. I am elated to be graduating with 10 of my other course-mates."
This year, even more students at UCSI graduated with UCSI's own degrees. According to UCSI's Deputy Vice Chancellor, Chin Peng Kit, "Our UCSI degrees have received recognition from local and international governments. Frequently, our students find employment even before they graduate - testimony to the quality education and employability of our graduates."
The Honorary Doctorate in Management was conferred upon Yang Berbahagia Dato' Haji Mohd. Karim bin Haji Abdullah Omar, the Chairman of UCSI's University Council, while UCSI's Deputy Vice Chancellor, Chin Peng Kit received his Associate Professorship.
"Without prejudice to the rights of UCSI the information herein is correct at the time of printing and UCSI reserves the right to make amendments without prior notice."