UCSI students bake for charity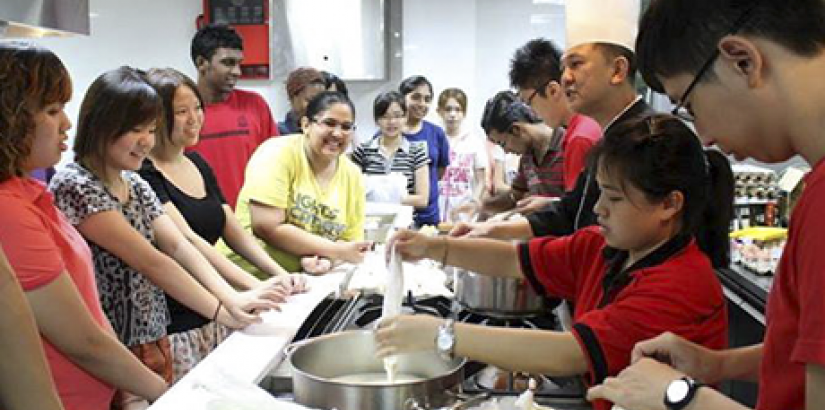 READY TO BAKE: Chef Loke Hoi Weng in the midst of briefing participants on pastry-making during the "Culinary Workshop for Charity".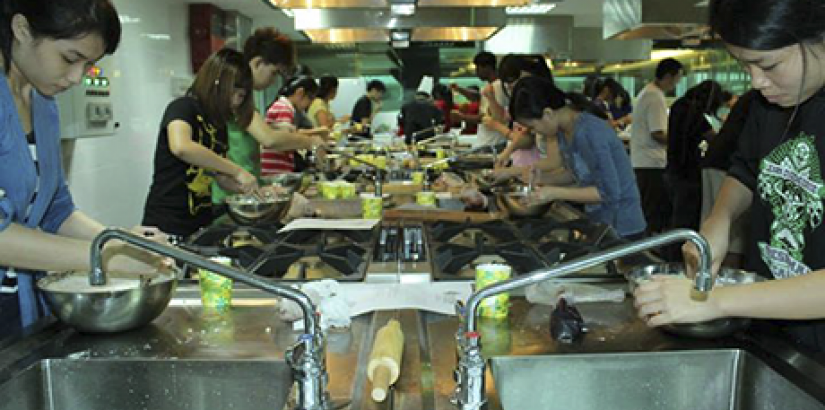 HANDS-ON: Workshop participants having a fun time mixing dough during the "Culinary Workshop for Charity".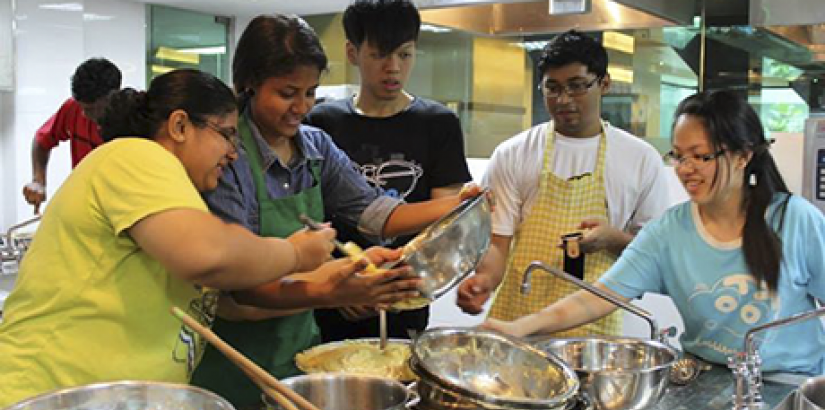 HANDS-ON:Workshop participants having a fun time mixing dough during the "Culinary Workshop for Charity".
KUALA LUMPUR: The smell of freshly baked pastries wafted through the air,as batch after batch of fluffy golden quiches emerged from the oven.

This was part of a fun two-day culinary workshop - themed, "Culinary Workshop for Charity" - that was organised by the UCSI University (UCSI) Scholars' Club (U-SchoS).

The workshop served as a fundraiser for RumahSayangan, a charitable organisation that provides shelter for underprivileged, abused, abandoned and orphaned children.

Within the span of two days, a total of RM2,500 was raised and all net proceeds were donated in the form of groceries, a brand new rice cooker and RM650 in cash to help with the children's tuition fee.

Held in the Training Kitchen, more than 48 UCSI scholars participated in the workshop,not just to give back to the communitybut to also enhance their baking knowledge.

Under the tutelage of Chef Loke Hoi Weng, Chef de Cuisine, the participants learned to bake various pastries - namely, quiches, cream puffs, muffins and scones - which were later sold in a fundraising sale to the UCSI community.

Chef Lokeis a lecturer under UCSI's Faculty of Hospitality and Tourism Management.

He has over 25 years of experience in baking and culinary arts, especially western cuisine, and has been featured in publications like The Star, New Straits Times, Sin Chew, and Cleo and Makan-Makan magazines.

"For some of them, it must have been their first or second time (trying their hands at) baking. They were all really excited butclosely followed all the rules of pastry-making," said a smiling Chef Loke.

"They were attentive, especially during my demonstration, and were able to quickly replicate what I did. They were very, very fast learners."

Apart from enhancing their skills in culinary arts, the workshop provided the ideal platform for the students to do volunteer work and reach out to the needy.

And according to organising chairperson Serene Ho, 'giving back to the community is a way of appreciating what we have'.

"As the old saying goes, 'it's better to give than to receive' and it's true. You don't have to be rich to make a difference," says the spunky teenager.

"It was challenging to organise this as there were many details to look into but seeing the smiles on the children's faces made it all worthwhile."

Jasminder Kaur was also pleased that she had joined the workshop.

"The session was an enjoyable and fulfilling experience. Not only did we learn the easiest and shortest way to bake pastries but it felt great knowing that our efforts were for a good cause," said Jasminder.

On July 14, approximately 15 U-SchoS' members visited RumahSayangan to spend quality time with the children, getting to know them through exciting icebreaking games and other fun activities.

Overall, the project opened doors to a unique learning experience for the students.

Not only did they take with them valuable baking skills from the campaign but they can rest assured that their efforts made a meaningful difference in the lives of the children.

To view more photos of this fundraising campaign, please click here to access the USchoS photo album on Facebook.