UCSI students clinch 13 prizes at interior design competition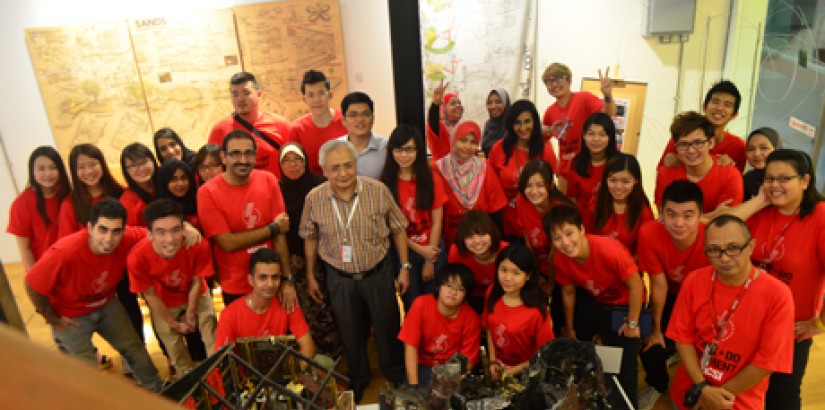 GROUP PORTRAIT: UCSI's Interior Architecture students posing for a group shot with UCSI vice-chancellor and president Prof Dato' Dr Khalid Yusoff (middle) at a gallery after the 17th MIID Interior Design Competition.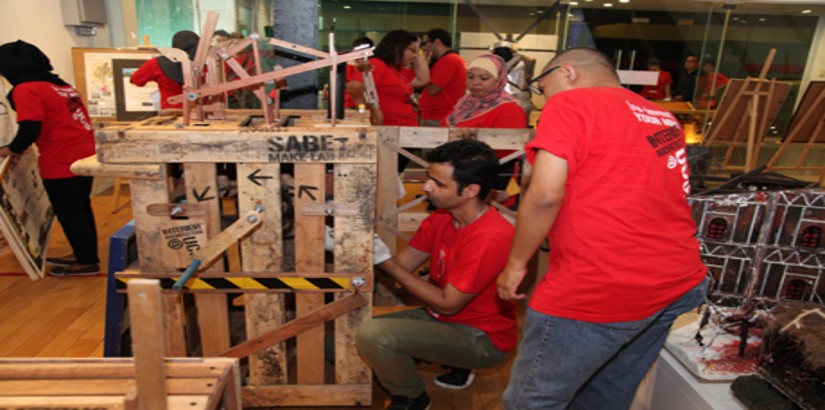 ASPIRING ARCHITECTS: UCSI's Interior Architecture student Morteza Bozorgi – who is part of the team who bagged first place in the Installation Design category – doing a quick check on the structure after the 17th MIID Interior Design Competition.
GROUP PORTRAIT:UCSI's Interior Architecture students Morteza Bozorgi (front row, most left) and Edward Gan (front row, third from left) posing with the rest of their team after winning the Installation Design category during the 17th MIID Interior Design
CYBERJAYA: A group of Interior Architecture students from UCSI University recently swept 13 prizes at the 17th MIID Interior Design Competition.
Organised by the Malaysian Institute of Interior Designers, the annual competition aims to nurture creativity and motivate healthy competition in interior design through transformational activities.
Themed, 'Re-invent', the national competition saw UCSI students bag first and second place in Residential Design and Commercial Design; first place in Hospitality Design, Installation Design and Performance; and another six awards in other categories such as furniture design, photography, and sketching, among others.
45 of them – from UCSI's School of Architecture and Built Environment – banded together to net the multiple wins; notably the biggest haul in the School's history.
Edging out competitors from 14 public and private institutions of higher learning like Universiti Teknologi MARA and Sunway University, the students – including final year students Morteza Bozorgi and Edward Gan – were ecstatic about their wins.
Working along their given – 'think-inside-the-box' – theme, the team created a wooden structure with an internal rotating gear, fully made from recycled materials, which drew inspiration from teamwork and automotive systems.
Explaining the design concept, Bozorgi points out that any part removed from the structure will cause the machinery to stop working – much like a team project.
"Matching the theme, our design enables us to 'think' inside the box but channel out – through the protrusions at the top – different thoughts, ideas and elements," he explains, adding that each element represents values like innovation and creativity.
"We also wanted observers to join in the fun by using the handle to spin the wheel. And when they do, you can hear the 'voice of their emotions' through the gear motions."
While the unique structure stole the limelight from other participating competitors, it was but one of the School's many exceptional creations.
Wong Sye Jia and Tan Chir Eye – who clinched first place in the Residential Design and Hospitality Design categories, respectively – had also designed presentation boards with equally impressive design concepts that stood out from the competition.
Focusing on eco-living space, Tan's concept – titled, 'where simplicity meets nature' – saw her converting an abandoned building in Port Dickson to a lovely retreat.
Deciding to reinvent an existing building instead of designing a new one, she took four elements – earth, air, water and wood – and weaved each of these into separate bedrooms to create different moods.
Like Tan, Wong has also taken a global crisis – urban sprawl – and invented a solution to tackle not only this concern but also the issue of exorbitant land prices.
Drawing inspiration from the small office/home office (SOHO) concept, she designed a compact-yet-cosy home to tackle the issues of not just uncontrolled spreading of urban development but also exorbitant land prices.
As part of her project, she interviewed Malaysian sculptor Ramlan Abdullah on his preferences for work and resting spaces, and was able to design an 'expandable home' that placed heavy emphasis on interconnecting people.
Such experiences ensure that UCSI's young designers – a good mix from various years of study – are well-equipped to thrive in a changing world.