UCSI Students Promote Korean Cuisine, Culture and Music
Group photo of committees and all invited guests of UCSI Korean Night and Awards Day Ceremony 2018.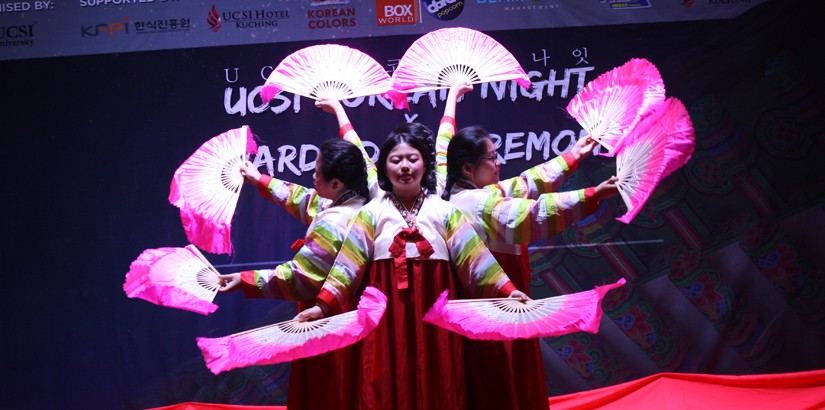 One of the traditional fan dance performance.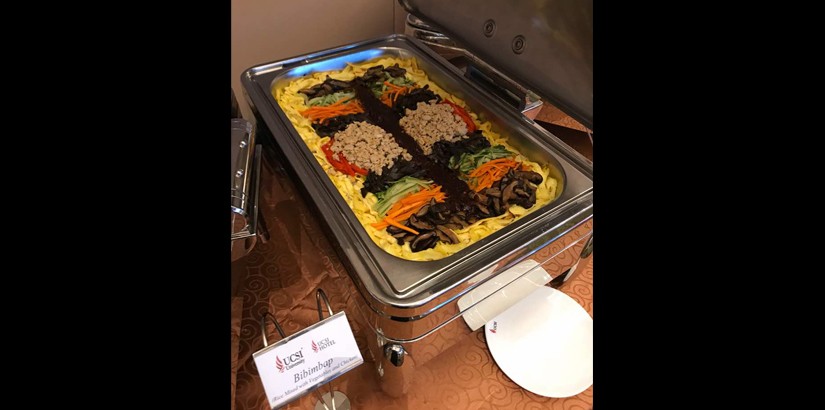 One of the buffet menu, Bibimbap.
In cooperation with the Korean Government's effort in promoting Korean cuisine, culture and music internationally, UCSI University is proud to be one of the leading education centres in South East Asia (SEA) to carry out this campaign to promote this awareness. 'UCSI Korean Night and Awards Day Ceremony 2018' has been successfully co-organized by students and staff from the Faculty of Hospitality and Tourism Management (FHTM) with a total number of 47 committee members, in collaboration with the Korean Food Promotion Institute (KFPI).
'UCSI Korean Night and Awards Day Ceremony 2018' was held on the 15th August (Wednesday) at UCSI Hotel Kuching. The event was attended by a total of 150 invited guests, including representatives from the Sarawak Convention Bureau, Ministry of Tourism, Arts, Youth and Sports Sarawak, Kuching Autistic Association, Kuching Chef Association, UCSI Hotel Kuching, Hilton Kuching, Beam Event Management, award recipients, sponsors and local media. Activities for this event included Korean booth showcases (language, game, costume), K-pop and traditional dancing, singing performances, lucky draws, an autism talk and, most importantly, a variety of Korean delicacies and cultural performances. A mocktail reception, with finger food was prepared at the foyer area for guests to relax and have refreshments before the event started.
Running for the 6th year since its inception in 2013 (by the Korean Food Foundation), this event is being supported by UCSI Hotel Kuching as the venue provider. Part of the event is the Awards Day ceremony across the Faculty of Hospitality and Tourism Management (FHTM) and the Centre for Pre-U Studies (CPU). This Award Day ceremony is to award those students who have achieved academic excellence through the Dean's List Award, Honour Roll Award and Best Achievement Award. The Dean's List Award goes to FHTM students who score 3.50 and above for their GPA in a semester; whereas, the Honour Roll Award and Best Achievement Award are for the Centre for Pre-U students who have achieved a GPA/CGPA of 3.75 and above.
The Spicy Korean Ramen Challenge (SKRC), a pre-event activity, was conducted on 1 August at UCSI University Sarawak Campus. A total of 20 UCSI students and the public participated in the challenge. The main objective of the event was to promote Korean Culture, to provide advertisement to Korean Ramen and to challenge individuals to test their tolerance of spicy food. Three winners have received hampers filled with Korean related products. They all managed to complete the challenge of finishing a bowl of spicy ramen within three minutes.
The Project Manager of SKRC, Shawn Ho said, "Pre-events like this are what make the main event more interesting, as it allows people to further understand Korean culture, especially Korean food".
The Project Manager of 'UCSI Korean Night and Awards Day Ceremony 2018', Dave Santang said, "This event has really taught us how important it is to have communication and management skills among each other to host an event and to make it a successful one".
"I'm glad that we are given such an opportunity to promote Korean cuisine with support from the Korean Food Promotion Institute and through the Korean Cuisine Programme which we are currently pursuing", said Anthony Dohan Ak Diwok, a student from the Diploma in Culinary Arts Programme.
"We found this event is really meaningful and interesting as everyone had the opportunity to learn about Korean food, culture and music. All the committee really enjoyed themselves with the dancing and singing performances. Universities should organize more meaningful activities like this," said one of the invited guests.
"On behalf of the organizing committee, we would like to state our greatest appreciation to our sponsors such as HD Image Enterprise, UCSI Hotel Kuching, Box World Sdn. Bhd., Beam Event Management and Korean Colors, "said Ferniewena Wong Li Fong, the sponsorship leader.