UCSI team bags second runner-up in Shell FuelSave campaign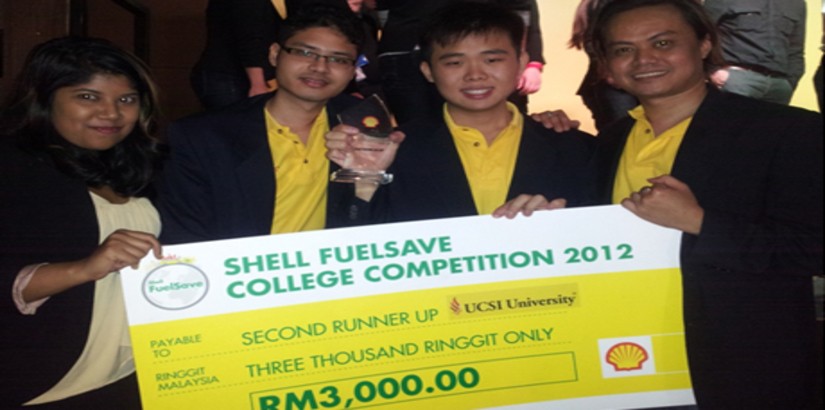 ALL SMILES: The team of Mass Communication students from UCSI University posing for the camera with their trophy and cash prize during the "Target One Million" Shell FuelSave Global Campaign.
KUALA LUMPUR: A team of Mass Communication students from UCSI University made a mark in the University's history when they were awarded second runner-up in the recent Shell FuelSave Global campaign, bagging RM3,000 in cash and a trophy for their efforts.

Themed "Target One Million", the campaign aimed to encourage one million motorists worldwide to drive more efficiently and reduce fuel consumption through various interactive online mini-challenges designed by Shell, while engaging students in real-life campaign management.

Competing with four other varsities, the team was required to develop their own communication plan – by incorporating the series of online mini-games – that provided useful fuel-saving tips to motorists.

Each plan was evaluated – in terms of originality, creativity and effectiveness – from the early planning stage to actual implementation.

Despite being given only two weeks to put their plan into action, the team carefully spent their stipend of RM3,000 – sponsored by Shell Malaysia for the participants – wisely and was able to edge out several other competing teams in the process.

Apart from real-life industry engagement, the competition also provided an ideal platform for the Mass Communication students to exercise their creative thinking and practical skills, while enhancing their communication skills at the same time.

24 other countries – namely, Argentina, Australia, Brazil, Czech Republic, France, Hong Kong, Singapore, the United States of America, United Kingdom and Turkey, to name a few – participated in this global campaign.