UCSI - Top in Malaysia for Graduate Employability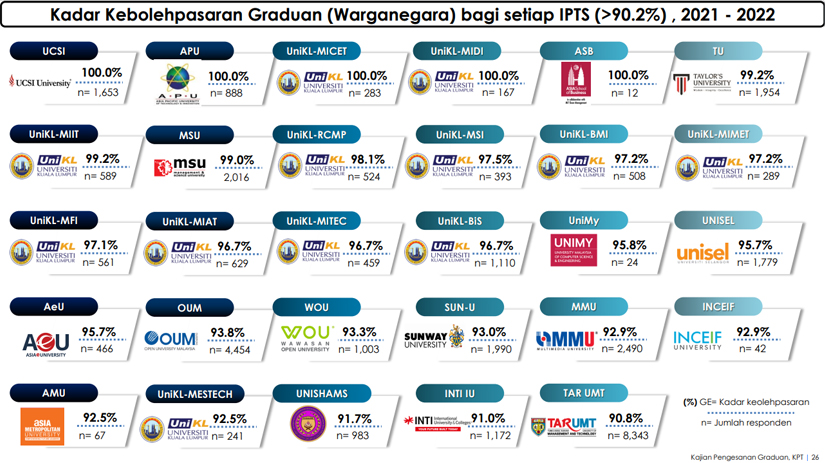 KUALA LUMPUR: UCSI University is ranked as Malaysia's top private university for graduate employability in the Higher Education Ministry's Graduate Employability 2021-2022 survey.
Scoring 100%, UCSI maintained the perfect score it recorded in the previous edition of the survey. Held annually, the survey results are derived from respondents of a university's graduating cohort.
In the current edition, 1,653 UCSI graduates responded to the survey, almost doubling the tally of the second-placed institution.
"Employability and graduate outcomes are central to the UCSI brand promise," said UCSI vice-chancellor Prof Datuk Dr Siti Hamisah Tapsir.
"We are glad that our students are charting great career trajectories. And we are encouraged to see how some of them have stepped up as social entrepreneurs and changemakers who impact society and create jobs.
"Maintaining a perfect score is the result of lots of hard work. I would like to thank all UCSI staff, students, alumni and the University's wide network of industry partners for their support over the years."
The latest survey comes on the back of the QS World University Rankings 2024 that ranked UCSI as Malaysia's top private university for employment outcomes.
Four Forbes 30 Under 30 Asia inductees and two Prestige 40 Under 40 laureates have studied at UCSI.
The University also counts serial entrepreneurs, scientists, doctors, celebrated musicians and media personalities, in its alumni network.