UCSI University celebrates 30th Convocation Ceremony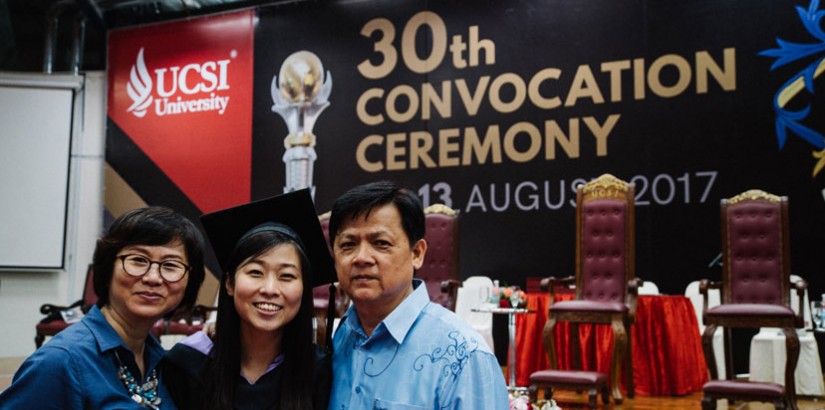 Suzanne Ling, Chancellor's Gold Medallist, credits her success to her parents for their support and encouragement.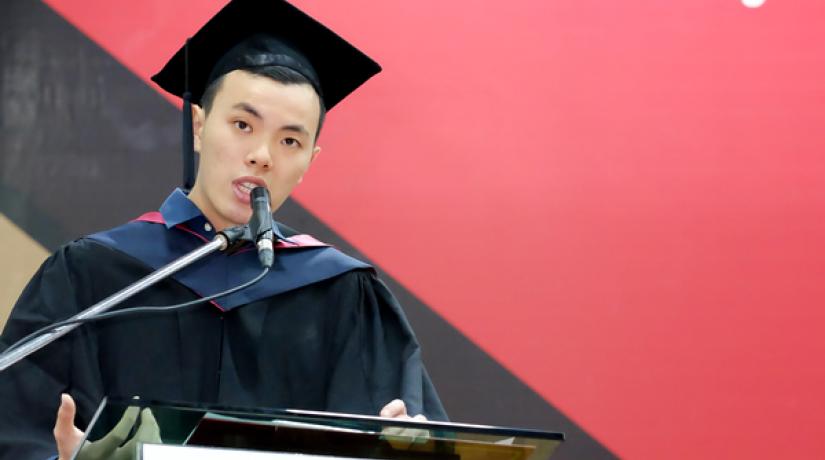 Soh Wei Ming, Valedictorian Class of 2017, urged his fellow graduands to pursue their passion.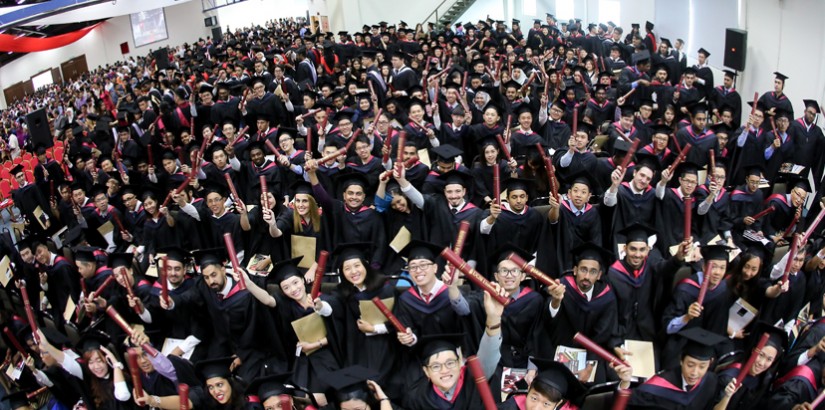 A clearly overjoyed Class of 2017 proudly showing their hard-earned scroll
Kuala Lumpur: Every year, UCSI University (UCSI) presents its Chancellor's Gold Medal Award to one exceptional graduate who demonstrates excellence in study as well as outstanding personal attributes such as kindness and dedication - someone who stands over and above their peers, made a difference and inspired others in the process.

This year's recipient, Suzanne Ling Sook Shian, clearly stands out for her astounding accomplishments over the past three years. Widely acclaimed as one of Malaysia's young leaders and seed planter, she co-founded the path-breaking Picha Project, a social enterprise that has helped uplift refugee families by providing them with a source of income.

The Picha Project, an online food catering and delivery business that employs refugee families as cooks, was one of the 25 projects selected for the Social Enterprise Track acceleration programme by MaGIC (Malaysian Global Innovation & Creativity Centre) in 2016.

For a social initiative that started with no capital, it has done incredibly well. To date, the enterprise has generated RM600,000 serving 32,000 meals to some of the biggest Malaysian companies. Half the revenue is returned to the nine refugee families who do the cooking.

Recognising her passionate leadership to drive change, Suzanne was selected to represent Malaysia in YSEALI (Young South East Asian Leadership Initiative) 2016 and Ashoka Changemaker Xchange Asia 2017. Recently, her team was awarded The Edge Inspiring Young Leaders Award together with young luminaries such as Datuk Nicol David.

Amazingly, Suzanne started The Picha Project even before graduating. The seeds for the initiative were planted when as President of UCSI Scholars' Circle (U-Schos), Suzanne first co-founded 'Hands of Hope' (HOH) to help educate underprivileged children such as refugee children.

When she realised that the same refugee children were dropping out of school to help their family earn money, she was compelled to look into long-term solutions - she decided to empower the families financially by giving them a livelihood - thus, the start of The Picha Project with her friends, Kim Lim and Swee Lin.

Named after a three-year old Myanmar child who inspires Suzanne and her friends, the business caters and delivers authentic traditional Syrian, Gaza and Burmese meals cooked by refugee families. Through this initiative, The Picha Project not only gives them financial independence but equally important, a sense of dignity and pride.

Suzanne's optimism and passion is infectious and conspicuous. "If we just do a little more, care a little more for our family, community and others around us, the world can be a much better place. The world might seem to be spiralling downwards, but together, we can make spiral it upwards," asserts Suzanne who will be graduating with a first-class honours degree in psychology.

This year's Valedictorian, Soh Wei Ming, is not the stereotype academic genius growing up but he had grit and he had the drive. Figuring out that his passion or calling is in the sciences and encouraged by his parents, he worked hard and made the grade to study chemical engineering at UCSI.

He sated his ardour for unravelling and solving engineering enigmas through the various platforms and opportunities the university provided. Combining his engineering knowledge and inventive streak, he and his team won many top engineering competitions.

His proudest achievement – being one of the few Malaysians selected for a cutting-edge research programme where he held his own and advanced research on functional particles working alongside world-renowned scientists at the prestigious Imperial College London.

His research on the optimal production of cenosphere from coal fly ash (a by-product of coal combustion) has wide-ranging implications for reducing environmental pollution from coal-fired power plants. His resolute approach to research pursuits emboldened his juniors to do the same in leading universities such as Tsinghua and British Columbia.

Today, Wei Ming works as a remote operations centre (ROC) engineer with the Linde Group, the world's largest industrial gas company, overseeing gas supply systems and processes and resolving technical problems. Wei Ming looks forward to developing and optimising processes and systems for leading companies in the future.

Suzanne and Wei Ming were among the 2,373 graduates who threw their mortarboards into the air during UCSI's 30th Convocation Ceremony, a two-day event which was attended by UCSI Chancellor Tan Sri Datuk Seri Panglima Dr Abdul Rahman Arshad, Vice-Chancellor and President Senior Professor Dato' Dr Khalid Yusoff and UCSI Group Founder and Chairman of UCSI University Council Dato' Peter Ng.