UCSI University Collaborates with Alibaba Cloud to Boost Malaysia's Digital Talent Development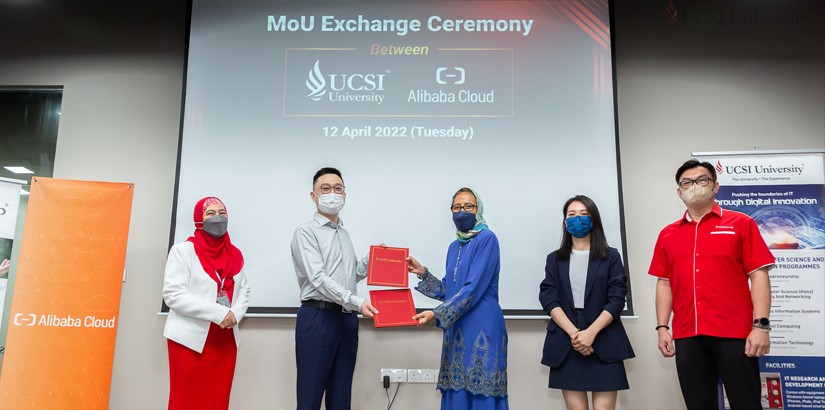 Dr Siti Hamisah (center) exchanging the MOA documents with Kun Huang (second, left) during the ceremony today.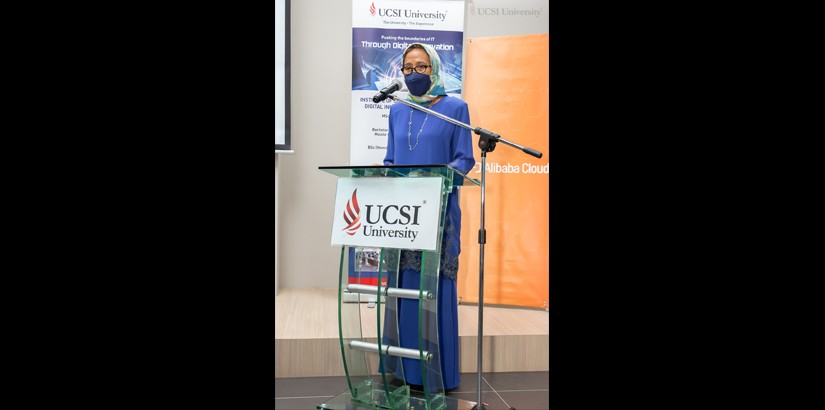 Dr Siti Hamisah speaking at the Exchange of Memorandum of Agreement (MoA) Documents ceremony at UCSI Kuala Lumpur campus, today.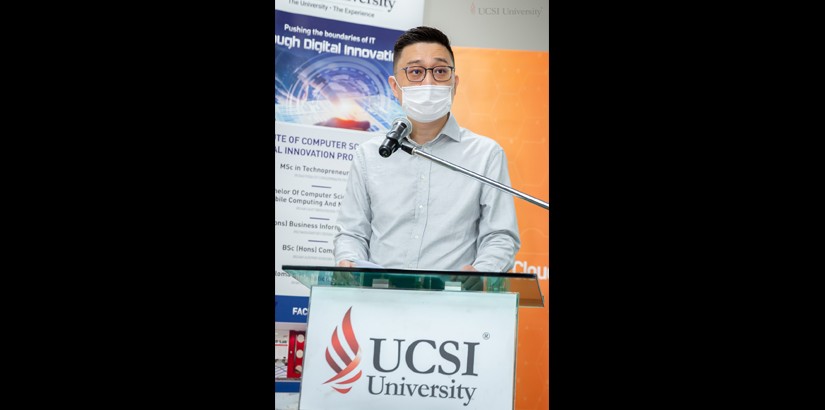 Kun Huang hopes that more collaborations can be formed with the local partners in an effort to produce digital talents.
KUALA LUMPUR, 12 April 2022 – UCSI University, one of Malaysia's best private universities according to the QS World University Rankings and Alibaba Cloud, the digital technology and intelligence backbone of Alibaba Group today have signed a memorandum of understanding (MoU) to introduce the cloud computing curriculum at UCSI University for its students and staff.
The collaboration aims to further support the nation's digital economy by empowering digital talents and tech professionals through professional cloud computing education.
Representatives from Alibaba Cloud Intelligence including Kun Huang, General Manager of Malaysia and Yilan Zhuang, Head of Marketing and Online Business of Malaysia, together with representatives from UCSI University, Professor Datuk Ir. Ts. Dr Siti Hamisah binti Tapsir, UCSI University Vice-Chancellor and UCSI Group CEO; Professor Datuk Dr Rohana Yusof, FASc. Deputy Vice-Chancellor, Academic and Internationalisation (Kuala Lumpur Campus), and Associate Professor Dr Alan Keoy Kay Hooi, Director of Institute of Computer Science and Digital Innovation (ICSDI) attended the Memorandum Exchange Ceremony at UCSI University, today.
"As UCSI University has implemented IR 4.0 into all of our courses, it is critical for students and professors to stay current on industry trends and be prepared for the future working environment. As a result, we have always strengthened our collaborations with prominent multinational firms, foreign institutions, and research institutes. I am confident that by working with Alibaba Cloud, we will be able to prepare our students and lecturers for the digital cloud transition," said Dr Siti Hamisah.
By leveraging Alibaba Cloud's expertise in cloud technology and UCSI's rich education resources, the collaboration aims to provide advanced knowledge and skill sets in cloud computing to university students and lecturers. Furthermore, as part of the Alibaba Cloud Academic Empowerment Program (AAEP), Alibaba Cloud will guide, engage, and empower them as the next generation of IT and cloud professionals for a minimal cost.
"We are delighted to have UCSI University on board with us for the Alibaba Cloud Academic Empowerment Program (AAEP). Alibaba Cloud has been dedicated to providing the best-in-class cloud services to our customers, and we'll deliver exactly these experiences to UCSI to help students and staff get the best learning resources in the industry so they can better seize the opportunities provided by the digital era. In the future, we hope to work with our local partners to play a pivotal role in creating a sustainable pool of digital talent which would contribute to the digitalisation of the nation," said Kun Huang.
Students and lecturers will also be able to get certifications after finishing the cloud computing programme as a result of this collaboration. They will have free access to the computing and e-learning resources on Alibaba Cloud.
"As a result, not only our students, but also our lecturers, will have extensive knowledge and will be able to help our students through the digital transition," added Datuk Ir Ts Dr Siti Hamisah Binti Tapsir.
UCSI University will also include Alibaba Cloud Academy courses in its Institute of Computer Science and Digital Innovation programmes such as the Bachelor of Business Information Systems, Bachelor of Computer Science (Hons) Mobile Computing and Networking, Master of Technopreneurship, Master of Science in Computer Science, and more. In addition to the programmes, the University and Alibaba Cloud will co-organise seminars, workshops and training activities on cloud computing, security, and databases, among other topics.
For more information about UCSI University or programmes that are offered, please visit: www.ucsiuniversity.edu.my.