UCSI UNIVERSITY IS COMPANY OF THE YEAR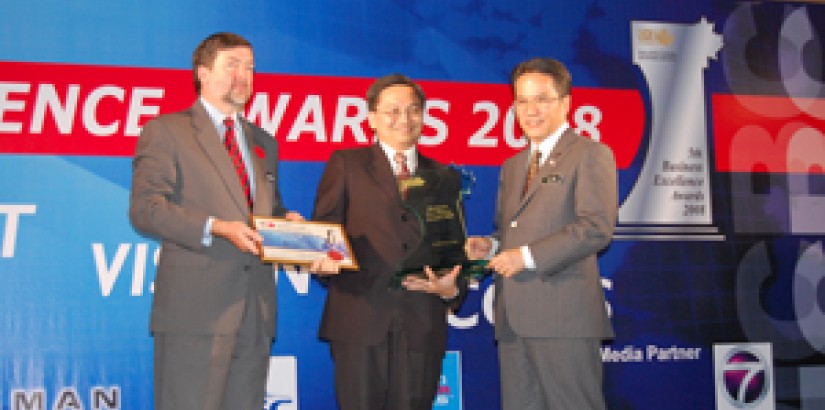 Deputy Vice Chancellor, Associate Professor Chin Peng Kit, receiving the award from YB Datuk Liew Vui Keong, Deputy Minister for International Trade & Industry (R) & H.E. David B. Collins, Canadian High Commisioner to Malaysia (L)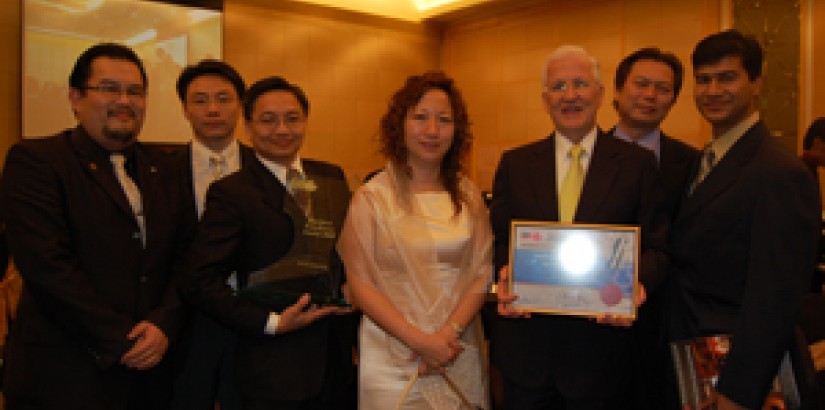 From left: Thomas Yap, Moses Lim (Vice President of Business Development) Assoc. Prof. Chin Peng Kit (Deputy Vice Chancellor) Lily Ng (Wife to President Peter Ng) Andre Simard (Chief Operating Officer of Malaysia Blue Ocean Strategy), Peter Tan (Chief Op
Kuala Lumpur, 31 October 2008 - UCSI University was presented the Company of the Year award by the Malaysia Canada Business Council (MCBC) during its 5th Annual Business Excellence Award ceremony, last night.

The award was given to the University in recognition of its exceptional growth and commitment to excellence. Within two decades, UCSI University rapidly metamorphosed from a computer training centre with two computers to a four-campus institution in four states, spanning 231.04 acres. On 6th of October this year, it was officially conferred the coveted University status, constituting another milestone in the history of the institution.
Participating companies were judged by standards set by the National Quality Institute of Canada utilising the Canadian Framework for Business Excellence, which was tailored to suit the Malaysian Business context. The pre-selection committee and the panel of judges are all closely linked to various industries in Malaysia.

The criteria for the MCBC Business Excellence Awards are interrelated core principles, values and concepts such as leadership through involvement, strategic planning with a focus on continuous improvement, and performance measures based on creating added-value through business process improvement.

UCSI University was one of three finalists in the same category. The other two finalists were TexCycle Sdn. Bhd, a company dedicated to recycling and recovery of waste, and MMVitaoils, a world leader in the downstream palm oil industry.
MCBC is a private, non-profit organisation, established in Kuala Lumpur in 1989 to foster ties between Canada and Malaysia. Canada was one of the first countries to forge bilateral relations upon Malaysia's independence in 1957. Malaysia and Canada have since enjoyed a close, symbiotic relationship in trade, social, cultural and education matters.

UCSI University has ties with Canada as well. UCSI University students can participate in the International Degree Pathway programme, where they can be transferred to Canada and obtain a degree from any one of the University's partner institutions.

With another prestigious award on the shelves of UCSI University, the institution will certainly continue on its pathway towards excellence.