UCSI University expands offerings in Food Science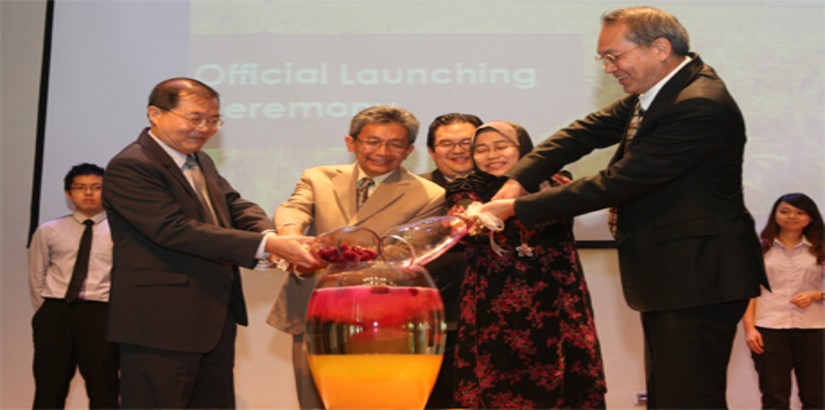 AN AWESOME MIX: (From left) Prof Lim, Dr Nik Ismail, Megawati and Dr Robert Bong preparing a concoction of dragon fruit and jelly during the launch of UCSI's two new Master programmes.
Kuala Lumpur, 24 November 2012 - UCSI University recently launched two new Master programmes, namely, the MSc Food Science and the MSc Food Science with Business Management, in an interactive event that exemplified its strong university-industry linkage.

Themed "Better Food, Sustainable Growth, a Healthier Nation," the event showcased leading figures in the local food industry like Malaysian Institute of Food Technology president Dr Nik Ismail Nik Daud and Fonterra Brands (M) Sdn Bhd head of new product development Megawati Suzari.

Elucidating the processes and potential pitfalls academics must navigate in food commercialisation, the duo voiced support for the University's new offerings that incorporated an interdisciplinary approach.

"Academics need to focus on other areas apart from research and a Food Science programme with elements of business is ideal," said Megawati.

"By exposing learners to Blue Ocean Strategy – a business strategy that seeks to win uncontested market space – UCSI's new Master programmes do this and more. I'm sure the programmes will be a success.

At the time of writing, UCSI is only private university in Malaysia that offers a coursework-based option for postgraduate programmes in Food Science.

This feature is expected to go down well with professionals who intend to pursue postgraduate study without affecting their careers.

A memorandum of agreement (MoA) between the University and CS Progyms Pharmaceutical Sdn Bhd was also signed at the event.

Under the MoA, UCSI academics will conduct research on Progyms' Shinzui collagen-placenta drinks, a product line thats assist skin regeneration and improve skin elasticity.

Describing the MoA as a "healthy example of university-industry collaboration," UCSI vice-chancellor Dr Robert Bong said that the move would only benefit both parties.

"CS Progyms is a pioneer manufacturer of healthcare products in Malaysia that has been accredited with various international quality certifications like ISO 9001, HACCP, GMP, Halal and VHM," said Dr Bong at the MoA ceremony that was held at UCSI's Le Quadri Ballroom Hotel.

"Their product range is extensive and it is a privilege for UCSI to collaborate with them as it will create more research and development opportunities."

CS Progyms was represented by chief financial controller Natalie Soh Wan Yung.