UCSI UNIVERSITY GIVES AWAY RM 631,497 WORTH OF SCHOLARSHIPS TO THE STAR EDUCATION FUND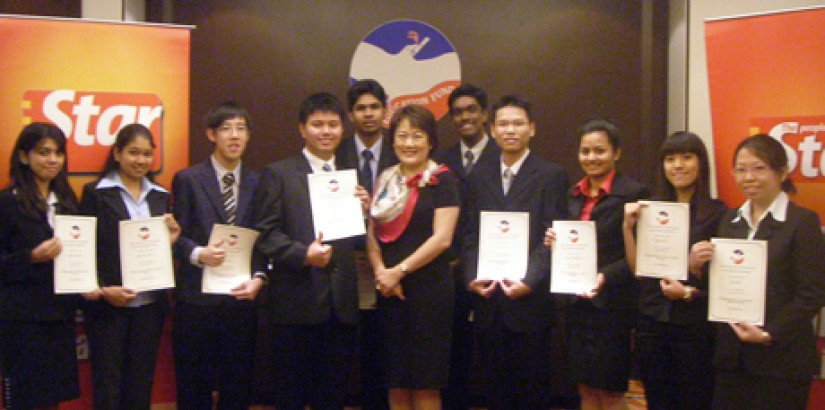 Eleven scholarship recipients of The Star Education Fund pledged by UCSI University Foundation showed up at the awards presentation ceremony to receive their award from Ms Margaret Soo, Chief Operating Officer of the Foundation.
Kuala Lumpur, 12 September, 2011 - UCSI University through the UCSI University Foundation gave away RM631, 497 worth of scholarships to eleven students from across the country to pursue their tertiary education at the University's various campuses. This scholarship pledge is amongst the RM8 million pledged to The Star Education Fund by various institutions of higher learning.

At an awards presentation ceremony hosted by The Star at the Eastin Hotel, Ms Margaret Soo, Chief Operating Officer of the UCSI University Foundation met the scholarship recipients and their parents, some of whom had travelled from afar just to be at the ceremony.

For Fatin Areena bte. Azlan, the evening bus trip from Kuala Terengganu did not douse her enthusiasm as the thought of her father Encik Azlan bin Hamzah waking up at 2.00am to be at the bus station to receive her at 4.00am was not just motivational, but also heart-warming, since this was the first time she "really had some time" with her father after term started in May at the Terengganu Campus.

Proud father Encik Azlan was pleased with his daughter's progress since joining UCSI University one semester ago.

"Her English has improved! I am happy to have learned that she is adjusting well to life on campus. She often called to tell me about her wonderful lecturers and foreign student friends from Yemen, and other exciting places. She has blossomed much since I last saw her - I am very happy with her progress since university life should expose a young person to peoples from a diverse culture so they could become more receptive to new ideas," he said.

Fatin Areena is pursuing her Foundation in Arts, leading to a BBA degree in Oil & Gas Management.

Tharmaraj a/l R. Rajandran from Kajang is another recipient. He is pursuing Foundation in Arts leading to a degree in Actuarial Science.

"I am grateful to be given the scholarship. I have just started my studies at UCSI University two weeks ago, and am really looking to an exciting University life! " he said.

Tamaraj's parents, Mr and Mrs R. Rajandran a/l R. Rajagopal and his wife attended the ceremony. Mr Rajandran, an optician working in Penang had taken the time off to share the moment with Tamaraj since the scholarship is helping to make the family's dream come true – Tamaraj will someday be an actuarist, the first in the family. For Alex Lo Ka Heng from Sabah, home is the residential block at South Wing, Cheras, where the residents have become family members to this new scholar pursuing Foundation Studies in Science leading to a degree in Mechatronic Engineering.

More than 3,000 applications were received this year by the organiser of The Star Education Fund. 154 scholars were eventually awarded with full scholarships. Mr Ho Kay Tat, group managing director and chief executive officer of the Star Publications (M) Bhd. thanked the contributors to the Star Education Fund which has a long history. UCSI University has been supporting this education fund since it was mooted 18 years ago.