UCSI University inaugural Book Prizes Ceremony 2017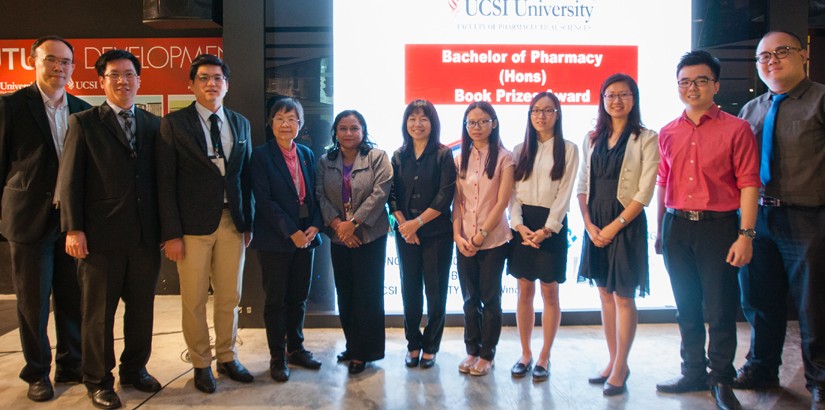 Representatives from the sponsors and Faculty of Pharmaceutical Sciences academicians as well as the award recipients in a group photo.
Faculty of Pharmaceutical Sciences Professor Dr Yeoh Peng Nam, who was present at the event, thanked the sponsors for supporting academic excellence among students.
KUALA LUMPUR: UCSI University (UCSI) recently awarded four of their Bachelor of Pharmacy (Hons) students during its Faculty of Pharmaceutical Sciences' inaugural Book Prizes Ceremony with a cash award amounting to RM4000. The recipients were selected based on their outstanding academic achievements.
Bachelor of Pharmacy (Hons) Year 1 Gan Ee How, Year 2 Leo He Yuan, Year 3 Mah Soo Ying, and Year 4 Por Choo Shiuan each received an award sponsored by renowned pharmaceutical companies Xepa-Soul Pattinson (Malaysia) Sdn Bhd, Genecare Sdn Bhd, Caring Pharmacy Retail Management Sdn Bhd, and Pahang Pharmacy Sdn Bhd.
The ceremony was graced by Associate Professor Ir Dr Jimmy Mok Vee Hoong, UCSI Deputy Vice-Chancellor of Student Affairs and Alumni and Dean of UCSI Faculty of Engineering, Technology and Built Environment; Abu Bakar Bin Jalaluddin, UCSI Vice-President of Group Legal and Group Registrar of the UCSI Education Group; representatives from the sponsors; and family members of the recipients.
UCSI's Vice Chancellor and President Yang Berbahagia Senior Professor Dato' Dr Khalid Yusoff, whose speech was delivered by Associate Professor Ir Dr Jimmy, reminded students that intellectual growth should commence at birth and cease only at death.
"Like any career in the field of healthcare, you deal with human lives. Pharmacy is not a job, it is a profession and a calling, so you have a duty to your patients and to yourselves to develop a strong desire for lifelong learning.
"You need to keep yourself updated with the latest medication and healthcare advances. You should also constantly strive to improve yourself, so that you can use your knowledge effectively and constructively."