UCSI University Launches UCSI-Cheras Low Carbon Innovation Hub Research Consortium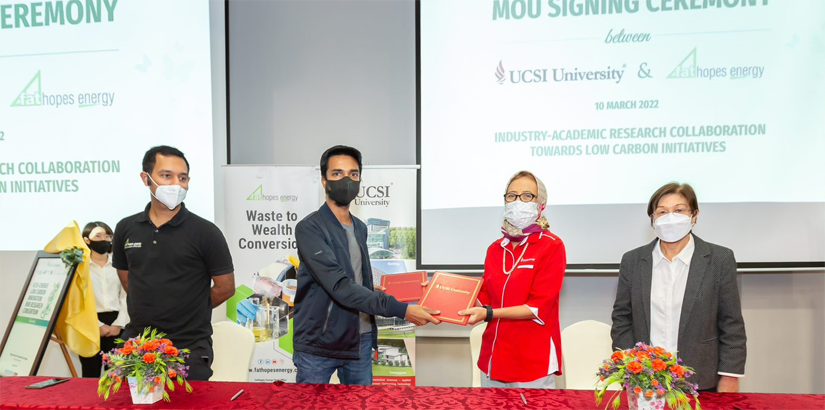 (From Left) Academia-Industry collaboration: Mr Mankarpal Singh Deo, Head of Business Planning, Fathopes Energy; Mr Vinesh Sinha, Chief Executive Officer and Founder Fathopes Energy; UCSI's Vice Chancellor Professor Datuk Ir. Ts. Dr. Siti Hamisah Binti Ta
Sustainable Lifestyle: (From left) UCSI's Vice Chancellor Professor Datuk Ir. Ts. Dr. Siti Hamisah Binti Tapsir and YBbg, Tuan Haji Rosli bin Nordin, Senior Deputy Director of the City Planning Department (Research and Development Coordination Sector) DB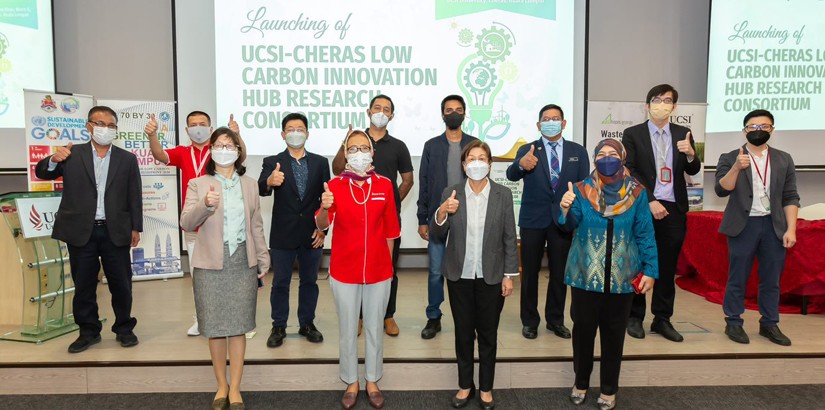 For well-being of all: UCSI's Vice Chancellor Professor Datuk Ir. Ts. Dr. Siti Hamisah Binti Tapsir (second from left- front row) and the industry partners will join forces to provide industry insights and promote low carbon development.
KUALA LUMPUR, 11 March 2022: UCSI University is launching the UCSI-Cheras Low Carbon Innovation Hub Research Consortium to help combat the effects of climate change and its impacts.
The Research Consortium (RC) will serve as a one-stop centre to produce expertise, consultation, community care, and opportunities for the Cheras area to achieve low carbon development. The RC will focus on a few initiatives to deliver projects/programmes that will potentially benefit the economy and increase business productivity while reducing carbon emissions.
The initiatives are categorised into five core areas namely, IR 4.0, Renewable Energy, Environmental Science, Chemicals, and Electronics. The projects/programmes from each core area will be designed to be connectable with an emphasis on providing a positive impact on Malaysia's society, industry, economy, environment, and national policy.
"For this, our RC will work with the industry partners from various sectors and industries, especially in Cheras. These include governmental bodies, non-governmental organisations (NGOs), academics as well as researchers from local and international universities to attain knowledge transfer," said UCSI University's Vice Chancellor Professor Datuk Ir Ts Dr Siti Hamisah Tapsir.
Among the partners include Universiti Teknologi Petronas; Liverpool John Moores University; Malaysian Green Technology and Climate Change Centre; Universiti Malaya and Fathopes Energy Sdn Bhd.
UCSI University is a higher learning institution that is committed to the Sustainable Development Goals (SDGs) and issues related to low carbon strategies. From a long-term perspective, the UCSI-Cheras Low Carbon Hub Research Consortium will also help to support these goals as it is also established to contribute towards a reduced carbon footprint strategy by contributing toward a "Greener and Better Kuala Lumpur" as per KL Low Carbon Society Blueprint 2030.
"UCSI's initiative in providing this Low Carbon Innovation Hub Research Consortium should be emulated by all parties, especially other educational institutions as well as the private sector. Educational institutions, both schools and higher education can be a platform for the spread of noble values to our children, for them to adopt a sustainable lifestyle for their future. I hope the UCSI-Cheras Low Carbon Innovation Hub Research Consortium will play a crucial role in
helping us realise the goals of a low carbon society as we aim for the well-being of all," said the Mayor of Kuala Lumpur, YBhg Datuk Seri Hj Mahadi bin Che Ngah who was represented by Tuan Haji Rosli bin Nordin, Senior Deputy Director of the City Planning Department (Research and Development Coordination Sector) of Dewan Bandaraya Kuala Lumpur at the launching ceremony of UCSI-Cheras Low Carbon Innovation Hub Research Consortium.
At the launching ceremony, a Memorandum of Understanding (MoU) was signed between UCSI University and Fathopes Energy to encourage knowledge sharing and community engagement activities to reduce carbon emissions in Cheras.
Representing Fathopes Energy was Mr Vinesh Sinha, Chief Executive Officer and Founder of Fathopes; and Mr Mankarpal Singh Deo, Fathopes's Head of Business Planning; and UCSI was represented by Professor Datuk Ir Ts Dr Siti Hamisah and UCSI's Senior Professor Dr Phang Siew Moi.
Under the agreement, UCSI will also provide monthly information/tips on health or environment-related to Fathopes Energy which will then be converted into infographic videos.
On the same day, UCSI University held an online knowledge sharing session called "Net Zero, Managing GHGs Beyond Climate" and YBhg Dato' Seri Ir Dr Zaini Ujang, Secretary-General of Ministry of Environment and Water, Malaysia (KASA) shared his views on the importance of reducing net Greenhouse Gas emissions (GHGs), mainly carbon dioxide, to Zero.
According to Dr Zaini, cycling is the greatest low carbon habit. "I am passionate about Stephen Covey's Seven Habits,..embrace them for Net Zero and Go beyond Net Zero to become Net Negative. Moreover, water conservation combines mitigation and adaption measures of climate. In fact, GHGs is not just about carbon dioxide," he concluded.
Malaysia had announced its commitment in December 2015 to achieve a carbon-neutral goal by 2050 to the UN Conference of Parties (COP) 21 in Paris. This commitment aims for the reduction of 45% in terms of carbon emission intensity of Gross Domestic Product (GDP) by the year 2030.
Furthermore, the Intergovernmental Panel on Climate Change (IPCC) has warned that a few dozen years remain for global warming to be kept at a maximum of 1.5C. Failure to achieve this may worsen the effect of droughts, floods, extreme heat, and poverty for millions of people.
For more information, contact UCSI University via CERVIE at 03-9101 8880 or via email to Teng Kah Hou ([email protected]) or Yeap Swee Pin ([email protected])