UCSI University Organising Vintage Flea Market This Coming Weekend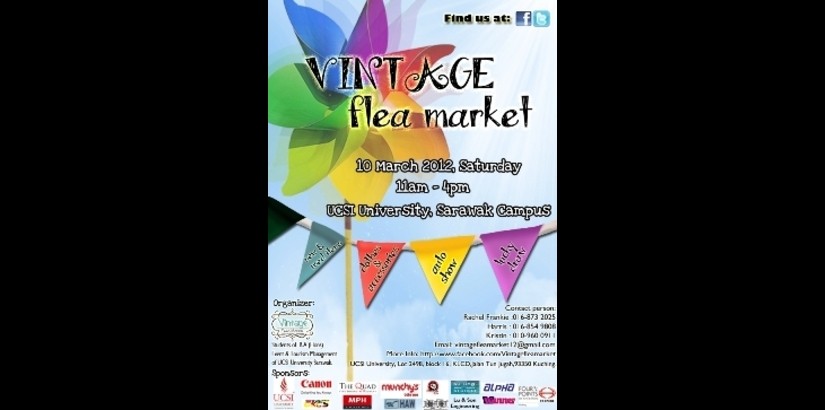 Kuching, 06 March 2012 - UCSI University students of B.A (Hons) Event and Tourism Management are organizing the Vintage Flea Market on this coming Saturday, 10th March 2012 from 11am-4pm.
Adopting the concept from the famous French flea market in Paris, Marche aux puces, the students hope to encourage support towards local businesses and locally made products to the public by gathering over 30 vendors from local retailers throughout Kuching including Ladies Walk, The Larti, Onn Cake House, Lovely'nPinkii House, MissyB's Lil Oven, Headbands by Sofia Nignkan, Avon Beauty Image, Excellence, Sazarina Sarawak Cakehouse, WaWa Fashion, Professional Beauty Care, Laven Bridal Gallery and many more. Variety choices of goods including second hand and new goods such as fashion accessories, women's apparel, handbags, cosmetics, fragrances, toys, cupcakes, foods and beverages will be sold during the event. Members of the public are given a chance to win various prizes through lucky draws. All the attractive prizes are sponsored by Eastern Alliance Co.(EM) Sdn. Bhd, Four Pointsby Sheraton, Haw Electrical Trading Co., MPH Bookstores and many others. UCSI University is the Venue sponsors and The Quad Fine Diningrestaurant is the main food sponsors.
Added to the event, there will be an auto show with vintage-look-a-like cars to be displayed coherently to the theme of the flea market – the Vintage Flea Market. The auto show is jointly organised with the Gerakan K-Car Sarawak Group and there will be exciting auto display and audio demo during the show.The visitors have the chance to vote for their favourite car.
Fully organised and developed by the students, the main objective of this event is to enhance the students' skills in organizing event and to execute the event successfully.Students have been putting their efforts in the planning and preparation for this event for about 3 months with guidance from the lecturers. The students expected to gain exposure through applying knowledge they have learnt from the subject to real life situation.
UCSI University, Sarawak Campus houses the Faculty of Hospitality and Tourism Management (FHTM) and Centre for Pre-U Studies. This campus provides niche programmes to train all its students in many areas of hospitality and tourism as well as hone their management skills and teamwork.
For more information on the flea market, please browse through the Vintage Flea Market Facebook at www.facebook.com/Vintagefleamarket or Twitter at @UCSIVintageFM. For enquiries, please call Ms Kristin Voon at 010-9600911, Ms Rachel at 016-8732025 or Mr Harris Moh at 0168549809.