UCSI UNIVERSITY PLEDGES RM369,785 TOWARDS THE SUN-MAPCU HIGHER EDUCATION SCHOLARSHIP FUND 2011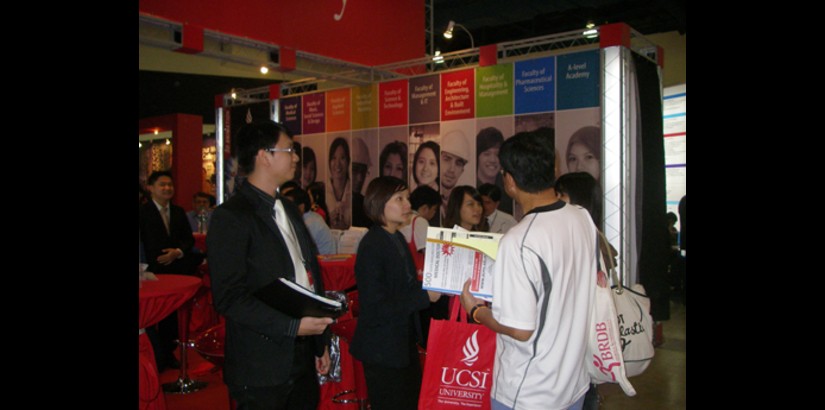 Course counselors advising visitors on course offerings at UCSI University.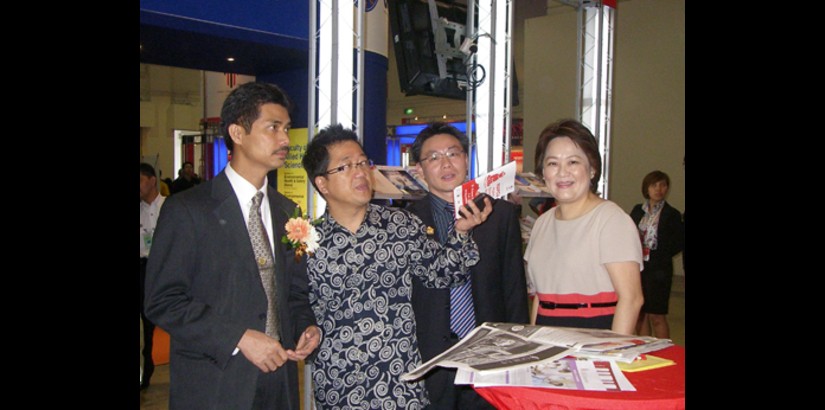 Dato' Peter Ng briefing En. Rusli when the guest-of-honour visited the UCSI University booth.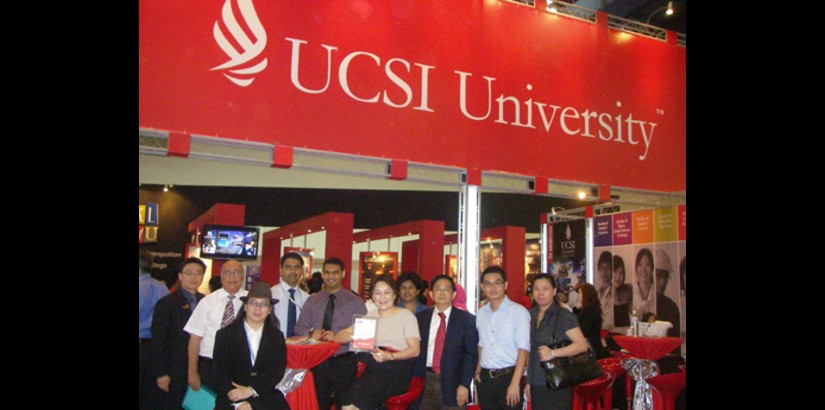 The UCSI University exhibition booth was tended by members of various faculties as well as course counsellors and Vice President of Business Development, Mr Moses Ling.
Kuala Lumpur, 24 January 2011 - UCSI University is pledging RM369,785 as part of the 2011 Sun-Malaysian Association of Private Colleges and Universities (MAPCU) Higher Education Scholarship Fund. The University made the pledge during a formal ceremony at the MAPCU Higher Education Fair held at the Mid Valley Exhibition Centre in Kuala Lumpur. UCSI University was one of 16 universities to pledge funds, which totalled to more than RM4 million.

Ms Margaret Soo, chief operating officer of the UCSI University Trust, received a plaque of appreciation for the University's support from En. Rusli bin Harun, director of the IPTS Governance Division in the Higher Education Department of the Ministry of Higher Education. En. Rusli was representing guest of honour Y. Bhg. Datin Prof. Ir. Dr. Siti Hamisah binti Tapsir, deputy director general of the Higher Education Department of the Ministry of Higher Education.

Members of MAPCU Governing Council hosted the ceremony, including UCSI Group Chairman and UCSI University founder Dato' Peter Ng, who serves as MAPCU's secretary general. MAPCU Higher Education Fair 2011 Organising Chairperson Dr Mei Ling Young also hosted the opening ceremony along with council members Y.Bhg. Datuk Dr Parmjit Singh, Y.Bhg. Dato' Teo Chiang Liang, Mr Phang Koon Tuck, Dr Chia Chee Fen and Y.Bhg. Tan Sri Dato' Seri Dr Haji Yahaya Ibrahim.

In addition to the Sun-MAPCU Higher Education Scholarship Fund, the UCSI University Trust has pledged support to other media partner scholarships including the Star Education Fund, the Sin Chew Daily Education Fund, the Nanyang Education Fund and the Borneo Post Education Fund. The University has also pledged RM7 million in scholarships this year as part of UCSI University's 25th Anniversary celebrations. Details of the scholarship can be obtained from www.ucsiuniversitytrust.com.