UCSI UNIVERSITY PLEDGES RM731,740 TOWARDS THE STAR EDUCATION FUND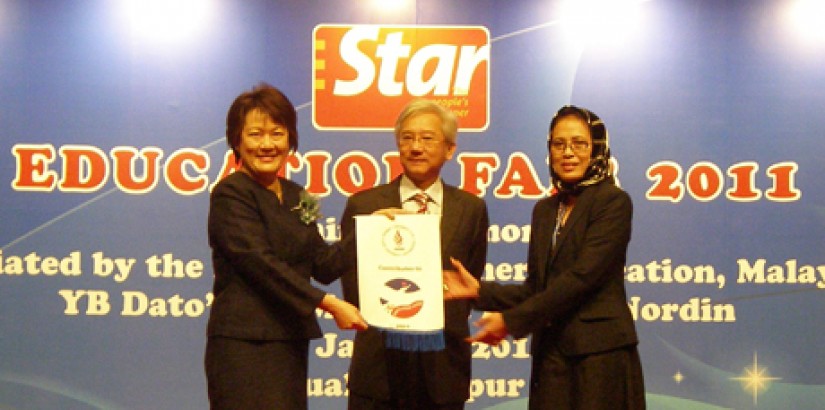 Ms Margaret Soo, COO of UCSI University Trust pledging the scholarship to YBhg. Datin Professor Siti Hapisah Bte Tapsiar, witnessed by Mr. Ho Kay Tat, COO of Star Publications (M) Berhad. Pictures
Kuala Lumpur, 08 January 2011 - UCSI University Trust has pledged RM731,740 for The Star Education Fund 2011, which provides full scholarships to 12 eligible candidates to pursue tertiary education at UCSI University. The contribution was made at a pledging ceremony held at the Kuala Lumpur Convention Centre in conjunction with The Star Education Fair.

Mr Ho Kay Tat, Chief Operating Officer of Star Publications Malaysia (M) Berhad, in his welcome speech called for more institutions of higher learning to come forward to pledge full scholarships to the growing number of students who need scholarships to pursue tertiary education. Twenty-nine private institutions of higher learning pledged their support to the education fund which amounted to a total of RM8.65million.

To witness the scholarship pledge on behalf of the Minister of Education was YBhg. Datin Professor Ir. Dr. Siti Hamisah bte Tapsir, Deputy Director General of.the Private Higher Education Management Sector in theDepartment of Higher Education.

Representatives of major private institutions of higher learning present at the pledging ceremony included Graham Doxey, CEO of Laureate Malaysia, Professor Stephen Doughty, Vice Provost of University of Nottingham – Malaysia campus and Ms Elizabeth Lee, Executive Director of Sunway University College. UCSI University was represented by Ms Margaret Soo, Chief Operating Officer of the UCSI University Trust.

UCSI University has been supporting The Star Education Fund since its inception. For enquiries about scholarships available through the UCSI University Trustfor 2011, log on to www.ucsiuniversitytrust.com or visit its office at the UCSI Alumni House, No. 13, Jalan Lawrence Law, 50000 Kuala Lumpur.