UCSI University ranked 72 in Asia, rising for the fifth straight year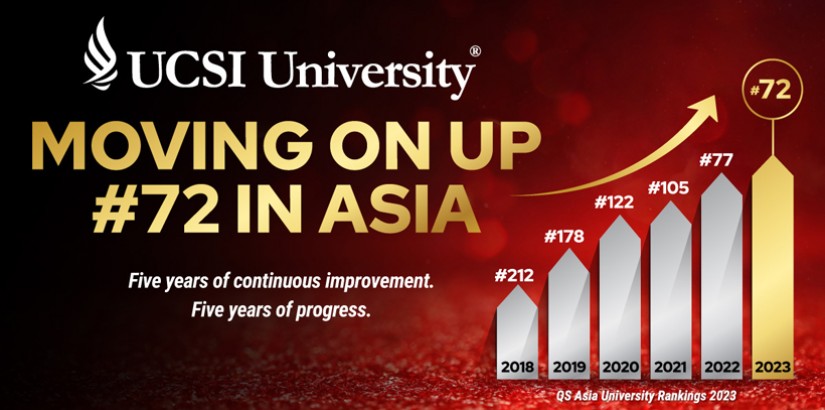 Standfirst: UCSI University breaks into Asia's top 75 after rising 140 positions in five years.
UCSI University is ranked 72 in the competitive QS Asia University Rankings 2023.
The milestone of breaking into Asia's top 75 comes on the back of five consecutive years of improvement, with the University rising 140 positions over this period.
The latest rankings also ranks UCSI 16th in Southeast Asia.
UCSI University vice-chancellor Prof Datuk Dr Siti Hamisah Tapsir said that the upward trend evinced the progress the University was making, particularly in the areas of research and thought leadership.
"Rising 140 positions over five years is the result of years of hard work," she said. "Maintaining an upward trajectory is not easy and I would like to thank all UCSI staff, students, alumni and industry partners for their contributions."
"We are encouraged by the latest results and we will continue our focus on graduate outcomes, student experiences and research."
The latest ranking adds to UCSI's ever-improving global profile.
In June, the University was recognised as Malaysia's top private university in the QS World University Rankings 2023. Ranked 284, UCSI was classified in the world's top 0.9%.
These developments have spurred UCSI's collaborative efforts with renowned universities, particularly in the areas of joint research, knowledge creation, as well as student and staff exchange.
Many UCSI students have been selected for high impact research programmes at the world's best universities like Harvard, Imperial College London, Tsinghua and Queensland, among others.
Three more UCSI medical students left for Harvard in October on a one-year high impact research programme.