UCSI UNIVERSITY TO LEAD GOVERNMENT INITIATIVE TO DEVELOP TOURISM INDUSTRY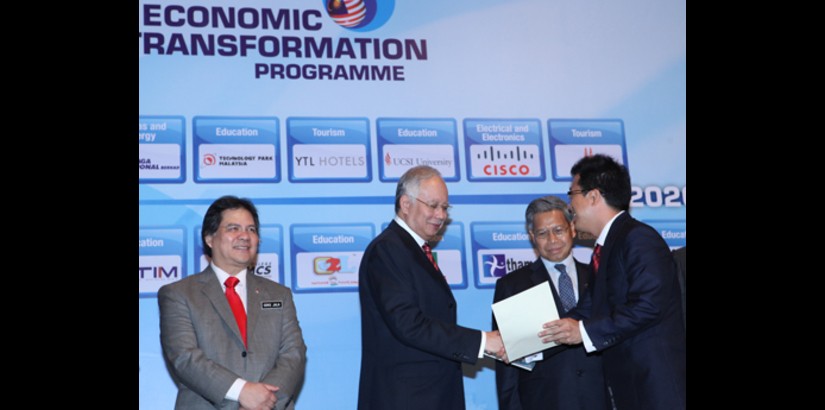 Prime Minister Datuk Seri Mohd. Najib bin Tun Abdul Razak presents UCSI Group Chairman Dato' Peter Ng a certificate of appointment to lead Entry Point Project 10 under the government's Economic Transformation Programme.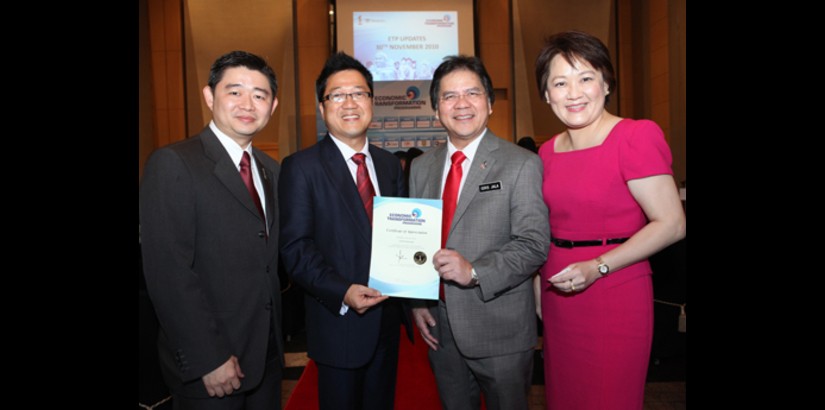 UCSI Group Chairman Dato' Peter Ng (second from left) with Minister in the Prime Minister's Department Datuk Seri Idris Jala (second from right) flanked by UCSI University Head of Strategic Projects Dr. Wong Kong-Yew and UCSI Group Vice President of Corp
Kuala Lumpur, 30 November 2010 - UCSI University has been appointed by the Malaysian Ministry of Higher Education to lead a government initiative aimed at developing human capital for the nation's hospitality and tourism industry. Prime Minister Datuk Seri Najib Tun Razak endorsed the appointment during a media brief Tuesday, 30 November at the Hilton Kuala Lumpur Hotel with UCSI Group Chairman Dato' Peter Ng. UCSI Group is the umbrella organisation of UCSI University.

"UCSI University is proud to lead a national initiative to help Malaysia achieve its goal to become a high-income nation by 2020," Dato' Peter Ng said. "Through our emphasis on research, entrepreneurship and academic excellence, we have striven to produce the high quality graduates necessary for the nation to reach its goal. We are honoured to be entrusted with this role and look forward to this opportunity to serve our country."

The University will chair the Hospitality and Tourism Discipline Cluster - Entry Point Project 10 (EPP 10), one of 131 total projects under the government's larger Economic Transformation Programme. Through the programme, the government has identified 12 National Key Economic Areas (NKEA) on which to focus resources to strengthen Malaysia's economy and develop it into a high-income nation by 2020. EPP 10 is located under the "Education" NKEA. Other NKEAs identified include tourism, healthcare, agriculture, financial services and oil, gas and energy.

The University recently appointed tourism economist Associate Professor Dr. Wong Kong-Yew to lead the project. Dr. Wong said the immediate plan is to work with respective ministries, private operators and educational institutions to promote jobs within the hospitality and tourism industry as careers of choice for Malaysians.

Under EPP 10, UCSI University will lead a team comprised of government representatives and industry leaders to improve both the quantity and quality of the hospitality and tourism workforce to meet the demand of the nation's growing tourism industry. The project aims to establish national standards for hospitality workers as well as improve the training and communication between existing educational institutions and hospitality employers. The project also strives to attract more workers to the industry by improving the status and income-level of those in the workforce.

UCSI Group is currently developing three five-star hotels in Kuching, Kuala Lumpur and Bandar Springhill, respectively, which Dato' Peter Ng said positions the University as the educational and tourism leader necessary to champion the project.

"With our Faculty of Hospitality and Management, as well as plans to create a purpose-built five star hotel in East Malaysia, an international convention centre and a resort hotel in Peninsular Malaysia, UCSI University is committed to strengthening Malaysia's position as an international tourist destination," he said. "This EPP gives us the opportunity to champion and work with other industry leaders to improve the quality of service professionals and increase the country's tourist appeal."

The project plans to initially cater to students in Sarawak for the pilot programme and eventually share the success model with other region s in the country.