UCSI UNIVERSITY'S 4TH ANNUAL AWARDS DAY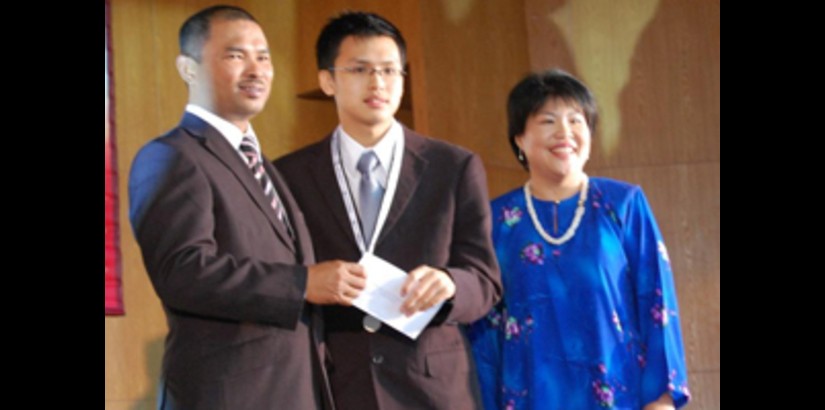 Student, Adrian Mah receiving his medal and certificate from Yang Berhormat Ir. Hj. Idris bin Hj. Haron, Deputy Minister of Higher Education, flanked by Ms. Mabel Tan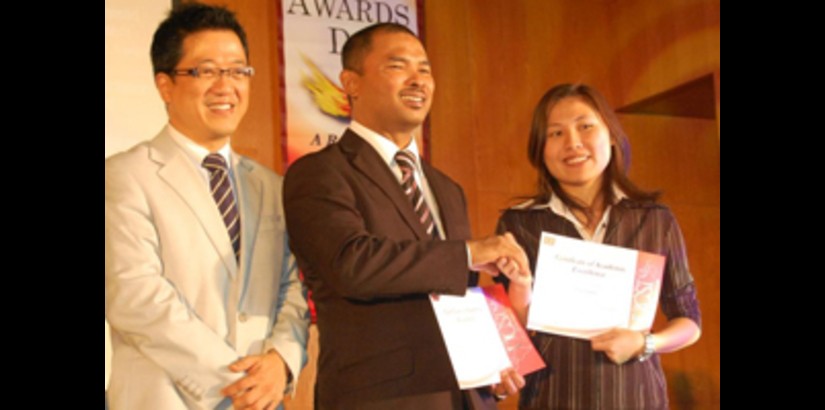 Lim Yin Bao receiving her sports scholarship certificate from the Deputy Minister of Higher Education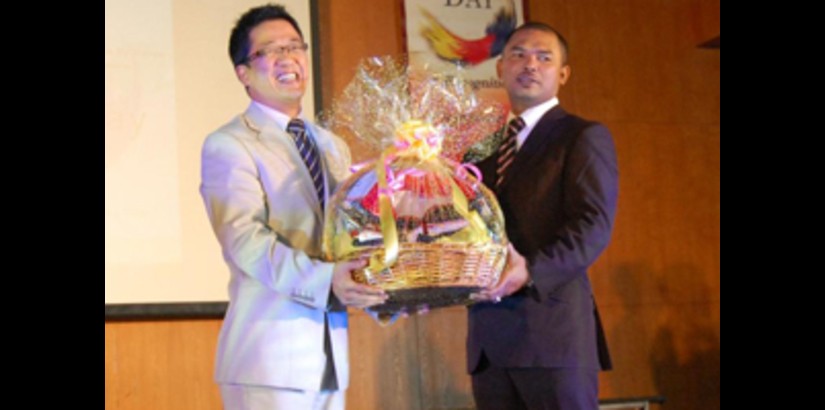 UCSI University Group President and Vice Chancellor, Peter Ng presenting a souvenir to the Deputy Minister of Higher Education
Kuala Lumpur, 9 October 2008 - UCSI University recently held its annual Awards Day with scholarships worth more than RM2 million awarded to students.

Deputy Minister of Higher Education, Yang Berhormat Datuk Ir. Haji Idris bin Haji Haron, was the guest-of-honor at the gala event.

Almost 700 recipients received awards in 10 different categories. These included the much coveted President's Award, Overall Achievement Award, the Tan Sri Ahmad Razali Scholarship, and the Dean's List Award.

In his speech, Datuk Haji Idris spoke highly of UCSI University's holistic curricula which emphasized academic excellence, practical experience and communication skills.
He also congratulated staff and students of UCSI University upon learning that employers retained almost 90% of UCSI University interns as full-time staff after graduation. The figure was impressive by any industry yardstick. Clearly, the curricula formula developed in-house was finding many industry takers.

"UCSI University's quality education which, is designed to produce a competent and skilled workforce to spearhead national development, will certainly contribute greatly towards achieving the national vision of making Malaysia a developed nation by the year 2020," he said.

One of the nine recipients of the President's Award this year was Eunice Au Yan Hoong, a 2nd year Mass Communications student. She stated that her achievements would not have been possible if it were not for her parents and lecturers who created a wonderful support system for achieving excellence. "My parents made sure that I didn't neglect my studies, while my lecturers always went out of their way to ensure that I understood the subjects," she said.
This year's Awards Day marked UCSI University's success in producing competent, all-round graduates who exhibit their tenacity and dedication, either in academia and or in extra-curricular fields.

Aside from the recipients of various scholarships and awards as well as their parents, various dignitaries from Iran, Iraq and Afghanistan also graced the event.