UCSI UNIVERSITY'S ARCHITECTURE STUDENTS CONTRIBUTE TOWARDS HILTON'S CHRISTMAS TRAIN CHARITY PROJECT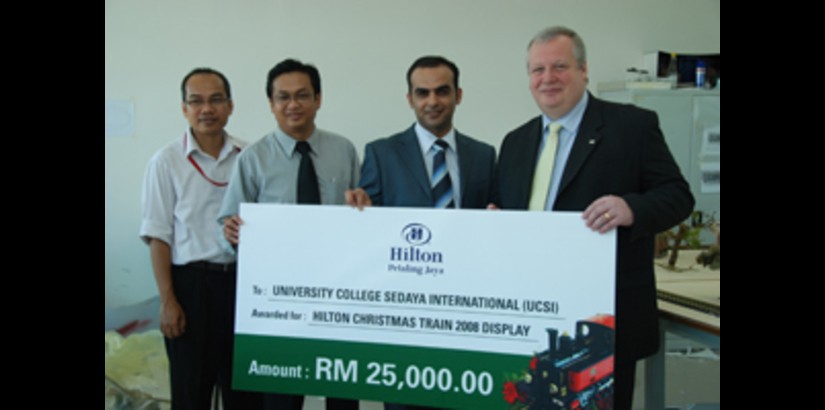 From left: En Fuzi Musa (Project Coordinator), En Mohammad Zani Zain (Associate Dean), Assoc. Prof. Dr Eyad (Dean), & Mr. Luc Bollen ( General Manager, PJ Hilton)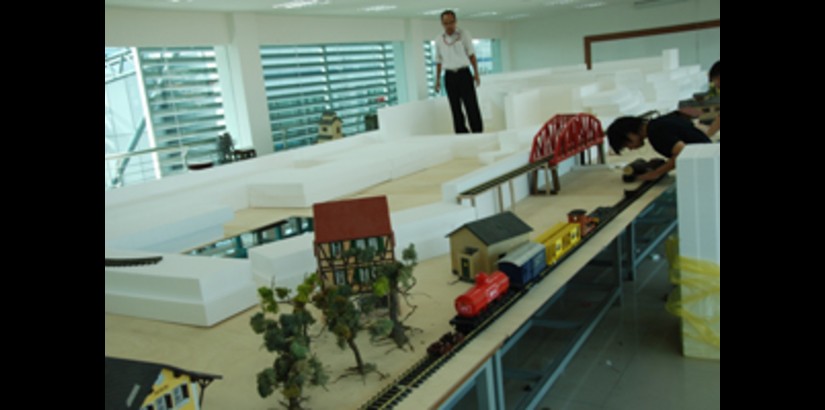 From left: En Fuzi Musa (Project Coordinator), En Mohammad Zani Zain (Associate Dean), Assoc. Prof. Dr Eyad (Dean), & Mr. Luc Bollen ( General Manager, PJ Hilton)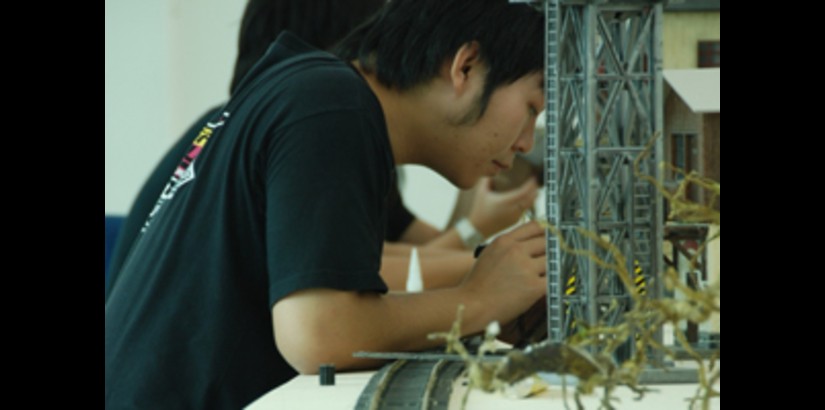 From left: En Fuzi Musa (Project Coordinator), En Mohammad Zani Zain (Associate Dean), Assoc. Prof. Dr Eyad (Dean), & Mr. Luc Bollen ( General Manager, PJ Hilton)
Kuala Lumpur, 29 October 2008 - Students and staff of UCSI University's School of Architecture are set to literally elicit a "wow" from the crowd during December's Hilton Christmas Train event. The decorations alone will span 58 square metres, and these will compliment life-like scale train models which Hilton owns.

It will be showcased at the hotel's lobby from 6 December 2008 until 10 January 2009. UCSI University was chosen as a partner for this event after its School of Architecture presented a highly creative and innovative design to Hilton Petaling Jaya.
The design-theme which the School of Architecture conceptualised incorporates a timeline architecture -- from British colonial era motifs to modern day skyscrapers. It will also include man-made scenes and natural environments. This combination will be accentuated by the event's visual clincher -- a dynamic train movement accompanied by evergreen Christmas carols and synchronised Christmas lights.

A digital snow display will vividly portray the variegated scenes of Christmas celebrations; capturing the attention of young and old alike.

The Hilton Christmas Train project allows students to work in teams, encouraging team-building and project management skills, in particular the technical delineation of duties.

The project also requires students to 'imagine' different settings and think of ways to showcase the setting within a 600 square feet model. According to the Associate Dean of the School of Architecture, En. Mohammad Zani Mohammad Zain, "Imagination is the key to this project, as students will have to foresee how a visitor will experience the entire display. Lighting and animated effects will also be integrated into the 5 sets of simultaneously moving trains."

The project also provides students real-life experience in planning, designing and eventually building a landscape that will compliment the train models. The process also pushes the students to test their creative limits and transpose theory into practice.

The School of Architecture was recently presented a RM 25,000 cheque by Hilton Petaling Jaya for their work and as a token of appreciation. Luc Bollen, General Manager of Hilton Petaling Jaya said the Hilton Christmas Train benefits the community in many ways. It is a charity project that brings together different parties to raise funds for the underprivileged, and since last year it has become a platform to develop young talents through the train project.
"We are delighted to have UCSI University join us this year, and I am sure the students will have a challenging yet enjoyable time ahead in learning and getting hands-on experience in building the train display. With great anticipation, we look forward to their work, which I am sure we will be proud to showcase at the hotel lobby this festive season. It will definitely be one of most talked about Christmas displays in town," said Mr. Bollen.

Associate Professor Chin Peng Kit, Deputy Vice Chancellor of UCSI University, said the Hilton Christmas Train is the school's main charity project this year.

"Our students and staff are very enthusiastic in undertaking this project. It allows students to gain a real-life experience in planning, designing and eventually building a landscape of significant size and complexity for the model trains. The process also encourages students to test their creative limits and put what they have learned in class into practice," Chin said.

The net proceeds from the Hilton Christmas Train will be channeled towards a children's education fund for 25 Malaysian orphanages. The money will also be used help 500 children celebrate the unique occasion at the hotel's ballroom on 6 December 2008.