UCSI University's master's programme integrates three critical specialisms of the healthy aging industry in one trailblazing credential.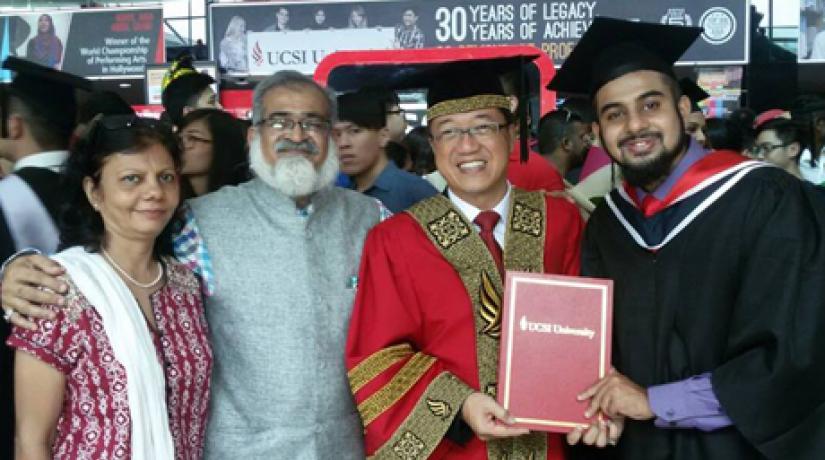 Dr Juzer Abbasi (right) celebrates his graduation with his parents and founder of UCSI University Dato' Peter Ng (second from right).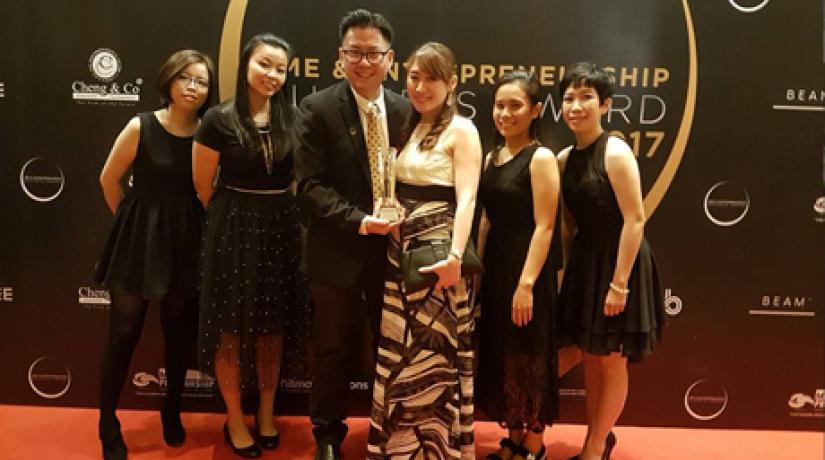 Crown Clinic, founded by Dr Lim Wan Chyi (third from right), recently received the Service Industry Excellence award in recognition of their expertise and professionalism in the field of medical aesthetics in Malaysia.
Medical, scientific and technological advancements are continuously redefining the future of healthcare. Each day, scientists are increasingly making progress and gaining invaluable understanding in the science of longevity and quality of life, leading to the global rise of fields like healthy aging, medical aesthetic and regenerative medicine.

Healthy aging promotes wellness and health by addressing the needs of aging adults in living healthy and active lives. Aesthetic medicine focuses on improving cosmetic appearance, while the promising field of regenerative medicine works to repair tissue and organ function with a goal to cure previously untreatable injuries and diseases.

With informed patients seeking medical practitioners with a holistic approach in optimising their health, wellbeing and beauty, physicians like Dr Juzer Abbasi are highly in demand.

The UCSI University graduate is currently based in Mumbai as a clinical associate at StemRx Bioscience Solutions Pvt Ltd, a company headed by Dr Pradeep Mahajan that provides regenerative medicine therapies using stem cells for patients with various ailments. He is also in the process of setting up the Amaaya anti-aging centre – an expansion project in the premise of Seven Hills Hospital – with Dr Deepak Chaturvedi, which will soon be inaugurated.

Dr Abbasi's interest in regenerative and aesthetic medicine was first inspired by his father Dr Mustansir Abbasi, an orthopaedic surgeon, who used stem cell therapy to treat traumatic spinal cord injuries and osteoarthritis. It further developed when during his medical internship he met cancer patients whose facial features were disfigured due to tumour lesions or surgery removal scars.

"One of the most common reasons for psychological distress in cancer patients is cosmetic," said Dr Abbasi. "Patients who lose their hair because of chemotherapy, who find themselves having to live with facial disfigurement – these are the people who have lost their self-esteem and confidence, and I wanted to help them regain it."

Dr Abbasi decided to pursue further qualification at UCSI after he obtained his MBBS, conscious that the University is the first in the world to offer a postgraduate programme that addresses all three fields – the MSc in Healthy Aging, Medical Aesthetic and Regenerative Medicine.

"Thanks to this course, I can now easily integrate regenerative medicine in aesthetics, as well as use therapies from all these three fields in a judicious combination for treating various conditions."

Dr Abbasi recently presented his work at an international conference on cosmetic dermatology in Texas, where he shared a case report on using supplements, growth factors and stem cell therapy to treat atrophic acne scars – a common aesthetic ailment. He also shared his study on the effect of androgenic alopecia on the quality of life in Indian patients.

"I hope to create more affordable treatments and therapies for the masses," he said of his goals. "I also want to expand the scope of these specialised fields in treating more diseases, especially those that are currently only subject to symptomatic treatment from conventional therapy."

Graceful aging is also a concept that is gaining ground as the world rapidly ages – it is estimated that by 2050, 22% of the global population will be aged 60 and older – and as healthcare moves towards a more patient-centred approach. The study of healthy aging has become critical to ensure that optimisation of health and improvement of the quality of life can be achieved.

With UCSI's healthy aging module focusing on distinct areas like nutrition, exercise and endocrinology, this will ensure that practitioners undertaking the programme will be able to provide a holistic approach to the care of their clients and community.

"It's not just about looking young, people want to feel young too and that's where healthy aging comes into play," said Dr Abbasi. "People in India, especially those in urban areas, want to try new promising treatments and approaches that can slow aging as well as improve their vigour and vitality."

On the home front, fellow alumna Dr Lim Wan Chyi stands out in the field of medical aesthetics in Malaysia. She is the founder and managing director of Crown Clinic, a fast-moving medical aesthetic and age management centre which provides quality aesthetic services and cosmetic dermatology. Early this year, her clinic received a Service Industry Excellence award in recognition of their expertise and professionalism.

"Patients today seek cosmetic procedures with less downtime, more comfort, and fewer untoward effects," shared Dr Lim. "They want non-invasive to minimally invasive procedures to enhance their natural beauty and to maintain a youthful look."

Dr Lim has always had a passion for medical aesthetics and wellbeing. After a few years in the industry, she chose to pursue further education at UCSI to take her skills to the next level.

"I wanted a quality university that was both flexible and affordable," she said. "During the years I spent at UCSI, I have come to truly appreciate the depth and breadth of the modules. My lecturers are truly helpful and I've been lucky enough to have hands-on access to different aesthetic procedures."

Taught by medical practitioners and academics with extensive experience in the field, UCSI's MSc in Healthy Aging, Medical Aesthetic and Regenerative Medicine is designed and offered exclusively to licensed medical doctors. It also has the distinction of being the only master's pathway to Malaysia's letter of credentialing and privileging (LCP) in aesthetic medicine.

"Our vision is to produce well educated and qualified practitioners who can diagnose and perform aesthetic medical procedures safely and efficiently," said Assistant Professor Dr Marjan Sadat Seghayat, who leads UCSI's School of Healthy Aging, Medical Aesthetics and Regenerative Medicine.

"At the same time, we focus on the various facets of starting and running a successful medical practice, including safe and ethical medical practices in line with guidelines from the Ministry of Health."

The programme delivers a highly evidence-based curriculum as well as individualised hands-on procedural learning with state-of-the-art equipment like the Cutometer MPA machine – an elasticity measurement equipment well known for its precision and ease of use. Students also learn with a 1:1 student to mannequin ratio for aesthetics training.

Like Dr Abbasi and Dr Lim, future graduates will certainly be well prepared to revitalise the future of healthcare.