UCSI WINS AWARD AT PATRIOTIC SONGS CHOIR COMPETITION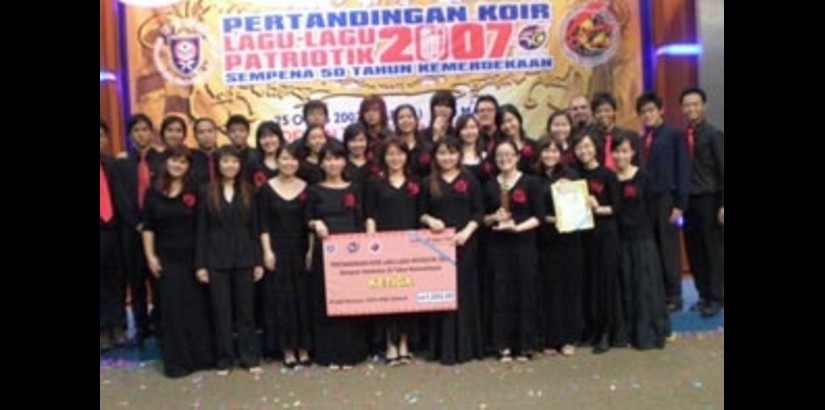 KUALA LUMPUR, 25th August 2007 - University College Sedaya International has proven themselves to be the best patriotic songs choir among the private institutions of higher learning when they came in third in the finals of the Patriotic Song Choir Competition organised by the Malaysian Ministry of Higher Education (MOHE) and University Tun Hussien Onn. The event was held at Universiti Tun Hussien Onn, Johor, on the 25th of August 2007 inconjuction with the Merdeka celebrations which saw participation from various public and private institutions of higher learning as well as community colleges. Universiti Malaya was the champion while Universiti Teknologi Mara (Skudai) was the first runner-up.
According to Professor Norfadzillah bt. Hitam, UCSI's Vice-President of Research and Corporate Affairs, UCSI is in the midst of celebrating Merdeka itself and just had a grand celebration with all the students and staff recently. She said, "UCSI is proud to share our joy of celebrating Merdeka and our patriotic spirit with our international students numbering more than 1,000 and to further instil a sense of nationhood among our local students."

The UCSI choir who sang the song "Malaysia Kemegahanku" received RM1,000 and a trophy. The 35-strong choir was led by Ms. Junie Yong Jia Yi while Ms. Felicity Thong Pooi Pooi accompanied them on the piano.
"Without prejudice to the rights of UCSI the information herein is correct at the time of printing and UCSI reserves the right to make amendments without prior notice."