UCSI WINS PHILLIPS YOUNG INVENTOR'S CHALLENGE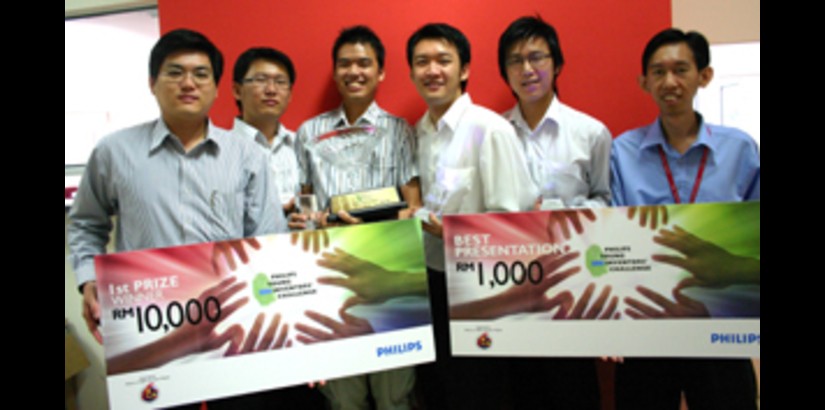 From left to right: Dr. Jimmy Mok, Tee Kwee Siang, Hiew Thian Wai (Team leader), Low Tong Kong, Kean Chin Siang and Mr. Rodney Tan (Team Advisor).
KUALA LUMPUR, 3 August 2007 - University College Sedaya International (UCSI) saw its team of engineering students beat 7 finalists in the Phillips Young Inventors Challenge (PYIC) for the championship recently. The UCSI team had developed the Brake Awareness System which aims to reduce car accidents.

The team from UCSI comprising Kean Chin Siang, Hiew Thian Wai, Low Tong Kong and Tee Kwee Siang faced stiff competition from 50 teams from public and private institutions of higher learning which participated as well.

The team led by advisor Rodney Tan not only took home the crystal PYIC trophy and RM10,000 worth of Phillips products, but also clinched the Best Presentation award worth RM1,000.
Their imagination, creativity and application of engineering knowledge made them stand out among the very competitive teams.According to Professor Dr. Norfadzillah bt. Hitam, Vice-President of Research and Corporate Affairs at UCSI, the achievement of this group of students is outstanding and is an example of the on-going efforts by the university to promote the discovery of new knowledge and innovative technology to improve service and the quality of life.
"Without prejudice to the rights of UCSI the information herein is correct at the time of printing and UCSI reserves the right to make amendments without prior notice."