UCSI won overall champion in Wushu Championship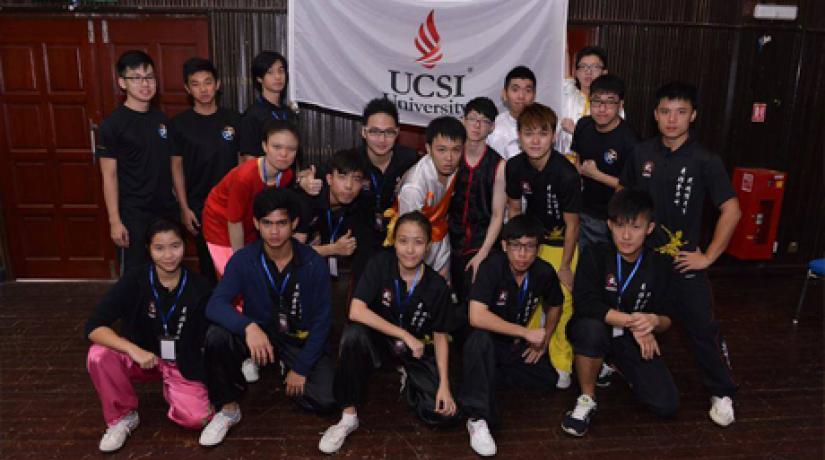 Home > Media Hub > Press Releases 2015 UCSI won overall champion in Wushu Championship 14 November 2015 BUDDING TALENTS: UCSI University Wushu Team members in a big group photo.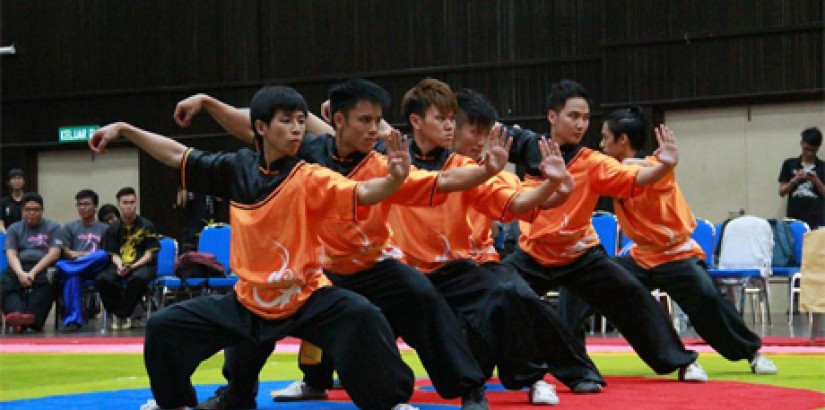 GOLD MEDALISTS: Gold medallists from UCSI University during their performance in group event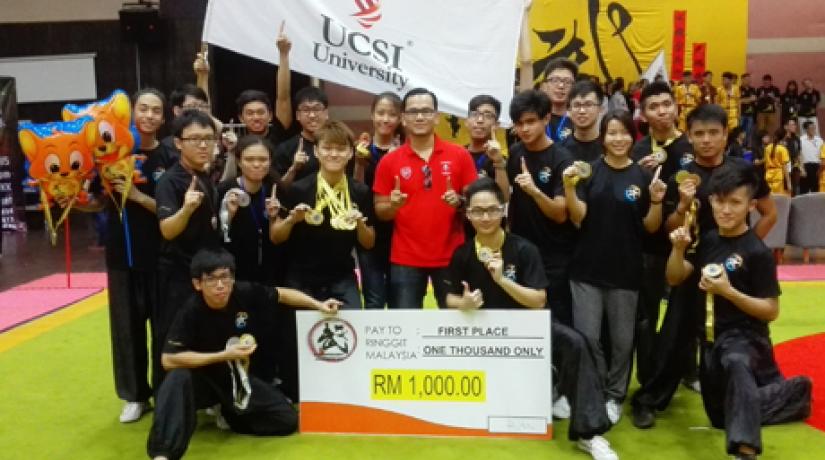 VICTORY: (in red) Amar Ridzuan, advisor for UCSI University Wushu Club in a group photo along with the team members.
KELANTAN: UCSI University (UCSI) saw several sporting achievements in 2015. Its wushu team reached new heights of achievement when they won 17 medals and crowned the title of overall champion in the Fourth Wushu Intervarsity Championship held over the course of two days at Dewan Kubang Kerian, Universiti Sains Malaysia, Kelantan.

With three individual gold medals out of nine, Koo Wei How, President of UCSI Wushu Club outperformed all the other male participants, winning the title of Best Male Athlete. The budding talent was surprised and elated at his win.

"I am excited to be the best male athlete and I am extremely proud of my team," said the young lad, emphasising that hard work had been essential to the team's outstanding performance in the championship.

Apart from Koo, the other gold medallists were Zenn Ho, Hee Yu Ken, Victoria Chuay, Jimmy Tham, Jerry Ong, Teow Tze Sean, Tee Yee Sheng and Jason Lai.

The team also won three silver medals and five bronze medals, contributing to their crowning as the event's overall champion. The budding talents also walked home proudly with a cash prize of RM 1000.

Commenting further, Koo said that this was by far the best achievement for the club since its establishment in 2004. He saw the benefits for the team in participating in such championship as they have the opportunity to gain more experience and get to know more people with the similar interest.

"I hope that the team will be able to keep up the good work and perform better in future competitions or performances," added Koo.

Present at the two-day event was also Amar Ridzuan Abd Hamid, the advisor for UCSI Wushu Club who witnessed the team's glorious victory at the Championship.