WALKING THE BASS LINE - Malaysia's bassist extraordinaire Andy Peterson conducts masterclass for UCSI's music students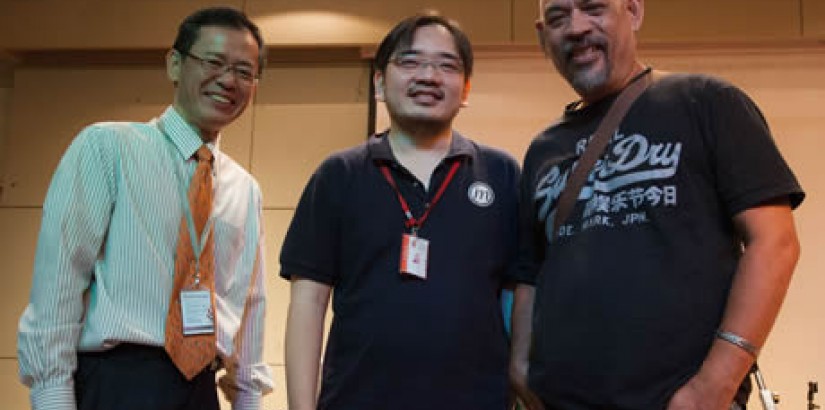 Andy Peterson (right) pictured with Professor Dr P'ng, Director of UCSI's Institute of Music (left) and Assistant Professor Justin Lim Fang Yee (centre), Head of the Contemporary Music programme.
Andy Peterson brings his favourite G&L L-2000 on stage to demonstrate his impeccable playing techniques to the rapt audience.
KUALA LUMPUR: Students from UCSI University's Institute of Music learnt from the greats once again when Andy Peterson, Malaysia's legendary slap bassist, held an exclusive masterclass at UCSI – something he rarely does due to his many commitments on tour.

Renowned in the music industry for his speed, precision and technicality – music reviews have described his tempo as 'insane' – Andy's expertise is regularly sought by music icons around the world.

To date, Andy has performed with David Foster, Boys 2 Men, Peter Cetera, Natalie Cole, Billy Cobham, Steve Thornton, Randy Bernsen of the Zawinul Syndicate and many other illustrious performers. Just last month, Malaysian mandopop singer Penny Tai flew him to Taiwan to play at her concert.

This tour of duty has taken him to more than 15 countries including Australia, Hong Kong, Japan, Korea, Switzerland and the United States. He has graced famed venues like Caesar's Palace, Dolby Theatre Hollywood, Royal Albert Hall and the Wembley Arena.Imparting decades of performing experience to his eager audience at UCSI, Andy urged aspiring musicians to practice purposefully – never rushed – by guiding them to establish the right tone and emote their playing.

"You need to dig in. It's not just about hitting the right notes," he shared. "You need to feel what you're playing and if you do it right, the crowd will feel it too. "Every musician has a unique style and as you continue to play, you'll discover what works for you and what doesn't. Eventually, you'll establish your signature sound and that'll be what people will know you for."

Andy's insights were well-received and he was impressed with the abilities of the UCSI students, and more importantly, the way they responded.

"Musically, the youngsters are better than most because they are learning music in a structured manner," he observed. "What they need to do now is to work on the quality of their performances – they need to know how to play with people, how to be attuned to their band members and how to recover when they make a mistake on stage. One learns all this by performing regularly."

Speaking in hindsight, Andy stressed that doing so diligently might just be the start of an illustrious and far-reaching career.

"It's important to always give your best because you'll never know who's watching in the audience," he continued. "One seemingly ordinary performance could change your life. Next thing you know, a band is coming up to recruit you and then you're playing with them in Germany."

That actually happened. Two years after Andy made his public debut in 1976, Malaysian pop band The Falcons picked him up at a pub gig and shortly after, he was touring Europe with them. The rest is history. Andy concluded his masterclass by initiating a jam session with a few students to the classic Stevie Wonder hit Superstition. One of them was Hor Chee Seng, a guitarist who is currently reading his degree in Contemporary Music.

"He freaked me out!" laughed Andy. "He was killing it! He's so young but he's so good. UCSI is doing a good job here."

Honoured, Chee Seng was equally effusive with his praise.

"I had a great time trying to keep up with Andy," said the prodigy in question. "He taught us different musical perspectives and approaches which I found really valuable."

Chee Seng is already making the rounds in the local circuit, having performed with icons like Michael Veerapan and at international jazz festivals.

His junior, H'ng Lih, was also invited on stage to play the electric bass. She said, "Andy is very kind and he made me feel comfortable sharing the stage with him. His time keeping and groove were very solid.

"He showed us the way he articulates on the bass, especially his wide dynamic range and consistency, and I really enjoyed learning that from him."

Andy leaves the students with this piece of advice: "No shortcuts! You got to practice, practice and practice. Don't be a dreamer; when you wake up you'll still be at square one. Go out and play with people, and if you gave a bad performance today it doesn't matter. You've still got tomorrow."

Andy joins a star-studded cast of established classical and contemporary musicians who have crossed UCSI's doorstep to conduct masterclasses, lectures and recitals of all instruments. His contemporaries include Malaysia's foremost jazz pianist Michael Veerapan; drum virtuoso John Thomas; renowned violinists David Frühwirth and Polina Borisova; award-winning composer Onn San; flutist laureate Andrei Sannikov; acclaimed saxophonist Greg Lyons; the iconic Orfeo Trio ensemble, and more.

"We frequently invite artists of the highest calibre and to come and teach here so that our students can hear them live in action," said Professor Dr P'ng Tean Hwa, Director of UCSI's Institute of Music. "That's one way to grow as an artist yourself – by listening, watching and learning from the very best."

Established in 1990, UCSI's Institute of Music has established itself as Malaysia's foremost music force in both the classical and contemporary fields.

It has opened doors for some of the most prominent figures in the Malaysian music industry like performing artists Dr Joanne Yeoh and Dennis Lau; acclaimed composer and music director Onn San; as well as award-winning singer Tracy Wong, among many others.

Its students have been selected to perform with the Malaysian Philharmonic Orchestra and world-renowned conductors like Benjamin Zander and Andreas Delfs. No other music school in the country is more constantly – and consistently – referred to than UCSI University's Institute of Music.