UCSI University's Office of Postgraduate Studies (OPS) is entrusted with the responsibility of coordinating, promoting and managing all activities pertaining to postgraduate learning. The office supports the postgraduate community in every level for students to pursue academic excellence. The unparalleled experience provided to our postgraduate students includes allowing them the opportunity to work with leading academics and professionals in the industries. If this is your calling, we want you here.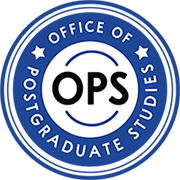 The appointment of Post-Doctoral Research Fellows (PDRF) provides faculties and institutes the opportunity to enhance R&D activities for the purpose of increasing research output. We invite both, domestic and international applicants, to this fraternity to drive the growth of research at UCSI University. PDRFs are fundamentally the contributors to the research environment at the University and their chosen field. In doing so, they raise the profile of themselves and UCSI University. They work under the supervision of a faculty member and may assist with the supervision of graduate students.
This fellowship is directed to candidates who have recently received their PhD (must be within 3 years of being awarded a PhD) to support the development of a research project at any of the faculties and institutes.
Address
Office of Postgraduate Studies (OPS),
10th Floor, Block G, UCSI University, No. 1, Jalan Menara Gading, UCSI Heights (Taman Connaught) 56000 Cheras, Kuala Lumpur, Malaysia
Telephone
(+603) 9101 8880
E-mail
[email protected]